Opening the Doors to Healthier and Stress-Free Living
A Column by Alice Abbott-Moore,
Technical Services, Ekstrom Library
Turkey Talk: Getting to Know Your Turkey
It's almost that time again ... when the aromas of Thanksgiving meals waft through the air. In other words, it's almost Turkey Time!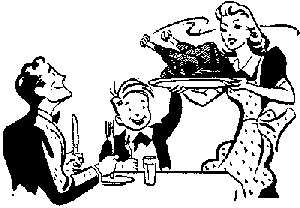 For those of us who like and/or love turkey, this time of year is a greatly enjoyed season. There are many opportunities to savor meals laden with turkey and other fixings.

Here are tips on preparing a picture-perfect, mouth-watering turkey:

You may ask yourself how much turkey do you need to buy. Well, it depends on how many people you intend to serve and how many leftovers you want to have after the initial big meal. Usually turkeys come in different sizes, typically ranging from 10 pounds to 30 pounds.

Is it better to buy a fresh turkey or a frozen turkey? It depends on you and your schedule. The advantage of fresh turkeys is that they don
If you do need to thaw your turkey, the best way is to thaw it in the refrigerator. If you are short on time, submerge the bird in a sink full of COLD water. (Hot water will not work). Room temperature thawing is not safe due to the danger of bacterial growth.

Remove the neck from the body and the giblets from the neck cavity. You may ask, "What are giblets?" you ask. Giblets are the fowl
If you like, stuff the bird with ingredients such as sautied vegetables, meats, seafood (oysters), and pasteurized egg products (as opposed to raw eggs). Some folks like to use bread crumbs that have been sautied as well.

Do not stuff the bird the night before; stuff it just before putting it in the oven. Be sure to tuck the wings to keep the goodies inside.

Place the turkey in the pan breast-side up. Sometimes turkeys come with "Turkey Lifters" which look like string cradles. Be sure to do this before you place the bird in the oven. Also, use an oven-safe thermometer and insert it into the lower part of the thigh next to the bird
Brush the turkey with vegetable oil to prevent the skin from drying during the cooking process. Otherwise, you will need to baste.

Roast the turkey at 325 degrees F. Cooking times vary, depending on the poundage of the bird. A helpful chart can be found at http://www.butterball.com/10steps/html.
About one half-hour before the turkey is to be finished cooking, be sure to check it. The turkey will be fully cooked when the thigh
When the turkey has finished its time in the oven, let it stand for 15 to 20 minutes before carving.

Before long you and your dining partner(s) will be happily savoring a wonderfully cooked turkey!

Sorry, Tom!

---
Source: www.butterball.com