Carpe Diem ...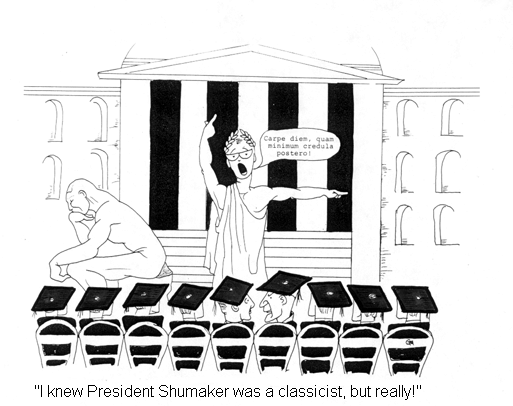 Knowing that incoming president, John W. Shumaker, was a Latin scholar, University Librarian, Ralze Dorr, commissioned George T. McWhorter of Special Collections to draw the above cartoon for formal presentation to Dr. Shumaker at his first meeting with the University of Louisville Libraries faculty.
Mr. Dorr changed the "Carpe Diem" phrase to read: "Posthac orationes principis omnes habebuntur in lingue scilicet Latine," which freely translates: "From now on, all major speeches will be delivered in Latin." He had the cartoon enlarged and elaborately framed for the presentation in the Bingham Poetry Room at Ekstrom Library.
President Shumaker accepted the trophy with good humor and grace to a chorus of snickers and guffaws from the assembled librarians, and assured his audience that it would find an honored spot on his office wall at Grawmeyer Hall.