A Column by Alice Abbott-Moore,
Technical Services, Ekstrom Library
Healthy Snacking at work
The fact that most of us spend a lot of our time here means that many of us are eating meals and snacks during our work time. Since there are constraints on our time it isn't always easy eating healthily while on the run. But it can be done, if one plans ahead.
When I asked the good people of the Libraries for feedback on healthy snacking at work, here is what I found:
Bagels, pretzels and English muffins
Bagels and pretzels seem to be a staple among library personnel. In fact, Bill Morison responded that he enjoys both. Teresa Bowden of Ekstrom Reference shared with me that she gets a dry bagel from the Ritazza and that these bagels are usually very fresh hence she does not miss the cream cheese. Available flavors are plain, blueberry and raisin
Glenda Neely shared with me that she keeps pretzels in her desk drawer for hunger pangs. They're low-fat and keep her going when she works the desk at lunchtime. In addition to the pretzels that have been mentioned, for a snack I also enjoy a hot pretzel purchased from the SAC cafeteria.
English muffins are very tasty if one has access to a toaster or oven, and even more so if there is honey or jelly available!
Popcorn Cakes and Graham Crackers
Gary Freiburger shared that he likes to have some chips or something crunchy with his sandwich for lunch. He mentioned that he switched to rice cakes but found them completely tasteless and unappealing. However, he does love popcorn and he discovered Quaker Popcorn Cakes (TM). He said that they look just like rice cakes but actually have flavor. He doesn't eat them all the time but has found that they are an appetizing alternative to rice cakes. Also, these cakes are really great with a little reduced-fat peanut butter (or even all natural peanut butter--which has lower fat than the regular peanut butter) -- particularly the apple cinnamon!
Reduced-fat or all natural peanut butter is also really great with Graham crackers. Peanut butter contains protein and provides energy.
Fruit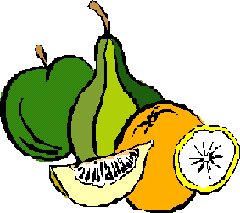 Fruit is popular with library snackers. Bill Morison eats apples, bananas, and oranges. Apples and bananas are easy to carry and store, and require no cutting. Some oranges require a knife, but they are so tasty and nutritious!
Chips and Salsa
I also enjoy chips and salsa, although this snack does require a bowl for the salsa.
Granola Bars
Low-fat granola bars are very tasty. Some of my favorites are the NatureValley (TM) or the Quaker (TM) brands. The bars vary from 2 to 3 grams of fat each and come in chocolate chip, somores, and oat-meal raisin flavors.
Low-fat Cookies and Sweets
I got a chuckle when Mike Trauth sent me an e-mail note stating that his healthy snacks were doughnuts and Oreos(TM). While I am still dreaming of a low-fat doughnut, low-fat cookies are still an option for snacks. The problem with low-fat sweets is that a lot of people think that because the sweets have lower fat content, people can eat more of them. Many people have gained weight due to such thinking. In fact, most low-fat items do have more sugar and sodium than items with more fat. So, if one chooses to have low-fat sweets as a snack, just remember that moderation is the key!
So, munch away on some of these healthy snacks. Remember another key to keeping up healthy habits is variety!!
My thanks to Teresa Bowden, Gary Freiburger, Bill Morison, Glenda Neely, and Mike Trauth for their suggestions.