---
Compiled and photographed by Amy Purcell,
Special Collections
Once again The Owl would like to welcome "New Faces" to the Libraries. These people joined the Libraries in 1998.
Catherine Graber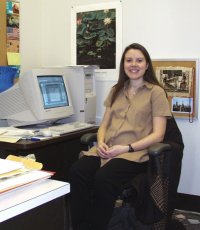 Catherine Chamberlain Graber joined the Information and Education Services (IES) department of Kornhauser Library in June 1998. Formerly Web Developer/Web Librarian at the Mount Sinai School of Medicine, New York City, she completed a two-year residency program in medical information services at the University of Illinois at Chicago and was a 1996 National Library of Medicine Fellow in medical infomatics at the Marine Biological Laboratory, Woods Hole, Massachusetts. She received a B.A. in English literature and European history from Vanderbilt University and an M.S.L.S. from University of Kentucky.
As a member of the IES department, Catherine has been spending much of her time at the reference desk assisting library users with their research-related questions. Additionally, she serves as the library's liaison to the School of Dentistry and is a member of the School of Medicine's Introduction to Medical Practice faculty. Catherine may be contacted via email, catherine@louisville.edu, or by phone, 852-0754.
Kathy Shambo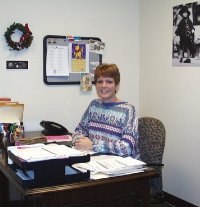 Kathy Shambo has worked in the Office of Information Literacy as Program Assistant II since June 1998. She is a graduate of the University of Louisville College of Arts and Sciences. She is continuing her studies with the intention of pursuing a Masters in Business Administration. She currently serves as Vice-President of Programming for the Kentuckiana Alumnae Chapter of Alpha Omicron Pi. She enjoys dancing, drawing, rollerblading, movies and spending time with friends. She describes her position in the infoliteracy office as "challenging, fun and rewarding to say the least."
Shaun Daniels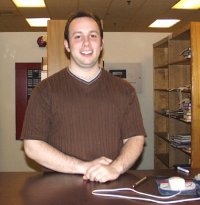 Shaun Daniels works in Circulation where he was a student assistant for about two years before becoming staff. He is still a student as well, working towards a degree in history. When he graduates, he plans on applying to law school. In the library, he works in Interlibrary Loan, but has also become involved with the department's web pages. He's really interested in seeing E-Reserves take off one day! The library position offers Shaun "the opportunity to float among departmental duties as needed. I fill the gaps in between new hires, which allows me to become familiar with different aspects of the department and the library system. I've worked quite a bit with student training, Course Reserves, Interlibrary Loan, lending and borrowing, and document delivery. I hope to learn all I can while I'm here. The research experience will no doubt be a great asset to me when I attend law school one day!"
Dave Loeffler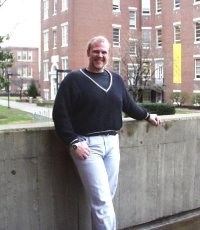 Dave Loeffler is not a new face to most people working in the Libraries. He is currently the Facilities Manager, in charge of anything having to do with the Libraries buildings as well as the Shipping and Receiving. He began working as a student assistant in this area from 1991-1994 while pursuing his double major of Biology and Political Science. He took some time off from the Libraries until around 1997. He returned after his divorce to finish up the nine hours left on his degree. In his spare time Dave enjoys spending time with his two adorable daughters, camping, hiking, traveling, culinary arts and just enjoying the day.
John Daniels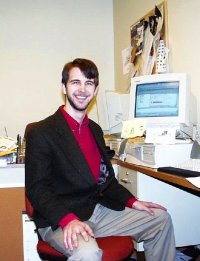 John Daniels was born in Fern Creek, Kentucky in 1974. He attended Louisville Collegiate, Albert E. Meyzeek and duPont Manual school before receiving his B. A. From the University of Louisville in 1998. Mr. Daniels was formerly employed by Ekstrom Document Access and Delivery Services before his promotion in Stacks Maintenance. He has worked as an exterminator, a tractor-trailer repair worker, a parking valet, an accountant, a janitor, a professional musician, a secretary, a baked goods delivery truck driver, and as annual fiction and poetry contest director for a small local publishing house. Mr. Daniels now lives in Germantown with four cats, a German Shepherd named Ezekiel, six piranhas, and another human being.
Daryl Waldrop
Daryl Waldrop is the Library Systems Coordinator for the Kornhauser Library. Daryl had been a student assistant in IT's Health Sciences Campus computer lab and essentially ran the operation. He has also been a "sandwich artist" for Subway and taught with several band directors of local marching bands. At Kornhauser, Daryl is responsible for the maintenance and upgrades of all the computers and represents Kornhauser as a member of the Technology Team. He also assists Gary Freiburger with long-range planning. In his spare time, Daryl plays his tuba, reads, and works with his fraternity, Phi Mu Alpha. (No picture available.)