Library, Department & Team News

---
Ekstrom Library

Government Publications

It is with great sorrow that the Government Publications Department bids farewell to Sally Gray. Sally has been a highly valued member of the department since 1992. Beginning in March, she will assume the directorship of the Alzheimer's Day Care Center. We wish Sally all the best in her new job, but we shall miss her very much.
Office of the University Librarian
Promotion (and hearty Congratulations)
Donald Dean has been promoted to Library Assistant IV, Grade 12, in the Music Library effective March 22, 1999.
Sally Wren has accepted a new position on the Health Sciences campus, a promotion to Administrative Assistant, Grade 13, in Anatomical Science and Neurobiology. Her last day in the Libraries will be February 26, 1999.
Resignations
Sally Gray has announced her plans to leave her position as Library Assistant III in Government Publications as of February 27, 1999.
Shonta' Ware will be leaving her position in Circulation as Library Assistant II on March 5, 1999.
John Whitfield will begin his new career as a family therapist with Seven Counties Services, thereby resigning his position as Library Associate in Circulation effective February 28, 1999.
Retirement
Parthenia Durrett has announced her retirement after 30 years at Kornhauser Library. Her last day of work will be February 26, 1999.
Reminder . . .
1998 Performance Appraisals (original + one copy) for all staff are due in the Administrative Office no later than Friday, March 5, 1999.
Assessing Team Structure One Year Later
What do you think of the Libraries' team structure? Now's a good time to share your opinions and suggestions for improvement. A "Team Assessment Questionnaire" has been distributed to all library personnel, the results of which will form the basis of any adjustment and reshaping that would improve user-centered services. Please return your completed questionnaire to Debbie Hawley by March 15.
Special Collections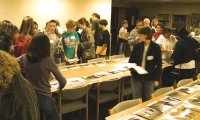 Special Collections hosted 80 students from River Valley Middle School in Indiana, as part of their history class. Andy Anderson gave each group an overview and slide presentation in the Auditorium, followed by an exhibit in the reading room. They looked at pictures of Indiana as well as broad subjects, such as The River, People Having Fun, and Change. They wrote captions, giving them a viewpoint from the facts that we gave, and followed up with discussions and a writing project, including thank-you letters. The teacher was thrilled that we could work a presentation around a teaching unit, and the students seemed to enjoy the session (as well as getting out of school for the day...)
Stacks Maintenance
Shifting is going on in the Thesis Collection on the 3rd floor to make room for the influx of a number of newly catalogued theses.
Stacks personnel are collaborating with Facilities Manager, Dave Loeffler and his crew to brighten the stacks. A long-awaited shipment of light bulbs arrived recently and we have been busy replacing the burned out bulbs.
We have also been collaborating with Susi Knoer of Special Collections fame to place additional range markers in the stacks. These new markers will be placed lower than the existing ones in order that we may comply with ADA (Americans with Disabilities Act) standards to guide patrons who are visually impaired. Wendy Bronson, Special Services, has offered her help with this project.
Kersey Library
Engineers Days
Speed Scientific School and our library welcomed visitors on the annual Engineers Days celebration Sunday, February 21 and Monday, February 22. Events began Sunday afternoon with a speech by Mark Schreck, director of the Speed School's developing materials center. Visitors toured buildings and examined student research projects and corporate educational displays from 1 p.m. to 4 p.m. on Sunday and from 9 a.m. to 3 p.m. on Monday. Students from Kentucky, southern Indiana and Cincinnati-area high schools were invited for the Monday activities. Speed students tested high school students' contest entries for model bridge design, egg carton construction, balloon inflation and other designs. Kersey Library participated on Monday with tours by Jan Kulkarni for the high school students and their teachers from 9 a.m. to 3 p.m.
New Students
Please join us in welcoming three new students to Kersey Library. Karen Habeeb, who is a Humanities major, also works at the Art Library. She will be working for Michael Weinert, our Acquisitions Supervisor. We are fortunate and happy to have her working for us. Steven Smith, who is a CEE (Civil and Environmental Engineering) major, is assisting Mark Paul with electronic projects. Hongan Tran, who goes by the name "Andy," will be working for Circulation. He is a Biochemistry major. Kersey is very proud to have them aboard!
March Birthday
Happy Birthday to Steven Smith, one of our new students, who has a birthday in March. Kersey Library also wishes all of you "March Babies" in the University Libraries a very Happy Birthday!!
Kornhauser Library
Kornhauser librarians were delighted with the overwhelmingly positive response to the first annual eFair. Promotional materials, such as postcards, flyers, and a web site, generated about 100 requests for information prior to eFair day. Event attendance was steady with the Research in the Basic Sciences session drawing the largest number of participants from both campuses. eFair '99 turned out to be a wonderful tool for introducing some of the library's new resources and services to the health sciences community.
Parthenia Durrett retired after 30 years and 8 months, effective February 26. Thank you for your years of service! (Click here for pictures of her retirement party.)
Law Library
Go Cards
For Paul Shuter's birthday, his wife Melissa Long Shuter got him what he wished for....two tickets to see UofL play Cincinnati in Cincinnati. Sitting in the VERY LAST ROW at the VERY TOP of the Shoemaker Center, Paul and Missy cheered with a great group of Cardinal fans. A great time was had by all...except the basketball team who suffered, hopefully their last blow, from the Cincinnati Bearcats.
Missy and Paul are planning to travel to watch the men's basketball team during NCAA play! Keep those fingers and toes crosses that both the men's and women's basketball teams find success in the NCAA tournament!
Diversity Programs Continue at the Brandeis School of Law
The law school's Diversity Committee, co-chaired this year by Robin Harris, presented its second program of the semester, "Coming to America: Immigration and the Law," on Monday, March 1, at 12:30pm in the Cox Lounge. This program featured former Congressman Ron Mazzoli, social worker Mauri Malka from the Jewish Family and Vocational Service, Professor Enid Trucios-Haynes (who oversees the law school's Immigration Law Mini-Clinic) and three of her Mini-Clinic students. The students addressed the challenges of working with their client, a refugee from Kazakhstan, who spoke no English.
One of the student speakers was the Law Library's very own student worker Evaristo Martinez, who both entertained and enlightened the large audience as he shared his Mini-Clinic experiences as well as his own recollections of "coming to America" as a refugee from Cuba.
Louisville Mandolin Orchestra Hits the Road in April
The Louisville Mandolin Orchestra will perform at MandoFest in Lawrence, Kansas on Saturday, April 2. (Lawrence is a hotbed of mandolin activity and is home to the Uptown Mandolin Quartet which has been together for twenty years.)
MandoFest will feature several mandolin ensembles from around the country. The LMO will perform an all-new program, including the world premiere of "Divertimento," a piece written for the LMO by composer A. Paul Johnson. Johnson is composer-in-residence for the Indianapolis Symphony. He and the LMO were nominated for a Pulitzer Prize in music last year for the LMO recording of his work,"Sinfonietta."
For more information on the Louisville Mandolin Orchestra, call Robin Harris at 852-6083.
Ultimate Office Pool Manager!
Just in time for the NCAA tournament, MicroFest, Inc. presents Tourney Tracker - the ultimate office pool manager software. It's the simplest, most flexible, and most functional tourney software available today! Conduct this year's NCAA basketball tournament or a Sweet 16 pool in a techno-savvy manner! Download the tournament bracket from MicroFest's web site www.microfest.com. Use the exclusive drag-n-drop feature to make entering picks fast and easy! Compute results for hundreds of entries in seconds! Learn more about Tourney Tracker's features, tour the software, download and purchase on-line! Melissa Long Shuter of the Law Library is part owner and Vice-President of Marketing for MicroFest, Inc.
Music Library
The Music Library is pleased to welcome Jennifer Hunt as our new Assistant Director. Jennifer comes to us from Alice Lloyd College in Pippa Passes, Kentucky where she worked as Technical Services Librarian. She earned both her M.L.S. and M.A. in Musicology from Catholic University of America in 1997. Her Bachelor of Music in flute performance is from the same institution. We are happy to have her here with us in the Music Library.
University Archives & Records Center
Associate Archivist Tom Owen has been named the 1999 Brennan-Haly Lecturer by the UofL Political Science Department. The award was established in 1978 by a bequest from the estate of former mayor and UofL Law School Dean Neville Miller. The award provides an annual lecture on the subject of city and county government by the Mayor or some other person involved in local government.
Tom, who served on the City of Louisville Board of Aldermen from 1990-1998, will give his lecture on Friday afternoon, April 9, at 3:00 p.m. in the School of Business auditorium. His talk, "The Maturing of a City Passion," will include several taped excerpts from a video political diary that Tom has been keeping since 1988.
Louisville entertainer Randy Atcher made our day February 8 when he visited the University Archives and Records Center and the office of the Encyclopedia of Louisville. Mr. Atcher sang the birthday song he wrote for his long-running children's show, T-Bar-V Ranch, to UARC office manager Sherri Pawson and Encyclopedia Assistant Editor Joe Roberts, who both celebrated February birthdays. Mr. Atcher also sang the famous T-Bar-V theme song, to the delight of all, especially local baby boomers, who still knew most of the words!
Margaret Merrick and her husband Robbie recently spent a weekend in Chicago. They saw the exhibit "The Art of the Motorcycle" at the Field Museum. The exhibit, from New York's Guggenheim, showcased 72 motorcycles. The history of the design and culture of motorcycling was effectively shown in the exhibit. If that wasn't enough of motorcycles, the next morning they went to the International Motorcycle Show at Chicago's Rosemont Convention Center. Thousands of enthusiasts crowded the exhibit hall examining the newest bikes and equipment. Margaret felt she may have been the only archivist in the crowd. They also toured the Frank Lloyd Wright house and studio in Oak Park and went by Jane Addams' Hull House.
Team News
Information Delivery
The Web of Science is the web version of Science Citation Index, Social Sciences Citation Index and Arts & Humanities Citation Index. It is located on the Research Center web page; click on "All Databases."
"Train-the-Trainer" sessions, for anyone who wants advanced training, e.g. anyone who may have to teach the navigation of the Web of Science to someone else, will occur on the following dates:
March 23, 1:00-4:00 p.m.
March 24, 9:00-noon
Shorter "Researcher/Faculty training" sessions will be held on the following dates:
March 23, 10:30 a.m.-noon
March 24, 2:00-3:30 p.m.
(Please register with Kathy Shambo. All sessions will be held in the CLC.)