General News

---
University Librarian named ACRL Academic/Research Librarian of the Year
Hannelore Rader, University Librarian at the University of Louisville, has been named the 1999 ACRL (Association of College and Research Libraries) Academic/Research Librarian of the Year Award winner, the highest honor in academic librarianship. The award, which includes a citation and $3,000 donated by Baker & Taylor Books, will be presented at a reception in her honor at the ALA Annual Conference this summer in New Orleans. She will also be recognized at the 1999 ACRL National Conference in Detroit, April 8-11. (Editorís note: More information to follow in the May issue.)
The Kentucky Library Association Support Staff Round Table
During the October meeting of KLA, a group of persons interested in the establishment of the KLA Support Staff Round Table met and I, Alice Abbott-Moore, was elected Chair. This year should be an exciting year: I have been given the opportunity to help nurture a long-awaited dream of a Support Staff Round Table. During the October meeting, several persons gave their names, addresses, and phone numbers. Since then, more people have joined. On March 16, we held our first meeting. During this meeting we completed several tasks: 1) the election of Chair-Elect and Secretary; 2) the creation of a mission/purpose statement; and, 3) the creation of a plan for future work. We are off to a wonderful start!
The purpose of the Round Table is to present avenues for staff to meet with colleagues from around the state and discuss issues relevant to themselves, their jobs, and the environment in which they work. Support staff have many valuable talents and resources that should be shared and showcased.
If you have not signed up during past organizational meetings of the Support Staff Round Table, but are interested in learning more about the Round Table and/or have suggestions, please contact me (phone: 852-8719 or email: maabbo01@gwise.louisville.edu). If you supervise support staff, please share this information with them. I would love to hear from all of you. The only requirement is that one has to join or currently be a member of KLA to be a member of the Support Staff Round Table. I do have KLA membership brochures.
I thank you and I hope to hear from you soon!
Alice Abbott-Moore, Chair
KLA Support Staff Round Table
Law Libraryís Robin Harris wins Presidentís Award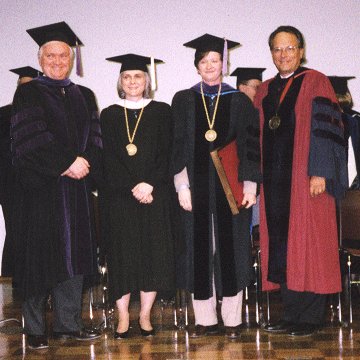 Robin Harris, Public Service Librarian at the Law Library, received the Presidentís Award for Distinguished service to the University of Louisville in a ceremony at the Health Sciences Campus auditorium on Friday, March 26. In the photo to the left, Robin poses with (left to right) Dean Donald Burnett and Grace Giesel of the Brandeis School of Law, and UofL President John Shumaker. Congratulations, Robin!