General News

---
Hannelore Rader
ACRL Academic/Research Librarian of the Year
by Ann-Christe Young, Production Editor, C&RL News
Hannelore B. Rader, university librarian at the University of Louisville (UL), has been named the 1999 ACRL Academic/Research Librarian of the Year Award winner, the highest honor in academic librarianship. The award, which includes a citation and $3,000 donated by Baker & Taylor Books, will be presented to Rader at a reception in her honor on June 28, 1999, from 5 to 6:30 p.m. at the ALA Annual Conference in New Orleans.
Committee chair James F. Williams II said, Hannelore Rader's work has defined the field of instructional services in academic libraries. She has thoroughly articulated the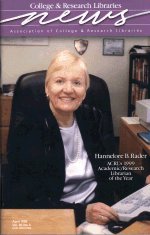 rationale for and the philosophy of these services while documenting the evolving concepts at the foundation of instructional services. She commands a commitment to the pedagogical, managerial, and political issues that must be addressed in order to develop effective instructional programs in the academic library community. And the record will show that she has an equal and abiding professional commitment to the educational role of academic libraries.

Rader's has successfully created three model library instruction programs at Eastern Michigan University (EMU), Cleveland State University (CSU), and the University of Wisconsin-Parkside (UWP). She was also an original member of ACRL's Bibliographic Instruction Task Force, which led to the creation of ACRL's Bibliographic Instruction Section, and she was a leader in the establishment of the Library Orientation and Instruction Exchange (LOEX) that was founded at EMU in the mid 1970s.

On receiving the award Rader said, "When ACRL President Maureen Sullivan called me early in the morning during the ALA Midwinter Conference in Philadelphia to inform me that I would receive the award this year, I thought I was dreaming. It seemed so unreal to me to receive this great honor from our profession. I had often thought how wonderful it must be to receive this award but I did not think I would actually become a member of this distinguished group of academic librarians. I am grateful that my work has had some impact on our profession.

Carla J. Stoffle, dean of libraries at the University of Arizona-Tucson, said, Rader has been an active contributor to international library development. She has given presentations and consulted with academic libraries in Turkey and Germany to name just two. She has been an active participant in the International Librarians Round Table and IFLA. She also served actively in the creation of cooperative programs among all types of libraries in Wisconsin and she was a member of the task force that created the UW System Library Automation Project. Her work led to the funding of integrated library systems in the university libraries.

Prior to joining UL in 1997, Rader was director of the university library at Cleveland State University (1987-96); director of the library/learning center at the UWP in Kenosha, Wisconsin (1980-87); and held several positions at EMU (1968-80).

Rader is a life member of ALA, having served four terms on Council, and ACRL, serving as president (1986-87) and chairing a number of committees. Her numerous awards include CSU's Women Who Make a Difference Award (1996), she was the 1994 education foundation honoree for the American Association of University Women, and she received a distinguished alumnus award from the University of Michigan Library Association (1984). She also received the ACRL/EBSS Distinguished Education and Behavior Sciences Education Award(1995) and the ACRL/IS Miriam Dudley Bibliographic Award (1993).

The Academic/Research Librarian of the Year Award is given annually to recognize an individual who is making an outstanding contribution to academic or research librarianship and library development. Previous winners include: Allen B. Veaner (1998); James G. Neal (1997); Ralph Russell (1996); Joseph Boisse (1995); Irene Braden Hoadley (1994); William A. Moffett (1993); Carla Stoffle (1992); Richard DeGennaro (1991); and Patricia Battin (1990)."

This article first appeared in the College & Research Libraries News, April 1999. Article and photograph reprinted with permission from C&RL News, vol. 60, no. 4

A Winner in Our Midst
Alice Abbott-Moore receives the Business & Professional Women Outstanding Support Staff Award
From a group of twelve deserving nominees from throughout the University, Alice Abbott-Moore has received the 1999 Business & Professional Women Outstanding Support Staff Award!! This honor was bestowed at the Professional Secretaries Day Luncheon on April 22. Alice, looking great in a lovely red dress, made a Christine Lahti entrance from the restroom into the packed Multipurpose Room, when she was called to the stage with other nominees before being named this year's winner. Debbie Hawley submitted the winning nomination. Alice received a lovely engraved plaque from the BPW President. Watch for photos in Inside UofL. Congratulations on this very well-deserved recognition.

.