Library, Department & Team News

---
Team News
Assessment & Resource Planning
On July 16, members of the Assessment & Resource Planning Team, Gail Gilbert and Hannelore Rader met with three representatives from Dey Systems, Inc. This company has been engaged by UofL to conduct quality surveys for all aspects of University life. Over the next few years, Dey Systems will conduct periodic surveys of students, alumni, faculty and donors to get systematic information about their library experiences. Since we are the first library system that Dey Systems has surveyed, Assessment & Resource Planning Team members are closely involved in the survey design and implementation plan. The meeting on July 16 was a two hour brainstorming session to help give the Dey representatives direction in drafting the first series of questionnaires. In approximately six to eight weeks, they will meet with us again to review the drafts. Surveys will be distributed to the different sample groups beginning in the Fall semester. Contact Melissa Laning for more information about the Dey Systems project.
Several team members are also working with the Information Literacy Team to plan an evaluation of the Honors Program Orientation session scheduled for August.
Ekstrom Library
Content Access
A Fond Farewell
We have a student who has worked in the Shelf Preparation section of Content Access for four years. Unfortunately, Leslie Schantz left us at the end of July. To say that she has been special in this position is really an understatement. She has quietly worked these four years, and done what no other student ever has. For one thing, her longevity is unsurpassed. From the start she took the initiative and did extra things that made her supervisor Ben King's job easier. When we started separating books for the third and fourth floors upon delivery, she would always have the books properly sorted and ready to deliver, so when the supervisor came in they were ready to be wheeled upstairs. Her work did not require any checking. This was a tremendous boon. Leslie was also very adept at catching things that didn't look right, both in the computer system, and in the books. She always questioned anything that didn't appear correct, and many times Ben would be amazed that she even noticed it. Leslie also has an unusual ability to focus on what she is doing until it is complete, and then move right on to something else. This type of work requires concentration, and she has more of this than any previous student. Also, a word must be said about her statistics. They were not only very high, but she completely eclipsed any other student. She was adept in all aspects of the job, and did many things on her own that made things easier. She also helped the supervisor take care of a very temperamental labeling machine. She was such a fast and accurate linker of books that this freed up the supervisor more to do other tasks, which contributed to more work. Leslie aspires to be an accountant. The company that hires her is going to have some seriously balanced books.
While at UofL Leslie performed in the marching band's color guard, a group which performs at football games. She was elected captain of the color guard her senior year. She has helped coach several area high school team's color guards, including Waggener and Central Hardin. She will coach the Henryville High School Color Guard starting in August. Also in August she will coach the "Drill Charts," instructing the members of the UofL band how to take their positions. She has been asked to come back and help coach the UofL color guard after her graduation. Also, her senior year she played bass drum in the band at UofL basketball games. She is also the President of the Institute of Managerial Accountants. We will miss a truly unique student worker in Shelf Preparation.
Information Literacy
Metropolitan College Computer Lab Adds Graduate Assistant
Hardy MacKenzie joined the staff of the Metropolitan College Computer Lab on May 17 as Graduate Assistant. Hardy is responsible for the daily operations of the lab, including scheduling consultants to staff the help desk, trouble-shooting equipment, and assisting patrons. Hardy enjoys this opportunity to interact with students and to learn even more about computers. Experience in the lab will also assist Hardy with his career goals. He is currently enrolled in the School of Education where he is pursuing a Masters in Education with a concentration in Technology. He'd like to use his experience and education one day to provide training services for corporations. Hardy enjoys living in Louisville and thinks it's a great city with great people. He spends his leisure time camping and enjoying nature. This comes naturally for Hardy since he has achieved the honor of Eagle Scout. Since joining the lab, Hardy has created a brochure that will be used to promote its services and begun work on a web site. His technical and people skills are an asset to the lab and to the Libraries.
Media and Periodicals
Well, Wendy Bronson is gone, but certainly not forgotten. We'll all think of her when we read The Owl and sorely miss her witty and literary style. This department's news summaries will pale in comparison unless we locate a brilliant muse to inspire us. Maybe we'll ask her to write for us via email from the farm at Loretto where she is happily weeding, cultivating and experiencing her own contemplative muse.
Congratulations to Rebecca Mattingly on her recent marriage to Adam Friehaut who works in Ekstrom Circulation. She and Adam honeymooned in Mexico.
Office of the University Librarian
New Hire
Ian Minderman has been hired as Program Coordinator, Grade 25, in Distance Learning Library Services, effective July 19, 1999. Most recently he has been Customer Service Manager of the Computer Learning Center and a new media lab at Southern Illinois University-Carbondale.
Promotion
Congratulations to Betsy Baumeister, who was promoted to ORC III, Grade 12 (soon to be Library Specialist, Grade 13) at Kornhauser Health Sciences Library effective July 19, 1999.
Transfer
Effective July 12, 1999, Kathy Marsall began a gradual transition to the Office of Libraries Technology, where she will put her technology talents and skills to greater use assisting with the ever-growing demands on that office. Her position is being transferred and she will not be replaced in the administrative office. For several weeks she will work 8-11am in our office and the remainder of the day in OLT, where she will report to Weiling Liu.
Resignations
Robb Allen has announced his resignation as Website Coordinator effective July 31, 1999.
Wendy Bronson, Library Assistant II in Media & Current Periodicals, left the University Libraries on July 2, 1999, as she announced in the June/July issue of The Owl.
Mark Ford, Instructor in the Reference Department of Ekstrom Library, resigned his position effective July 16, 1999.
Current Staff Vacancies
Library Assistant, Grade 11, Ekstrom, Special Services
Library Assistant II, Grade 8, Kornhauser Library (will become Library Technician, Grade 9)
Library Assistant III, Grade 10, Kornhauser Library (will become Library Assistant, Grade 11)
Library Assistant III, Grade 10, Kornhauser Library (will become Library Assistant, Grade 11)
Library Assistant III, Grade 10, split between Ekstrom & Kersey (will become Library Assistant, Grade 11)
Library Assistant III, Grade 10, Content Access (will become Library Assistant, Grade 11)
Library Assistant IV, Grade 12, Ekstrom Circulation/ILL (will become Library Specialist, Grade 13)
Library Associate, Grade 25, Ekstrom Circulation/ILL
Website Coordinator, Grade 25, Office of Libraries Technology
Reference
Teresa Bowden attended a wedding of a close high-school friend in Fort Lauderdale on June 12. Visiting with many old friends and hitting the beach were great, but the best part was the rehearsal dinner held at Pro-Player stadium in Miami during a Marlins-Yankees game - in a club box!
Teresa also had a visit from her mom and grandmother the first week of July. They enjoyed shopping and going to both Kentucky's Barren River Lake and Indiana's Lake Patoka, where they had a great time renting a pontoon boat for the afternoon. They didn't even notice the heat!
Wild West Trip
Rebecca Maddox and her husband, John, recently took a road trip out West. Their destination was Hungry Horse, Montana, the home of Glacier National Park and of Rebecca's brother. The trip was great—the happy couple enjoyed snowball fights in the mountains, hiking, and visiting both family and many of the national parks scattered throughout the West. Click here for photo.
Special Collections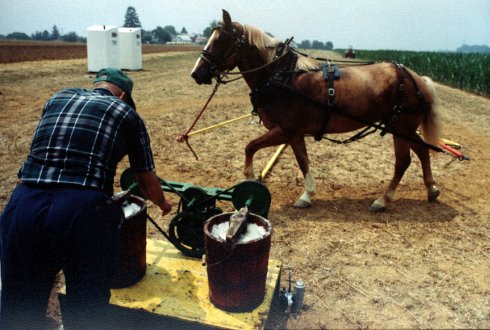 Bill Carner spent the 4th of July weekend in the Pennsylvania Dutch country attending Horse Progress Days near Lancaster and re-visiting the haunts of his youth in nearby Berks County. It was a bit of a "working vacation" as he was serving as a photographers for Rural Heritage magazine. One of the highlights of Horse Progress Days was eating homemade ice cream made with horsepower. The ice cream makers were cranked by two haflingers hitched to a couple of line-shafts hooked up to the drive gears on the ice cream makers.
Question: Do two haflingers make a whole linger?
Bill found that his frame of reference is becoming more and more rural. In almost every conversation he had, Bill noticed that he would mention that the corn in Lancaster County was a lot shorter that the corn back home in Indiana, which was at least twice as tall and already tasseled out. Bill spent the rest of he weekend hanging out with some ol' buddies he's known since they were all in the first grade, and cooling off in an old quarry converted into a pay lake where he had last gone swimming more than twenty years ago. Click here for more photos.
Kersey Library
Vacations
Jan Kulkarni and his wife took a long deserved vacation to Chicago to be with their granddaughter. He returned with lots of pictures! Marcia Kotlinski went to California to visit two of her children and their families. Next time she is taking two weeks instead of one! One is not enough!
Marshmallows and alligators...!
Carol Brinkman, while attending the ALA Conference in New Orleans, went on an interesting "Swamp Tour"! To make it more interesting, while the touring boats went along their way alligators approached the boats! In order to keep the alligators at a "safe/picture taking" distance" marshmallows were thrown to them by the boat drivers! There's more to alligators than their size and intimidating ways...they definitely have a "sweet tooth"!!
Maps
The map collection has been moved from Kersey Library to Ekstrom Library, making way for the much-needed computer lab at Kersey. The computers are on their way and the lab is taking shape! Time and construction will reflect the finish of a learning center worth waiting for at Kersey Library. Updates on this will continue...
Freshman orientation sessions
University Libraries participated in the Freshman Orientation session held this year at Bigelow Hall at the Miller Information Technology Center. Volunteers from Kersey Library were Carol Brinkman, Jan Kulkarni and Marcia Kotlinski.
Kornhauser Library
Nancy Utterback, Neal Nixon, Karen Feder, and Jane Bottoms attended the Medical Library Association meeting in Chicago this past May. Gary attended the American Library Association meeting in New Orleans. Michel Atlas attended the recent Kentucky Commonwealth Virtual Library orientation in Frankfort. Catherine Graber received a Research Initiation Grant. The 1999 AHEC (Area Health Education Center) National Workshop will be in Louisville August 8-12. UK and UofL medical librarians will host the exhibit from the National Network of Libraries of Medicine (Greater Midwest Region) displaying the products and services of the National Library of Medicine.
Law Library
Hail to the Chief
Melissa Long Shuter began serving as Staff Senate Chair in July. As Chair, Melissa will represent the University's staff as a voting member of the Board of Trustees!
Mike Whiteman, "Law Librarian Extraordinaire" attended the American Association of Law Libraries conference in Washington D.C. from July 17-22. He was one of the presenters of the program, "It's all in the Books, Right? The Ethical Perils of Ignoring Electronic Legal Resources in the Information Age."
Irish/Dutch Excursion
Miriam Schusler Williams and her husband, Wayne, traveled to southwest Ireland during late June. They visited Dingle Peninsula, drove the Killarney Kenmare Route (part of the Ring of Kerry), went to Bantry Bay and ended up in Dublin. Miriam and Wayne then traveled to Holland, where they met their son, Seth, who had flown in from Louisville. The three visited Miriam's Dutch relatives and toured lots of interesting sites. Seth liked Amsterdam best and found the Heineken Museum tour the most fascinating. (Click here for more vacation photos.)
New Challenges
Robin Harris has begun her term on the Commission on the Status of Women. The Commission serves as the President's Chief Policy Advisor on the Status of Women at UofL. President Shumaker appointed Robin to a three-year term, ending in 2002.
Robin has also accepted an appointment to the Public Radio Partnership's (PRP) newly-created Citizens Advisory Board, a federally mandated group charged with advising the Partnership on programming and other matters.
The three stations of the Partnership are:
WFPL89.3 (the local National Public Radio affiliate);
WFPK91.9 (jazz, album adult alternative, blues, folk, bluegrass, ethnic/world rhythms); and,
WUOL90.5 (classical).
Each member of the Board will serve on a subcommittee to work with one of the three stations. Robin will work with the WFPL subcommittee. The Board will provide yet another link between the Partnership and the community.
When the Partnership was created four years ago, merging three radio stations into one partnership, public radio in Louisville changed forever. The PRP is truly unique, serving as a model for the rest of the country.
If you listen to public radio, you already know how fortunate we are here in Louisville. And if you don't listen, give it a try! There really is something for everyone.
Music Library
Music Library staff are of one opinion regarding David Ballena, whose home is in Lima, Peru, and who is a student of Lee Luvisi: "We couldn't do without him!" A student assistant with multiple talents, David began as evening and weekend circulation staff in 1998/99 and is working this summer as an assistant in technical services, archive inventory, shelf preparation and stacks maintenance. David will continue to wear these many hats as the fall semester begins.
University Archives & Records Center
Margaret Merrick and her husband, Robbie, vacationed in the West this year. The Merricks, along with another couple, took the Amtrak to East Glacier, Montana, where they stayed in the Glacier Park Lodge. The area is breathtakingly beautiful and the intrepid group hiked and explored as much as they could in four days. After that it was up into Canada for some sightseeing in Alberta and British Columbia. They stayed in Yoho National Park, about an hour north of Banff, and again hiked and explored. Margaret and Robbie especially enjoyed hiking up Mount Henry in Glacier, and a hike to Lake Agnes in Lake Louise, Alberta. The latter was an uphill two-mile hike to the small lake, which had a wonderful tea room. The tea room had no water or electricity. All supplies were brought up by llamas and by the young people who staffed the tea room. The enthusiastic staff fixed the tea and food on propane heaters and lived in a loft in the cabin. It was a great vacation, made even better by the fact they did not meet any grizzlies on the trail. The only trail encounters were with friendly marmots!
Mary Margaret Bell was a co-presenter of the KCVL Kentuckiana Committee demonstration at the KCVL Orientation in Frankfort July 13, which was also televised around the state.
Kathie Johnson has had a very busy summer thus far. On June 18 her oldest daughter, Kira, (currently a receptionist in the U of L Admissions Office) got married. After a year of planning, the wedding and reception for over 300 people went fairly smoothly. Kathie and husband, Ron, sang a duet before the service, then Kathie served as matron of honor. Other attendants included Kathie and Ron's other two daughters, Megan and Cassidy. Kira and Todd spent their honeymoon in the Bahamas, while the worn-out parents just collapsed!!! Kathie says that weddings rank right up there with giving birth as exhausting life events (and the planning can last longer than nine months!)
Then Kathie and Cassidy went on a mother-daughter trip to the southern coastal region of Maine, July 8-11. Neither had ever been to this area of the country before and were excited about the visit. They stayed at a bed and breakfast in York Beach, a small beach community about an hour north of Boston. The trip included walks along the beach, lighthouse sightings, a lantern lit tour of the York Village gaol (that's "jail" to us 20th century folks), shopping in Freeport and Kennebunkport, hiking at the Laudholm Estuary Preserve, and a visit to Portsmouth, New Hampshire. Unfortunately no lobster was eaten as Kathie is allergic to shellfish and Cass is a vegetarian, but the food was good nonetheless. (Did you know that they serve a McLobster sandwich at McDonalds in that part of the country?) They highly recommend Maine as a vacation spot, with the disclaimer that the ocean water that far north is frigid, so don't go to swim.
Marshal Bell
Mary Margaret Bell reports "I may have observed my tenth anniversary (I've lost count) as a parade marshal at the recent Madison, Indiana, Regatta parade held annually on the Fourth of July weekend. It's a real slice of Americana on that holiday weekend. Apparently small town rivalries dictate the importation of a parade marshal crew from Louisville. For all the lasagna and fried chicken we can eat at the annual post-parade dinner in a parking lot, we shepherd sometimes intoxicated Shriners into place, inform the pooper-scoopers that theirs are not honorary titles, and watch the likes of Christian motorcyclists, Smokey the Bear, a man dressed up as a bug to promote a fumigation service, lots of high school bands, beauty queens, Budweiser girls in bikinis - a real cultural event. This year was notable for a movie star grand marshal, ten-year-old Jake Lloyd, who played the future Darth Vader in the recent Star Wars Episode I release and happened to be in the area shooting another movie. More typical marshals are Louisville television personalities. Every year we receive a new certificate declaring each and every one of us the World's Best Parade Marshal. My newest, complete with fried chicken stains, will be displayed in my office soon."