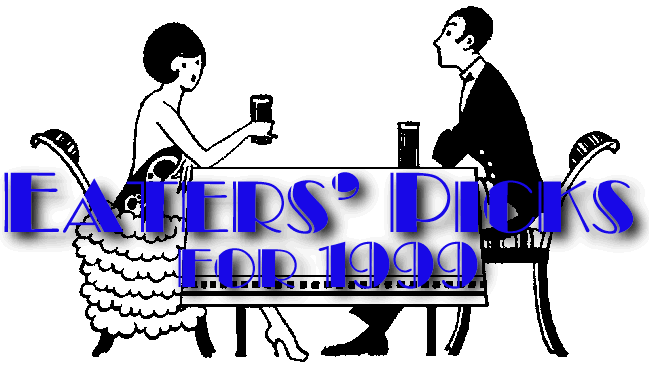 compiled by Amy Purcell, Special Collections

Many thanks to all who submitted their favorite restaurants. Within this list are many of the restaurants Mike and I go to, when we go to a restaurant .. which isn't often! I'll just throw in my two cents' worth on those mentioned and add a few of my own.

Ramsi's, Café on the World has a great atmosphere and the sea bass is fabulous. Lots of Mexican great restaurants are mentioned here and many I would really like to try. El Mundo, on Frankfort Avenue has a great hole-in-the-wall quality for those who like that sort of thing and their guacamole is fresh with chunks of avocado. The kids seem to really like Tumbleweed, which can have a fun atmosphere but the guacamole doesn't deserve to be called guacamole. There aren't too many Thai restaurants in Louisville but we enjoy Thai Siam, 3002 ˝ Bardstown Road in the Gardiner Lane Shopping Center. The appetizers and soups are all tasty and my favorite dish is the ginger chicken. The Bluegrass Brewing Company, 3929 Shelbyville Road, is a great place to go if you like the micro-brews. The rosemary chicken and garlic fries are my favorites there. And if you like sushi, I've heard from a couple of reliable sources that the Bonsai Japanese Restaurant, 916 Dupont Road is the place to go. The edamme (soy bean poppers) sound interesting. When it comes to sushi, you can't be too picky!

Now here's what others have to say about their picks:

Mary K Becker, Kornhauser Library
Mike Linnig's
9308 Cane Run Road (old Cane Run - past Riverport, towards Pleasure Ridge Park)

A shorts and flip flops-kind of place. Awesome fish sandwiches! Onion rings beyond compare! Bring a group of friends, sit out on the picnic tables, drink longneck beers and enjoy yourself.

Mark Paul, Ekstrom Library, References Department
Shalimar Restaurant
1820 South Hurstbourne Lane

Great Indian food, reasonable prices. Real clincher is a frequent diner card; with ten stamps you get a free lunch buffet or a free dinner entree. For each dinner entree purchased you get two stamps.

Shaun Daniels, Ekstrom Library, ILL
Here are my favorite places to eat!
El Mundo (Mexican) 2345 Frankfort Avenue and 253 East Market Street

Ditto's Grill 1114 Bardstown Road

If anyone is ever in Falmouth Kentucky, they should eat at my Moms restaurant, Cyndi's Riverview (606-354-4477). Just a little plug for Mom : )

Martha Parry, Ekstrom Library, Stacks Maintenance
My family's favorite pick is the Irish Rover, 2319 Frankfort Avenue. The food is the star. From the Guinness Stew on, we have never found anything we didn't like. The portions are more than ample - although we have often wanted to ask for more. The stout is flavorful. The whisky is pure Irish. The atmosphere will quickly sweep you off of Frankfort Avenue and into Ireland. A hedge of ornamental grass outside the front window blocks the view of the street, further enhancing the image. Irish music is piped in. I thought at first that the music would grate on my nerves, but soon found I wished I could hear it more clearly. Although conversation is lively and often drowns out the music, that is okay - it all adds to the atmosphere.

Give it a try. It is an experience.

Michael Weinert, Kersey Library
Atencion!! Cactus Street Café 3000 South 3rd Street, sold the store to new owners who have renamed it Santa-Fe. They serve the same sort of northern Mexican fair as their predecessors . . tostadas, tamales, enchiladas, tacos and burritos con salsa verde, rice milk et cetera. I like their tamales ($1 each). Con mucho sabor. They also sell CDs from Mexico and some groceries. And they say they will get a beer license and a coffee machine in the future. They're at the corner of 3rd and Heywood. Order from the steam table during the lunch rush because it's good and you won't have to wait for the preparation. Those who eat at Taco Bell might not know that burritos are served hot in Mexico. Rolaids® not included.

Modupe Fasunon, Ekstrom Library, Reference Department
My favorite restaurant on campus is the Wyndow (on the second floor of the SAC). They have a lot of food for the same price. You only pay once and eat as much as you can. The varieties of food they provide make it different from others. You don't have to pick and pay; it's easy to pay once and eat whatever you want. I tell my friends about Wyndow and everyone who has been there came back to tell me how much they enjoyed their food. (My favorite meal there is the supper. Some of my friends like the brunch too, but I've not been there for brunch.)

Karen Feder, Kornhauser Library
I like Z-Teca, 970 Breckenridge Lane and 1500 Bardstown Road. There's lots of food for a decent price.

Margo Smith, Ekstrom Libray
One of my favorites is Ramsi's, Café on the World, 1293 Bardstown Road, across from Mid-City Mall. Food is consistently tasty with good variety and value. If you have to wait for a table, the host will come find you in Carmichael's Bookstore.

Paula Mattingly, Kornhauser Library
The Grape Leaf, 2217 Frankfort Avenue and El Mundo (see above) have some really fabulous vegetarian entrees that I like to tell people about.

Bill Carner, Ekstrom Library, Special Collections
For the Lunch Bunch:

Wagner's Pharmacy, 3113 South 4th Street
This is where the crowd from the track eats. I saw Bob Baffert in there WITHOUT his sunglasses one day. Good lunch counter food and daily specials. Great bean soup and I hear the tuna salad is good, too.

Cactus Street Grocery and Deli (Santa Fe, see above), 3000 South 3rd Street
Another racetrack favorite, Mexican food AND southern steam-table delicacies.

Check's Café, Burnett & Hickory
Make mine a "Brat and a fry!" A Louisville tradition, NOT recommended by the American Heart Association.

Flabby Devines, Lydia & Hickory
Two blocks up from Check's, Flabby's has a steam-table and daily specials, so not everything here is fried. Meatloaf from heaven some days.

LOUISVILLE:

Lolita's Tacos, 4222 Poplar Level Road
Great burritos! Especially the avocado. No atmosphere, but the food more than makes up for it.

Mike Linnig's, 9308 Cane Run Road
The place for fish, if you can catch they can fry it. Same goes for the vegetables. A wonderful alfresco dining experience.

Baxter Station, 1201 Payne Street
This was my neighborhood restaurant when I lived in Louisville. A check of my credit card bills from those days shows I ate there ALL the time. How can food this inventive be comfort food, too? I don't know, but it is.

ON THE NORTH SIDE OF THE OHIO ...
If your passport and shots are up to date try these Hoosier eateries:

The South Side Inn, 114 East Main Street, New Albany
Don't let the line out the door intimidate you. The cafeteria line is fast, the food is good and CHEAP!

Don Pablo's, 940 East Highway 131, Clarksville
It's a chain, but the food is good and I LOVE the way it looks, if it weren't for all the Gringos, I'd swear I was south of the border.

El Nopalito, 1506 North Capitol Avenue, Corydon
Real Mexican food, including mole', very tasty, big portions, great staff.

The Blue River Café, downtown Milltown
Open Friday & Saturday til 9 PM and Sunday til 3 PM (fast time).
City food at country prices. Owner Rick Archibold and chef Debbie Woods put together an eclectic, inventive and delectable menu each weekend. As good as anything you'll find on Louisville's Restaurant Rows.

The Overlook, Highway 62, Leavenworth
The food's good, the view is even better.

FRANKFORT:

Daniel's, 243 West Broadway
As in Boone. A very uptown dining experience. Wonderful food and you'll pay for it. Very chic, very loud, noisiest restaurant I've been in outside of New York City. Save a few bucks for shopping at Poor Richard's bookstore a few doors up the street.

LEXINGTON:

The Peoples Place
A few (long) blocks east of the main campus not "far" from the new library. Very good vegetarian food and luscious desserts.

Daryl Waldrop, Kornhauser Library
I'd like to recommend Beau Weevil's. It is located on Bardstown Road between Eastern Parkway and the Mid-City Mall. The owner, Pete, produces, in my opinion, the best Cajun food in town. Prices are moderate, and there is always a party atmosphere. Most of the time, Pete will even come to the table and say "Hi." Give it a try.....I suggest the etoufe'.

Jamie Noe, Ekstrom Library, Special Collections
Check's Café, 1101 East Burnett Ave in Germantown and Cunningham's, 900 South Fifth, both have good fish, cheap prices and smoking.

Jerome Neukirk, Ekstrom Library, Special Collections
August Moon, 2295 Lexington Avenue has the best, freshest Chinese food.

Irish Rover, 2319 Frankfort Avenue. Go between 3-5 if you don't want to wait forever for a seat. I like Guinness and Woodchuck Cider on tap, the farmer's plate of cheese and fruit and there's lots of warm, fresh delicious bread.

John Daniels, Stacks Maintenance
Vietnam Kitchen, 5339 Mitscher Avenue. Try the hottest, sourest hot-and-sour soup in North America with N1 (catfish in a clay pot with rice and greens), but I have to warn you: you'll never eat hot-and-sour soup anywhere else ever again. Word of mouth has ensured that this teensy restaurant is no longer the best-kept secret in Louisville; still, the wait to be seated is well worth it.

Check's Cafe, 1101 East Burnett Street. A Germantown institution. Get a bowl of white bean soup, a rolled oyster, and a glass of beer, all for four dollars and change.

El Paraiso, 6201 Preston Highway. Friendly people serving huge portions of delicious food at low prices. It's the best Mexican restaurant in the city. Order anything.

Emperor of China, 210 Holiday Manor Center. How good is it? I used to ride my bicycle from Second Street down to River Road and from there all the way east to Blankenbaker Road-for some crab rangoon, Mongolian beef, and a cold Tsingtao. Their shrimp with lobster sauce is extraordinary.

Finley's Hickory Smoke Bar-B-Q, 1500 West Broadway. Quit fooling yourself; go eat the real thing. The rib tips dinner with macaroni-and-cheese and pork-and-beans changed my life.

Bill Morison, UARC
El Caporal. Very good carne and veggie Mexican food, chips and salsa, bottomless soft drinks, Negra Modelo and other beers, low prices, great service, and on the TVs Mexican soap operas, NFL and college football, or, if you're lucky, the World's Strongest Man Contest.