Library, Department & Team News

---
The University Libraries at the Kentucky State Fair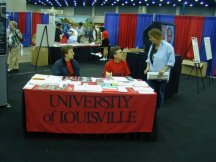 The University Libraries are once again proud to have been part of the Kentucky State Fair. Every year this event gives the University a significant amount of publicity and allows us an opportunity display our services to the community. August 24 was designated University Libraries Day in which we donated a large number of items including postcards containing historic photographs, bookmarks, library bags, and literature. We would like to thank all the departments who donated these materials. We would also like to extend a huge "thank you" to everyone who volunteered their time and support. Without volunteers, the event would not be a success. We look forward to another exciting event next year. (Left, volunteers Karen Habeeb and David Horvath at the library booth. Mary Carother [Fine Arts Department] visits the booth.)
Softball Anyone?
Stimulated by the idea of a new diamond at Cardinal Park, Dave Loeffler, Donald Dean, Jamie Noe, and John Daniels are planning a library softball team for the fall. Autumn is always a miracle in Kentucky, and what better way to celebrate the season than by propelling small leather objects at one another at high speeds? Interested parties should contact John Daniels at jddani01@gwise.louisville.edu
Annie Newman Retires
Annie Newman was a familiar face around the Libraries. At the time of her retirement she had worked at UofL for 20 years. As anyone who was fortunate enough to have her provide custodial services for their department knows, she was a hard worker. She had received numerous "Employee of the Month" awards from Physical Plant. The folks working on the Louisville Encyclopedia were particularly enamoured with her. They threw a retirement party at which John Kleber read the following poem he wrote for her:
Annie Bell and Me
A Poem by John Kleber for Annie Newman
With profuse apologies to Edgar Allan Poe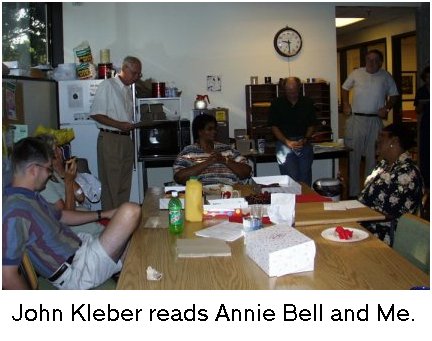 It was many and many a year ago,
In our archives by the Speed,
That a maiden there came whom you may know
By the name of Annie Bell, you see;
Arid this maiden she lived with no other thought
Than to clean and to be loved by me.
She was not a child and I was a child,
In this archives by the Speed,
But we bonded with a bond that was more than a bond–
I am my Annie Bell, you see–
With a bond that the winged seraphs of Maintenance
Coveted her and me.
And this was the reason, that, not so long ago,
In this archives by the Speed,
A notion blew out of a cloud by night
Retiring my Annie Bell, oh me;
So that her highborn husband came
And bore her away from me,
To shut her up in a house
Away from this archives by the Speed.
The Witnesses, not so happy in kingdom hall,
Were envying her and me:
Yes! that is the reason (as all of you know,
In this archives by the Speed)
That a windfall came out of the blue, thrilling
And retiring my Annie Bell, oh me.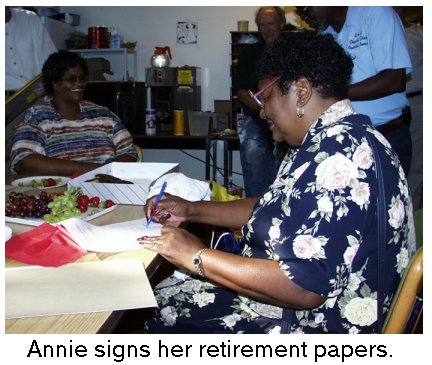 But our love it was stronger by far than the love
Of those who would come later to vacuum me–
Of many far cleaner than me
And neither the witnesses in Heaven above
Nor the demons down near the Speed
Can ever dissever my soul from the soul
of the beautiful Annie Bell, you see.
For the moon never beams without bringing me dreams
Of the beautiful Annie Bell, believe me;
And the dust does not rise that I see the bright eyes;
Of the beautiful Annie Bell, near me;
And so, all the days-long, I wait with my nickelodeon
Often wrapped in thought of that beautiful custodian,
Away from her archives here by the Speed–
In her house on Virginia where she thinks not of me.
--August 6, 1999
Minerva 2000 on the Web: An Update
Anna Marie Johnson, Information Delivery Team
A few weeks ago, our Voyager system moved to its new "home" on the brand new server in IT. The move itself had a few glitches, but overall it went more smoothly than many expected. With the new move, came an upgrade to the 98.1 version of the Voyager software. For Minerva 2000, this meant that a "History" function was available for the first time! This button allows the user to view and re-execute a previous search if he or she wishes.
Another change is in the Subject search. When a user executes a subject search, the user is placed in the LC subject heading list where his or her search terms would appear. This is a big improvement over the previous version where the search result came back empty if there was no exact match.
Search limits have also been improved to include the ability to search a range of years as opposed to just one particular year or years before/years after. For example, one can see materials published between 1980 and 1985. There are also some additional limits available including the ability to limit to Electronic Resources. Ability to limit by publication status or place of publication is also now available.
One of the unfortunate "changes" that occurred is a problem with Advanced and Ranked Keyword Searching. Currently (as of 9/17/99) a search can be executed using either of these options, but when one tries to click on the results, a message appears saying "No Bib Record Found." Both the Implementation Team and Endeavor are aware of this problem and are working to correct it. If you prefer these searches, you can still use them, but to get the results to appear, you need to click on the small icon of the floppy disk at the bottom of the screen. Basic Keyword is also a good choice and is working as usual. A problem we experienced in 97.2 that is now corrected is when a user saves or e-mails records, the complete record appears. Previously, certain portions of the record would "drop off" and a user might be left with just a title or an author, or even worse, just a place of publication. This should now work correctly.
Other changes to the Web OPAC that are new include electronic course reserves. Some of these are now available to students in a few selected classes. Kudos to the Circulation Department for their excellent work on these. Voyager 98.1 also has the ability to do self-renewals through the Web OPAC. This feature has not yet been turned on, but the Circulation group is exploring this issue.
Also, Ranked Keyword, though it is currently not working correctly, was added to the Web OPAC earlier this year. It allows the user to search the OPAC much like an Internet search engine does with relevancy ranking. Remember, you cannot use Boolean operators in this search. However, you can use search engine conventions, such as the plus symbol to signify that a term must be in the results, quotes to designate a phrase, and a question mark to truncate.
The Integration of Government Publications
by Mildred Franks, Information Delivery Team & Tyler Goldberg, Content Access Team
In Ekstrom Library the Government Publications area has been transformed and dispersed! The published Government Publications phone number (852-6760) now rolls over to Reference (852-6747).The desk has been removed and all reference inquiries are now handled at the Reference Desk on the first floor. The reference materials in the former Government Publications Department are being moved to the first floor and incorporated into the rest of the Reference collection. Microform documents will be managed in Media and Current Periodicals. The Government Publications periodicals are being classed into LC and incorporated into the Ekstrom periodicals stacks. [Note the wording "are being" in these last two sentences. Moving these materials and changing the records in Minerva 2000 are time-consuming tasks, and for the next couple of months there will be materials "here, there, and in-between." Bear with us and ask someone if you are looking for an item and can't find it.]
The bulk of the Government Publications collection will stay on the second floor for the foreseeable future. It will be maintained by Stacks Maintenance personnel, and Reference personnel will be trained to assist patrons who need help finding items.
Lee Caruthers is working at the Reference Desk and taking care of other administrative matters related to the Government Publications depository program.
Barbara Whitener's office is now located in the Reference area; her phone number is 852-8725. Barbara has reference desk duty and is keeping up the Government Publications web pages. In addition she is helping with some of the transfer of materials.
Sally Gray and Lisa Russell have both left the Libraries; their positions will be filled.
Content Access staff now receive and process government publications, with Fannie Cox overseeing these tasks. Processing is focused in two areas: processing the currently received government documents and beginning the long process to match the 160,000 bibliographic records received from Marcive (and being slowly loaded into Voyager) with the actual materials in the government publications stacks. Fannie has hired two Content Access students, Taura Lutzke and Sarah McNaughten. These students are being trained to process the currently received federal documents. Noel Lyvers is assisting in this effort by checking in the periodicals.
Several staff have begun to barcode the older materials in the government publications stacks. (With the 160,000 bibliographic records, we received 160,000 barcodes, each of which must be placed on the appropriate item.) In addition to staff volunteers, two part-time temporary Government Publications staff members, Randi Stearman and Marcelo Venegas, are continuing to work in Government Publications for the next few months and have lent their expertise to this project. (Given the magnitude of this project, anyone interesting in helping should see Tyler or Fannie.)
Stay tuned for other changes and announcements in the coming months.
Ekstrom Library

Media and Current Periodicals
The Luddite takes the plunge!
Wendy Bronson, who from time to time in this column alluded to her belief that technology may be the root of all evil, will have a computer in her home later this year. Both she and her family miss being able to talk over e-mail, so they are chipping in to purchase a computer for her. This will be doubly nice since she will be able to talk to her friends in the Libraries as well. Wendy is enjoying her work on the farm. Sadly, as the days get shorter and cooler, she will be spending less time there. She is still planning to attend seminary in the fall of 2000. She sends her best to everyone.
Out with the old and in with the new
We have three new students joining us this semester: Katie McWhorter, Kris Abplanap, and Max Ivanov. This is Katie's first semester at UofL and as of yet she has no major. She is a native Louisvillian and also works for the Chocolate Studio in St. Matthews. This summer she drove across the country to Alaska as a graduation present from one of her uncles. Kris Abplanap, a sophomore, is also undecided as to a major. Hailing from Madison, Indiana (much to the pleasure of our first Madisonite, Eric Neagle) Kris is an aspiring musician, playing various places around town. Max Ivanov is also a first semester freshman and an EMCS (Engineering, Math and Computer Science) major at Speed School. He and his family have only been in the U.S. for three years, coming from Voronezh, Russia, about three hours from Moscow. When he is not overwhelmed with the complexities of Speed School he is also interested in the martial arts.
Special Services back in business!
We are very pleased to welcome Carol McNeely who has taken the position of Coordinator of Special Services. Carol comes to us from the Eline Branch of the Louisville Free Public Library where she did a little of everything, including managing their Homebound Program. Carol was at the UofL in the 1980s when she worked at the School of Music teaching a blind student to play the violin. She would like to continue her violin teaching in some capacity. Carol confesses her guilty pleasure to be baseball, with a slight obsession for the Chicago Cubs. What is it about those Cubbies? Please give Carol a warm welcome.
Office of the University Librarian
New Hires
John Breitzman has been hired as Library Assistant, Grade 211, and will be assigned half-time to Ekstrom and half-time to Kersey coordinating electronic course reserves, effective October 11, 1999. John has been a student assistant in Ekstrom for two years.
Karen Habeeb has been hired as Library Assistant, Grade 211, at Kornhauser Library in acquisitions processing effective September 13, 1999. She has been a student assistant in Art and Kersey Libraries for two years.
Carol McNeely has been hired as Library Assistant, Grade 211, in Special Services, Ekstrom Library, effective September 20, 1999. (See Media and Current Periodicals news, above.)
GroupWise Accounts for New Faculty and Staff Members
Believe it or not, there is a systematic plan for getting new GroupWise accounts established for new employees. On the front end, as soon as it has been determined who will be hired, Debbie Hawley routinely sends the required information about the new hire to Andy Anderson (or in his absence, Calvin Miracle), who in turn submits a request to IT. So there's no need for individual departments to worry about this.
Stacks Maintenance
Stacks maintenance has been busy this summer with the new additions to the journals from government documents. We've also added labels to the ends of the ranges to help patrons find their books and journals. They are acceptable for the visually impaired. Easy to see and accurate - at least at the moment.
On a personal note, Martha Parry's son was married this month. He and his new wife have already blessed Martha this summer with a beautiful granddaughter.
Law Library
Good music for a good cause. . .
The Louisville Mandolin Orchestra will perform on Sunday, October 17, at 7:30pm at the Crestwood Baptist Church, 7101 Floydsburg Road (at the corner of Highway 146 and Floydsburg Road). Proceeds from the concert will benefit Habitat for Humanity, Oldham County. (There is no charge for admission, but donations for HFH will be accepted.)
For more information about this concert or about the Louisville Mandolin Orchestra, please call Robin Harris at 852-6083.
Sexual Harassment is the topic. . .
The Brandeis School of Law Diversity Committee and Women's Studies will present a program on sexual harassment on Monday, October 25, at 12:15pm in the Cox Lounge (second floor of the law school building). Guest speakers will be:
Cameron Lawrence, Executive Producer of University Radio
Dr. Terry Singer, Dean of the Kent School of Social Work
David Leightty, employment law attorney
The program is free and open to the public. For more information, please call Robin Harris at 852-6083.
University Archives & Records Center
Bill Morison, Margaret Merrick, and Mary Margaret Bell attended the Society of American Archivists conference in Pittsburgh in August.
Tom and Phyllis Owen spent the Labor Day weekend visiting two of their children in Washington, D.C. They watched the UL/UK football game at a sports bar there, while the remnant of Hurricane Dennis battered outside.
Tom Owen taped a segment on the history of Louisville's Olmsted Parks for a forthcoming KET television documentary; he also provided an extensive audio-taped background interview for a possible NEA-funded community and the arts celebration.
Kathie and Ron Johnson, along with youngest daughter Cassidy, spent a week in August at Edisto Beach, South Carolina, before moving Cass into a dorm at the College of Charleston. Edisto, although a tourist area, is quiet and rural. There are, of course, the many beach houses ranging from shacks to mansions, but there are no hotels on the island, and the only condos are at the golf course area. During the week, they relaxed on the beach and attended Family Orientation at CofC. Kathie and Ron then enjoyed a leisurely trip back to Louisville, driving along the Blue Ridge Parkway and through Smoky Mountains National Park.
They think Cass is attending class and studying, but know that she has already learned the important stuff, like how to take the city bus to the beach. Due to Hurricane Floyd, CofC evacuated for the entire week of September 13th and Cass spent the time in Columbia, SC with one of her roommates. With the prediction of several more hurricanes this season, it looks like this may become the norm for fall semester.