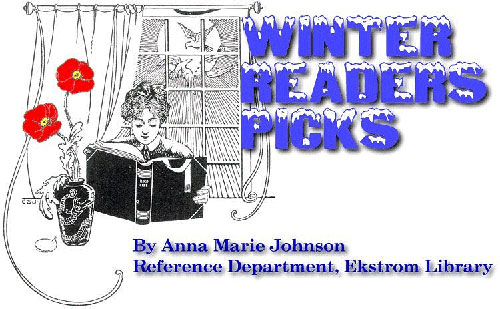 In 5th grade, my teacher gravely confided in my mother that she thought I read "to escape." Fortunately, my mother was not so concerned and laughingly told me. Even at 11, I realized the inanity of that statement. For what other purpose would one read? In the last several years, though, I've come to realize that my reasons for reading are a bit more complex. Oh, don't get me wrong, I still read to escape. It is for that reason that I eagerly await each new Sue Grafton (she just came out with "O" and my husband immediately went out a bought me the hardback copy--an extravagance!) And I am about to write Terry McMillan myself and ask her why she is taking so long with another book. It must be that younger man she picked up in Jamaica. In any case, I have in the last several years begun reading things that I never would have chosen unless a teacher had made me. Scary thought, but true nevertheless. Now some of you have always probably read things I would consider school reading list worthy--more power to you---and some of you will think I'm crazy, insane, and perhaps even a bit snobbish. That's my point. We all read for different and complex reasons and sometimes those reasons change over time. Mine certainly have.

A few years ago, I had a quote as my e-mail signature file: "The beauty of the world has two edges, one of laughter, one of anguish, cutting the heart asunder" from Virginia Woolf's A Room of One's Own (PN 471 .W6 1957). A retired professor uncle of mine with whom I exchange e-mails commented on it and asked if I'd read a lot of Woolf. I was mortified! I'd gotten the quote out of one of those wonderful quote books in Reference. I'd never read a single thing by Woolf, and I have degrees in creative writing and comparative literature! So this past year, I began on a little edification project of my own to try and make up for what I'd missed. I decided that I would read some of Woolf's more famous works and a biography of her. I started with A Room of One's Own--mostly because that's where the quote came from and it was short. I also read Orlando ( PR 6045 .O72 O7 1992) and Mrs. Dalloway (PR 6045 .O72 M7 1990). The latter was because I'd read Michael Cunningham's wonderful book The Hours (Ekstrom Browsing, PS 3553 .U484 H68 1998) earlier in '99 and it is based on Woolf. Nigel Nicolson's Portrait of a Marriage (PR 6037 .A35 Z8)was recommended to me to accompany my expedition into Woolf, and it to provided another interesting angle on the author from the point of view of her friend and romantic intimate Vita Sackville-West. I'm still working on the biography and To the Lighthouse (PR 6045 .O72 T6 1989), but so far, I've enjoyed everything I have read by Woolf.

I also discovered Carol Heilbrun who wrote one of the best books I read this year called The Last Gift of Time: Life Beyond Sixty (Ekstrom Browsing PS 3558 .E4526 Z465 1997). Heilbrun had planned to commit suicide if she lived to her 70th year; her belief was that 70 years was plenty of time. Her 70th birthday came and she chose life instead realizing that her sixties had been one of her most enjoyable decades.

This year's reading for me has been about connections, and Heilbrun's book mentions her friendship with May Sarton whom I'd heard of but never read. I began with Endgame: a Journal of the 79th Year. (PS 3537 .A832 Z465 1992) It is much of what one would expect--lots of pain and suffering that comes with old age, but there is also much that she comments on in terms of politics and personal memories that makes the book worthwhile.

Two other books I'd highly recommend are Woman: An Intimate Geography by Natalie Angier (Ekstrom Browsing QP 38 .A54 1999) and The Sunflower by Simon Wiesenthal (D 810 .J4 W5313 1997). Angier is one of the science writers for the New York Times and has a knack for making science fun (this should carry extra weight as I'm a literature person and not a science freak). Her book blends biology, psychology, personal stories, and more quite seamlessly, leaving the reader free to choose which theories to buy into. I am buying this book for several of my women friends this year. Wiesenthal's book is more philosophical. It is a meditation on forgiveness--well, actually many meditations by philosophers, theologians, writers, and others.

Lastly there is my escape reading. I would second Katrina Rowe who recommends the Harry Potter series. I was skeptical, but they are really wonderful adventures with true friends, and evil versus good (but not too good.) I also recommend Ender's Shadow by Orson Scott Card (Ekstrom Browsing, PS 3553 .A655 E58 1999). This is a parallel novel to Ender's Game, and it is, I think, just as good. It tells the exact same story as Ender's Game but from the point of view of a more minor character. A neat play on perspective. And last but not least Melissa Bank's A Girl's Guide to Hunting and Fishing (Ekstrom Browsing PS 3552 .A487 G57 1999) which is not about hunting and fishing at all, but rather about one woman's humorous progress from 14 to adulthood, similar to Helen Fielding's Bridget Jones's Diary. (Ekstrom Browsing PR 6056 .I4588 B75 1998)

Gary Freiburger
Galileo's Daughter by Dava Sobel, QB 36 .G2 S65 1999 in the browsing collection. This is a quick read for anyone interested in the history of science, Galileo or the story of a loving father/child relationship. Galileo's daughter spent her life in a convent and is known only through letters to her father. He saved all of her letters. Unfortunately his letters to her were destroyed upon her death. The book devotes more pages to Galileo, particularly his later years and his trouble with the Church, than it does to his daughter. However it does provide enough information to allow the reader to begin to understand this intelligent woman who contributed in her own way to Galileo's life, writing and discoveries.

Judith Niles
Slow Dancing on Dinosaur Bones by Lana Witt. (Ekstrom Browsing PS 3573 .I9157 S57 1996)This book takes place in the (presumably) fictitious town of Pick, Kentucky. It involves ...
Coal mines
Mineral rights
A saloon keeper/musician
An albino bank teller
A prodigal daughter returns, escaping fromů
A murderous jealous lover
A Yankee passing through
And many other fascinating citizens of Pick
"O" is for Outlaw by Sue Grafton (Ekstrom Browsing PS 3557 .R13 O2 1999)
Former Louisville resident and U of L student Grafton's latest. The latest in her "alphabet" series of mysteries has a Louisville/U of L neighborhood connection in the plot.
Elizabeth Smigielski
Consider This, Senora by Harriet Doerr (Ekstrom PS 3554 .O36 C6 1993)
This award-winning work, the author's first, was written when she was in her late 70's. It is a tale of an American entrepreneurial couple who return to the husband's ancestral family's long- abandoned mine in the mountains of rural Mexico, and attempt to resurrect it while trying to settle in to the established community of the local pueblo. The prose is clear, concise, and evocative. Reflecting Doerr's many years of living in Mexico, the characters and plot are well developed without falling into hackneyed stereotypes or scenarios.
John Daniels
The Magic Mountain by Thomas Mann (PT 2625 .A44 Z32 1995). I read this book the first winter I was a staff member here; I re-read it the second winter I was a staff member here. Given that the novel is, among other things, about the nature of time as it passes during seven years in a snowbound sanitarium, the experience was pretty eerie. Vladimir Nabokov (see below) hated Mann, deriding him as 'a novelist of ideas,' but Nabokov hated everybody. Mann's erudition is a wonder. Be sure to read the John Woods translation, if it's available; H.T. Lowe-Porter's rendering assumes the reader has enough French to understand a critical mid-novel conversation in that tongue between Hans Castorp and Clavdia Chauchat.
Molloy (PQ 2603 .E378 M63 1955) by Samuel Beckett, translated from the French by Patrick Bowles in collaboration with the author. The first half of Molloy makes me scream with laughter; the second half just makes me scream. A very disturbing little book from the man who brought us Waiting for Godot. Give it a try if you're having trouble staying awake at night.
One proper function of biography is to turn demigods back into humans. A.N. Wilson's Tolstoy (PG 3385 .W48 1988) did just that for me. Also, after several revisions of this list, I find that I cannot in good conscience mention Count Tolstoy even in passing without recommending the master's Anna Karenina (PG 3366 .A6 M3 1968), a book that changed my life.
Vladimir Nabokov's The Defense (PZ 3 .N121 Dc2a). Translated by Michael Scammell from the Russian with the collaboration of the author. This book is, in my opinion, the first of VN's novels in which his astounding authorial powers first truly bloom. It's the chronicle of a exceedingly brilliant chess player. We all know what happens to exceedingly brilliant chess players in the end. Pay close attention to pattern, repetition, and geometry in the narrative, and try not to go insane, okay?
Sigmund Freud's The Psychopathology of Everyday Life (BF 173 .F82 1965) is perhaps the most delightful find of mine this year. Nabokov hated Freud, too. See what I mean? Herr Freud is a lively, engaging, funny, human, and extremely accessible writer. Those who have imagined him as a bespectacled, balding bugbear obsessed by sex and death should devour this small book immediately; he was all of those things, of course, but also much more.
Faithful Owl readers may remember my recommending Vidiadhar Surajprasad Naipaul's A House for Mister Biswas (PR9272.9 .N32 H6 1984) last year. I'm pleased to expand on that report with the news that his A Bend in the River (PR9272.9 .N32 B46) is marvelous, a thing of both beauty and cruelty. Readers who weren't fond of Biswas but liked The Mosquito Coast (PS3570.H4 M6) by Paul Theroux may be interested in Theroux's prolonged vituperation against his mentor Naipaul in last year's Sir Vidia's Shadow (not owned by Ekstrom Library). Is there anything as much fun as a literary rivalry? Yes, there is: potato soup with a grilled cheese sandwich, for instance, is much more fun. But you can't read a bowl of soup.
Mildred Franks
I read Sena Naslund's Ahab's Wife (Ekstrom Browsing, PS 3564 .A827 A76 1999), and I thoroughly enjoyed it. I felt it does deserve all the critical acclaim it has received. It is somewhat slow at the beginning, so don't give up too soon!
Katrina Rowe
Harry Potter and the Chamber of Secrets by J.K. Rowling (Ekstrom Browsing PZ 7 .R79835 Har 1999)
Harry Potter and the prisoner of Azkaban by J.K. Rowling (Ekstrom Browsing PZ 7 .R79835 Ham 1999)
Harry Potter and the sorcerer's stone by J.K. Rowling (Ekstrom Browsing PZ 7 .R79835 Har)
Detective duos edited by Marcia Muller and Bill Pronzini (Ekstrom Browsing PS 648 .D4 D48 1997) Best short mystery stories.
Mary Margaret Bell
I've recently read and can recommend Alice Echols' Scars of Sweet Paradise, (Music Library, ML 420 .J77E25 1999), a new biography of the short, tumultuous life and legendary career of Sixties icon Janis Joplin. In one of the steals I obtained at our recent book sale, I finally got around to reading Sarum, the novel of England, by Edward Rutherfurd (Ekstrom PR 6068 .U88 S27 1987). It was recommended to me when I visited England a couple of years ago. I read it over the holidays and found it very timely to read a historical panorama from prehistoric times to recent eras while our attention was drawn to the dawn of 2000.
William Morison
I haven't seen the movie but I've just finished the book. Very highly recommended. Laugh through your tears with Homer Wells and company in The Cider House Rules, by John Irving. Ekstrom Library, PS 3559 .R68 C5 1985. "Right" said Homer.
Stephen Whiteside
It is my pleasure to talk about a book I am reading right now. Walter Mosley's Workin' on the Chain Gang, Shaking Off the Dead Hand of History, published by Ballantine, Library of Contemporary Thought, 2000, pp. 118, $16.95 at Hawley Cooke (Editor's Note: also in Ekstrom Browsing, E 185.615 .M645 2000) I heard him on NPR being interviewed about this book. It hit a responsive chord in me. He questions the values of our economic system. He poses the question can we get there from here? He doesn't really proscribe a solution, but calls the reader to think about their individual and shared shackles of slavery in this system. He eloquently points out that blacks, poor whites, and the middle class are in the same boat. Actually the same 'chain gang' servin' the master and gettin' no where but deeper in debt and increasingly disconnected from our selves and each other. The system feeding off our souls and our fragmentation. This book rings true in the prophetic sense, like Amos, Hosea, Jeremiah, Isaiah, Ezekiel, Jesus, Gandhi, and King. So if you want to venture forth and read the thoughts of a contemporary prophet, then Walter Mosley's book is for you.
Rebecca Maddox
Woman : an intimate geography by Natalie Angier (Ekstrom Browsing, QP 38 .A54 1999) Natalie Angier skillfully explains the anatomy of woman in language that every woman can understand and appreciate.
Poisonwood Bible : a novel by Barbara Kingsolver (Ekstrom Browsing PS 3561 .I496 P65 1998) This book has been mentioned in the Reader's Picks before; take the hint it is a really engrossing novel that will keep you thoroughly entertained.
Where Peachtree meets Sweet Auburn : the saga of two families and the making of Atlanta by Gary M. Pomerantz (Ekstrom Browsing F 294 .A853 A28 1996) If you have ever been interested in the development of Atlanta, Georgia this book will satisfy your intellectual appetite.
East of the mountains by David Guterson (Ekstrom Browsing PS 3557 .U846 E22 1999) David Guterson's East of the Mountains has a refreshingly different style from his previous book Snow Falling on Cedars. Read both titles and discover the talents of Guterson's storytelling.