Library, Department & Team News

---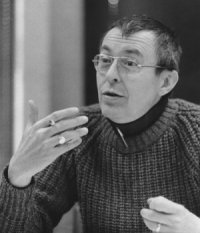 Dr. William F. Axton
The University Libraries mourns the loss of a dear friend. William F. Axton died on January 25. Not only had Dr. Axton been chair of the English Department, founder of the Dickens Society and author of several books on Charles Dickens, he was a long time member of the Library Associates, serving as president from 1987 to 1997. When Dr. Axton retired from teaching in 1990, he made increasing the membership of the Library Associates a personal priority. Dr. Axton was also a contributor to the Library Review and served as its editor from 1991 through 1994.

photo: Dr. William Axton, English Department, University of Louisville, 1979. (Photograph courtesy of University Archives and Records Center.)

Library Leadership
Anna Marie Johnson and Allen Ashman were selected to attend the Southeastern Institute on Collaborative Library Leadership. The weeklong institute seeks to develop and enhance leadership among library consortia. The goal is to teach consortia staff the skills they need to lead their organizations and their member libraries into the future, a future where cooperation and collaboration are critical for success. The institute will be held February 15-20 in Atlanta, Georgia. Congratulations Anna Marie and Allen!

Art Library
The Art Library welcomes a new student assistant this semester. Ann Turner is an art history major working on her master's thesis, on local architect Frederic Morgan.

Ekstrom Library
Office of the University Librarian
Honoring Excellence
The December 16 Holiday Party provided a festive occasion for the Libraries Prize Patrol to recognize several individuals for outstanding service. Chris Mabelitini of Distance Learning Library Services was honored as the first "Student Assistant of the Semester," which carries an award of $100. Two other worthy students, Olutola Iyun (Metro College Computer Lab) and Milton Gardner (Circulation), were selected as runners-up and received $50.

Six staff members were honored with "Shining Star Awards:" Rebecca Maddox (Ekstrom Reference), Paula Mattingly (Kornhauser), Mike Purcell (Libraries Technology), Kathy Rogers (Kornhauser), Pat Waters (Kersey), and Judy Wulff (Kornhauser). Each received a certificate of appreciation as well as a $25 gift certificate to the vendor of their choice: Bath & Body Works, Baxter Avenue Theatres, Bristol Bar & Grille, Ear X-Tacy, Frank Otte Nurseries, Hawley-Cooke, Pier 1, Target, Uptown Cafe.

The next round of quarterly Shining Star Awards is scheduled for February or March, but it can't happen unless the LPP has nominations to consider. Think about your colleagues' good deeds and take a few minutes to tell us why they deserve recognition! http://uofl.louisville.edu/library/docs/prize-patrol/

Public Service Training for Student Assistants
Spring 2000 Training Dates, Please choose one:
Tuesday ... February 1 ... 3-5pm
Saturday ... February 12 ... 11-1pm
Thursday ... February 24 ... 6-8pm


This training is required for all new student assistants. You will be paid for attending. Refreshments served. Supervisors, please RSVP to Debbie ASAP

New Hires David Kniss has been hired as Library Assistant, Grade 11, in Ekstrom Circulation effective January 18, 2000.

Hugh McCarty has been hired as Clerk Senior, Grade 8, in Ekstrom Shipping & Receiving effective January 18, 2000.

Retirement
Lee Caruthers announced his retirement as Associate Professor. His last day of work was January 4, 2000.

On Sabbatical
Two of our faculty members, Michel Atlas and Sharon Edge, are on sabbatical leave from January 1 through June 30, 2000.

Kersey Library
Dramatic Moments
John Brietzman has invited us to the first UofL Theatre production for this year, beginning at 8:00 pm in the Thrust Theatre. Six short plays will be directed and performed by university students. John will be directing the last play of the evening entitled Cowboy Mouth written by Sam Shepard, an established artist in the entertainment world. Be sure to go and enjoy all this wonderful talent. John is also working on a project which will run March 9-11 and March 16-18 called Plan B. Curtain will be at 8:00 pm at Artswatch, 2337 Frankfort Avenue. John will be directing and performing in this play which will be produced by Renegade Productions, founded by John in 1998. Don't miss it!

Kornhauser Library
Strategic Planning
After months of brainstorming and ardently developing new initiatives for the 2000 Strategic Plan, each section presented its strategic plan activities during the Strategic Planning Kickoff. To add interest and challenge to the presentations, our clever director required that the plans must be presented in a creative fashion. Undaunted, the Kornhauser staff unleashed their talents to great effect. Among the afternoon's entertainment were top-hatted members of Public Access Services reciting the "PAS Address" against a stirring hummed background of "Mine Eyes Have Seen the Glory," the Administrative Punch and Judy marionette show, the technical services So Bright and the Seven Dwarfs (Resourceful, Hospitable, Curious, Clippy, Sticky, Loaded and Voyager), the lost Sign Committee, the Information and Education Services miming reference librarians, and The Kornhauser Improv's own Daryl Waldrop as Barney the Dinosaur and Systems Samurai.

Friends of the Kornhauser Library
All Kornhauser staff pitched in and helped stuff and seal over 3000 envelopes that were mailed for the annual Friends of the Kornhauser Library fund-raiser. The Friends' annual dinner will be held in April.

Shining Stars
Paula Mattingly, Kathy Rogers, and Judy Wulff received shining star awards at the UofL Libraries Holiday Party. Congratulations to all and sincere thanks and appreciation for their hard work!

Kornhauser Holiday Party
On December 17, Kornhauser staff turned out for the Kornhauser Holiday Party, held in the main entrance of the library. Also partaking in the potluck feast were former employees, Parthenia Durrett and Karin Burton. Everyone left with full bellies, and the luckiest guests took with them fruitcakes and poinsettias as door prizes.

Staff News
Michel Atlas gave a presentation on consumer health resources to approximately thirty members of the Louisville Free Public Library reference staff at the main branch of the library. Michel's article, "The Rise and Fall of the Medical Mediated Searcher" will be published in the January issue of The Bulletin of the Medical Library Association. This coincides with Michel's sabbatical leave, beginning on 1 January 2000. Michel will return to Kornhauser on July 1, 2000. She will be missed, but we wish her a productive and satisfying sabbatical.

Violinist Betsy Baumeister performed with the Owensboro Symphony during Governor Paul Patton's second inauguration.

Karen Habeeb is one of the six members of evenSong, an acapella group focusing on sacred music of the Middle Ages and Renaissance. evenSong will present a concert entitled "A Light in the Darkness" featuring the music of Franchino Gafori and 15th century English carols. Gafori, a contemporary and friend of Leonardo DaVinci, is well known as a musical theorist, but his compositions have been largely ignored. The program also includes a chant setting of the legend of St. Ursula and the 11,000 virgins by the famous German abbess and mystic Hildegard of Bingen. The concert will be held on Sunday, February 6 at 3:00 at the Ursuline Chapel, 3175 Lexington Road. Tickets cost $5.00 for adults and $2.00 for students. evenSong also performs a free weekly Compline Service, which is a meditative, interfaith service that includes contemporary and originally composed work. The half-hour service is held every Sunday at 8:30 at the Chapel of St. Philip's Church at the corner of Floyd and Woodbine.

Maura Ellison is proud to announce that she is a great aunt for the first time. The party responsible is Olivia Nicole, healthy and happy.

Many members of the Kornhauser staff hit the road over the holidays. Gary and Natalie Freiburger visited their son in Los Angeles. Felix Garza and his family headed to south Texas for some sunshine and fresh picked citrus. Desperate for real winter weather, Elizabeth Smigielski went to Detroit, only to miss Louisville's white Christmas. Lured by neon and sequins, high-flyer Neal Nixon jetted out to Los Angeles and then drove to Las Vegas to see the New Year's Day concert of Barbra Striesand.

Denyse Anger, her prose flowing after a restful vacation, wrote this essay:

"What We Did On Our Holidays"

With three inches of snow already on the ground and more to come, we sat out what would have been the first hour of our flight while the plane was being de-iced. At 8 am on Christmas Eve morning, my husband Chris and I flew from Louisville to the Bay Area, our first trip back since we moved here a year ago. Once there, we were welcomed by the weather that attracts multitudes: blue skies, sunshine, and temperatures in the 60's. It seemed as though everyone was out for a stroll with their dog, a distinctly relaxed feeling in the air as if the rest of the town (Oakland/Rockridge) was on vacation too.

We saw family and friends who whisked us to the Marina district in SF for a late Christmas Eve supper at Izzy's, famous for its steak and chops. Unfortunately, we eat neither, and had, at that point, been up for 22 hours. But the night's magic still came through. In this venerable SF institution, we thought we glimpsed the ghost of Herb Caen, beloved Chronicle columnist, holding forth in a corner with his raconteur pals.

We had planned on seeing the ocean, but went to the movies instead

.

By New Year's Eve, we were back home in front of the television watching other people party, expecting the gunfire that was customary in Berkeley. It never came.

Law Library
Reappointment
Robin Harris is happy to report that President John Shumaker has reappointed her to the University of Louisville Athletic Association Board of Directors for another three-year term, ending June 30, 2002.

Magical Mystery Tour
Robin discovered this news upon returning to work after a week-long stay in England, during which she visited Liverpool and took the famed "Magical Mystery Tour" of Beatles landmarks, visited Oxford and had lunch in the "Turf Tavern" that President Clinton frequented in his days as a student, toured the Charles Dickens House and Keats Grove, and took in four wonderful London stage productions. Needless to say, this was the trip of a lifetime. January is a fabulous time to travel in England; prices are low, visitors are few, and opportunities for sightseeing are wonderful.

Louisville Mandolin Orchestra News
On Friday, February 11 at 7:30pm, the LMO will perform in the new music series "Resolution 2000" in the Stem Concert Hall of the Ogle Center at Indiana University Southeast. Tickets to this show are $12.00 and are available at the IUS Box Office and at the Kentucky Center for the Arts. Several area groups will perform new works. The LMO will play "Divertimento #4," a work by A. Paul Johnson, the composer-in-residence for the Indianapolis Symphony.

For more information about this concert or about the LMO, please contact Robin at 852-6083 or robin.harris@louisville.edu

Music Library
Invasion of the Music Librarians
The Music Library Association will hold its annual meeting here in Louisville, February 23-26, at the Hyatt Regency. Many sessions are planned, including discussion on Bluegrass Music, given by Ron Pen; the Grawemeyer contemporary collection of music, given by Paul Brink; the Louisville Orchestra Commission Project, by Chris Gable; and the history of music in Louisville, given by Jack Ashworth. Other noteworthy sessions will include "Copyright in the Digital Age – Electronic Reserves, Distance Learning and Fair Use." The Archives roundtable will offer "An Introduction to Encoded Archival Description," and Morgan Cundiff from the Library of Congress will give a talk on the National Digital Library. Stanley Sadie, editor of New Grove Dictionary of Music and Musicians, will join MLA's David Hunter and Neal Zaslaw in a Saturday morning plenary session, "Music Reference at the Millenium." So, there's something of interest for every librarian. Come and take advantage of this great meeting right here in town! For more information, please contact Jennifer Hunt at 852-5659.

University Archives
Tom and Phyllis Owen spent New Years in Northern California. They conquered San Francisco on foot and public transportation and spent three days in north coast towns along Highway 1, working east from Bodega Bay into wine country. The weather was great, they were joined occasionally by two of their children, and they saw an unbelievably beautiful seascape, landscape and cityscape.

Tom Owen recently narrated a seven-minute video entitled Celebrating a Century of Giving in Louisville and Southern Indiana. The video was featured at the Philanthropy Day annual meeting of the Louisville Area Association of Philanthropic Organizations.