Welcome to the University Libraries!
Fannie Cox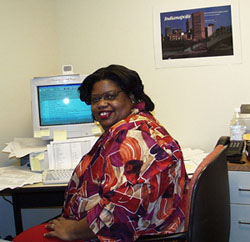 Originally from Indianapolis and armed with an undergraduate degree from Indiana University, Fannie's first real job was at Kentucky State University (KSU), as a Library Assistant in Government Documents, circulation, stack maintainance, ILL, reference and acquisitions. While at KSU, she won a National Science Foundation Fellowship to pursue a Masters degree in Public Administration (MPA) with specializations in Information Systems and Human Resources. After KSU, Fannie was determined to return to Indianapolis and applied for a position with the Indianapolis-Marion County Public Library (I-MCPL), where she started part-time in Children Services, then full-time in the Order Section (Acquisitions) and Cataloging. Fannie also did some moonlighting at the IUPUI Ruth Lilly Medical and Research Library on a serials cleanup project after NOTIS was installed. Upon completion of the cleanup project, the University Library at IUPUI advertised a newly created position for a someone to be responsible for the Federal Depository Library Program (FDLP) compliance, processing and bibliographic control of the Government Documents Collection. Fannie was the lucky one to get that position and was also the liaison between Public and Technical Services. A short time later, MARCIVE was choosen to supply the Library with both restropective and current tapeloads of bibliographic records for the government documents, a project which Fannie oversaw for several years.
Also while at IUPUI, Fannie pursued her graduate degree in Library Science graduating in May 1998 with an MLS. But, before graduating, Fannie did an Internship on the Digitial Libraries Team also at IUPUI creating subject web pages. These pages are still available at http://www.ulib.iupui.edu/subjectareas/art/art.shtml
http://www.ulib.iupui.edu/subjectareas/english.html
http://www.ulib.iupui.edu/subjectareas/biology/bio.html
For fun, Fannie likes attending music festivals and one day hopes to pick up her hobbies again of playing the violin and photography.
Noel Lyvers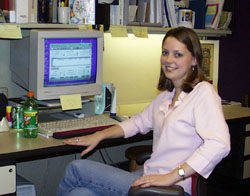 Originally from Bardstown, Kentucky, Noel moved to Louisville in 1997. She has recently moved to the Highlands area. She is a Library Assistant in Content Access working with serials and acquisitions and has occupied the position since February of 1999. She attended Western Kentucky University in her freshman and sophomore years and graduated from UofL in May of 1999 with a Bachelor's in English. Noel hopes to be starting graduate school soon. Her hobbies include reading, writing, drawing, and camping.
Jennifer Hunt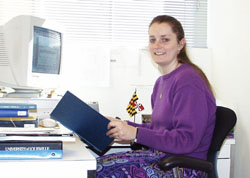 Jennifer Hunt joined the Music Library in February 1999 as Assistant Director. Formerly Technical Services Librarian at Alice Lloyd College in Pippa Passes, Kentucky, she completed her library science degree at Catholic University in Washington, D.C., as well as her Masters in Musicology and Bachelor's in Music Performance. At the Music Library, Jennifer directs the technical services area as well as binding and stacks maintenance. When she is not in the library, she enjoys playing her flute with a few area ensembles, going to concerts, conducting genealogy research, running, and being spoiled rotten by her husband, another flutist.
Jessie Roth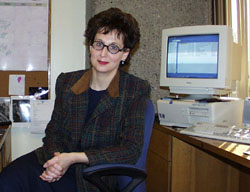 Before leaving the Emergency Psychiatry Department to come to work for Ms. Rader, University Librarian, Jessie worked at Kornhauser Library and Ekstrom Library. So, she is not exactly "new" to the Libraries. Most all of Jessie's free time is spent with her family. Jessie, Mark and their son Simon share their home with two cats (Mimi and Rudy), a dog (Sam Moe/Sammy) and three fish (Sparky, Goldie and Cleo).
Martha Parry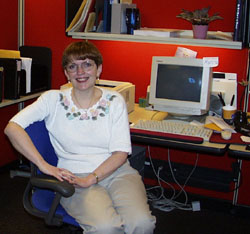 Before coming to the Ekstrom Library, Martha spent most of her post college time in business, either in sales or management - or both! She has worked in retail and as a manufacturer's representative selling a line of greeting cards and gift wrap. At one point she and her husband owned a shoe store in Cincinnati.
Martha grew up in Lafayette, Indiana and graduated from Ball State University with a triple minor in History, Sociology, and Library Science.
Martha lives in Middletown with her husband and younger son. Her older son has blessed her with a lovely daughter-in-law and a beautiful granddaughter along with a step-grandson who is adorable. Her husband is in the last stage of completing his Doctorate in Education.