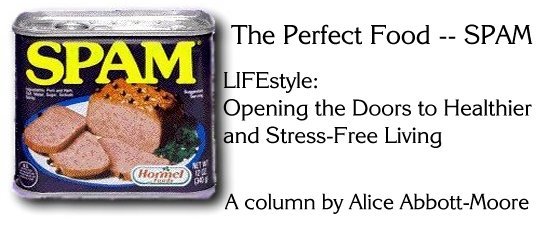 ---
You might think of other food as ideal or the perfect food, but few consumptive items capture the palate and the imagination like SPAM. SPAM has been the subject of much conversation, many debates and much humor. Most everyone can recollect a time when SPAM entered into his/her life.
But regardless of the ridicule and snickering, SPAM has endured…lasted… persevered. It has survived the taunts and the jeers and remains one of our most popular foods. How many other food items have so many web sites devoted to their glory? How many other foods have been showcased in our culture by way of art, radio, television, and song?
SPAM made its way into our lives during 1937. It was during that year that SPAM was created. It was originally called Hormel Spiced Ham. Hormel held a contest to find a name that appropriately described the new product. The winner of the contest took the "sp" from "spiced" and the "am" from "ham." The top prize for the contest was $100.00.
During the 1940s when the United States marched off to WWII, so did SPAM. During the war, Russian soldiers ate SPAM, according to Nikita Krushchev's book Krushchev Remembers.
Few food items have enjoyed the notoriety of SPAM, the perfect food. Think about the can…it is the exactly right size for convenience and food portion. And it is just the right size for chucking across open spaces. Also, the can is a pretty shade of blue. Either shade of blue, the dark and for regular and the light blue for lite SPAM, are both calming and cooling.
What about the sound of SPAM emerging from the can…Is there another sound that is so recognizable and unique? No, the sound is definitely its own.
The texture of SPAM is for one to feel, to sense, to enjoy.
The taste…well, let's just say that it has its own distinct flavor.
Snicker about SPAM if you will, but deep down, this world would be a far different place without it. Sometimes we just need to lube our chassis and eat some SPAM.
Some Deep Thoughts about SPAM by Jack Handy:
"I bet one legend that keeps recurring throughout history, in every culture, is the story of SPAM."
"If you ever drop your SPAM into a river of molten lava, let it go, because, man, it's gone."
"I think man invented SPAM by instinct."
Spam Trivia:
If all the cans of Spam ever eaten were put end-to-end, they would circle the globe at least ten times.
In the U.S. alone, 3.8 cans of Spam "are consumed every second" (assuming SPAM is eaten 24 hours a day, 365.25 days a year).
Senator Robert Byrd of West Virginia eats a sandwich of SPAM and mayonnaise on white bread three times a week.
Residents of Hawaii eat an average of four cans of SPAM per person per year, more than in any other place on Earth.
By 1959, a billion cans of SPAM had been sold. The two billion mark was hit in 1970, followed by three billion in 1980, four billion in 1986, and five billion in 1993. That's a lot of SPAM!
In Korea, SPAM is sold in stylish presentation gift boxes of nine cans each. SPAM stolen from army PXs can be found on the Korean black market. And there are Korean imitations called Lo-Spam, Dak, Plumrose, and Tulip, to ensure that no one need go without.
Nikita Krushchev once credited SPAM with the survival of the WWII Russian army. ''Without SPAM, we wouldn't have been able to feed our army,'' he said.
SPAM is sold in over 99% of U.S. grocery stores.
Over 60 million people in the U.S. eat SPAM.
SPAM is made in two U.S. locations - Austin, Minnesota, and Fremont, Nebraska - and seven other countries: England, Australia, Denmark, Philippines, Japan, Taiwan, and South Korea.
In 1989, the U.S. armed forces bought 3.3 million pounds of SPAM.
Over 141 million cans of SPAM are sold worldwide each year.
The SPAM luncheon meat trademark is registered in 93 countries, and sold in 45, from Anguilla to Zimbabwe.
If laid end-to-end, 5 billion cans would encircle the earth 12 1/2 times.
5 billion cans of SPAM would feed a family of four, three meals a day, for 4,566,210 years.
You can grill more than 29 billion Spamburgers with 5 billion cans of SPAM, which would last 5.4 days if everyone on Earth ate one spamburger for dinner each night.
Each year, 100 million pounds (45 million kg) of Spam are sold around the world.
The average consumers of Spam are families with several children, especially in the southeastern U.S.
Hawaii, Alaska, Arkansas, Texas, and Alabama rate the highest in Spam consumption respectively.
Among the 50 foreign countries where Spam is sold, the UK and South Korea are the largest markets. In South Korea, SPAM is considered an upscale food and one of the most popular American imports. The Wall Street Journal recently spotted a Seoul executive in search of the perfect gift. The executive deliberately skipped over traditional gift items such as wine and chocolates in favor of SPAM, explaining, "It is an impressive gift."
Hormel PR man Allen Krejci says: "SPAM has endured because of its convenience and versatility. You can eat it hot or cold. You slice, dice, or cube it. You can eat it for breakfast, lunch, dinner, or snacks. In fact, the only thing that limits your use of SPAM is your imagination."
Kenneth Daigneau, an actor and the brother of a Hormel executive won $100 in a meat-naming contest in 1936. Hormel was looking for a good name for a spiced ham product made with pork shoulder, since other companies had started copying their popular canned spiced ham. The name "SPAM" is a contraction of "spiced" and "ham", which is rather odd since there are no spices in it anyway.

Ingredients and Nutritional Information:
Chopped pork shoulder meat with ham meat added.
Salt (for binding, flavour, and firmness)
Water (to help in mixing)
Sugar (for flavor)
Sodium Nitrite (for color and as a preservative)
Nutrition Information for SPAM (original style):
Calories Per Serving: 170
Calories Per Serving from Fat: 140
Serving Size: 2 oz.
Servings per Container: 6 (large) or 3.5 (small)
Total Fat: 16g
Saturated Fat: 6g
Cholesterol: 40mg
Sodium: 750mg
Total Carbohydrates: 0g
Fiber: 0g
Sugars: 0g
Proteins: 7g
Vitamin A: 0%
Vitamin C: 0%
Calcium: 0%
Iron: 2%

SPAM sites:
Hall of SPAM http://www.geocities.com/CollegePark/Campus/4656/spam.html (source for much of the information in this article)
Lovely SPAM recipes http://www.yeeeoww.com/yecch/spamentries.html
SPAM http://www.spam.com/
SPAM Center http://www.geocities.com/Hollywood/Hills/4216/
The SPAM Club http://www.pythonline.com/spamclub/index.htm
SPAM Haiku Archive http://pemtropics.mit.edu/~jcho/spam/
SPAM I Am http://bsd.motherjones.com/mother_jones/MJ98/poundstone.html
SPAM-a-ROO! http://www.geocities.com/Area51/Shadowlands/2744/spam.html
What is Actually in Spam Luncheon Meat? http://www.straightdope.com/columns/980501.html
Monty Python's SPAM Skit http://www.detritus.org/spam/skit.html