Library, Department & Team News

---
Art Library
Gail Gilbert attended the national meeting of the Art Library Society of North America, which was held in Pittsburgh March 18-21. While there she visited the Carnegie Museum of Art. Built in 1895, the building has about four miles of marble wainscoting, causing architect Philip Johnson to remark that there is more Sienese marble in the Carnegie Institute than is left in Siena.
Ekstrom Library
Content Access
Spam Social
It all began on Tuesday, March 21, 2000 with a colorfully decorated cake created by Mrs. Jill Sherman. The cake was made with bananas and the icing was made with a pound and a half of powdered confectionery sugar (XXX). Mrs. Sherman iced the cake with blue, red, white, and yellow icing. It was Mrs. Sherman's first attempt at cake decorating. Definitely, she may want to consider adding this skill to her career! Luckily, Mrs. Susi Knoer had a camera, so the cake could be photographed before it was enjoyed. The cake was not for the wimpy sugar-eating consumer. Mrs. Abbott-Moore reported that after taking just a bite of cake with the icing she had a headache. The cake was enjoyed by many.
The celebration continued on Wednesday. Mrs. Jill Sherman, Ms. Fannie Cox, and Mrs. Alice Abbott-Moore hosted a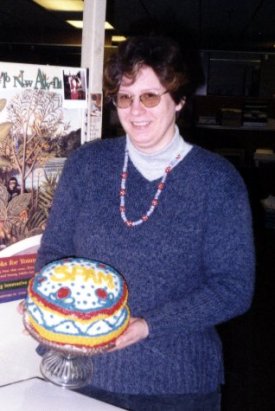 SPAM Fest on Wednesday, March 22, 2000 at 2 p.m. in the Content Access Party Zone. Three kinds of SPAM were present: Regular SPAM, Reduced-Sodium SPAM, and Lite SPAM. It was said that Mrs. Abbott-Moore took great care frying up the SPAM in the kitchen of the Ekstrom Staff Lounge. It was reported that there were heavenly aromas wafting throughout. Mrs. Sherman artfully arrayed some hors d'oeuvres containing Georgia Crackers, SPAM, and Easy Cheese with an olive garnish. Also, provided were Spicy Pork Rinds. Ms. Cox, one of the hostesses of the celebration, could not be present due to a schedule conflict. She supplied Mini-moon pies and Twinkies (otherwise known as ladyfingers).

The table was decorated with a plastic fuchsia tablecloth with a lace runner. Two silk roses in Jadite bud vases (Martha Stewart would approve since she is a major benefactor of Jadite) adorned the table along with a very colorful sign created by Sherman.

Many fine folks turned out for the celebration. They came from as far away as the Libraries' Administration Office, Media & Current Periodicals, and Reference. Everyone enjoyed the delicious creations for the palate.

Mrs. Sherman and Mrs. Abbott-Moore were both adorned with vintage aprons borrowed from the Sherman collection. Mrs. Abbott-Moore, upon receiving comments about her domestic appearance, reported that this was a token appearance of daintiness and domesticity and that the last time she was seen in such a state was on her wedding day.

Luckily this wondrous event was documented by the taking of photographs.

Information Literacy
Welcome Latisha Reynolds - New Information Literacy Program Assistant
Latisha Reynolds joined the Libraries as a Program Assistant in the Office of Information Literacy on March 6. Her responsibilities include scheduling classes for the CLC and LIC (Library Instruction Classroom, Room 254 in Ekstrom), providing support for public relations projects, and assisting at the Reference Desk. Latisha attended Male Traditional High School and received her B.A. in English from Kentucky State University. Before joining the Libraries, she worked in the Loan Origination and the Skip Tracing departments for Providian Financial Bank. She was also an Assistant Supervisor at PNC Mortgage. Latisha's hobbies include reading, writing, and working out. When asked what she enjoys most about working at the library, she replied, "I just love the atmosphere. The people here are nice and very helpful. I also enjoy the variety of my new job." Media and Current Periodicals
Aloha!
Eric Neagle spent nine wonderful days on Hawa'ii, the "Big Island" at the end of February. Having arrived for a couple's program a few days early, Eric and Larry saw the sights. The first stop was a clothing optional black sand beach a mile and half from their resort. It was beautiful but a little rougher on the feet than expected – very sharp and HOT!

The second day commenced with the sunrise over the ocean; surfers were out early connecting with the ocean and giving thanks for another day. Volcano National Park was the next stop. Kiluea was erupting and the view from miles away was awe inspiring – hot lava pouring into the cool ocean creating plumes of steam, magical in the moonlight. Other highlights of the Park were petroglyphs and the Kiluea Iki trail that begins at the rim of the volcano and descends through a fern forest onto the desert-like crater floor and then returns to the rim on the other side, a total of four miles.

The botanical garden just north of Hilo was the focus of day three. Begun in 1986, the garden covers a beautiful area on the coast. The trail begins inland and descends toward the ocean and continues along the coast before returning to the trailhead. A wonderful waterfall surrounded by palms was the highlight of this garden. Coconut palms and gingers were quite plentiful. Some surprises were large areas near the water covered with iris or amaryllis.

The remaining days were filled with the couple's retreat excepting one evening which offered some up-close viewing of Pele's beauty and power. After a short and very rough van ride over older flows of Kiluea, Eric and Larry stepped out of the van to see lava flowing 20-30 feet away! Walking within five feet of the flow, offerings to the goddess Pele were tossed into the path of the lava (she likes items from nature, especially those that are red.) As the temperature of molten lava is 2400 degrees, the five feet proximity was maintained for only a short time.

The magic of the island and the glorious show put on by Pele made the visit to the island a truly amazing adventure that will never be forgotten.

Office of the University Librarian
Student Assistant Supervisor Training
If you supervise or work closely with student assistants you are welcome to attend a workshop on Tuesday, April 4, 9 – 10 a.m., location TBA. The session will cover an overview of hiring procedures, hiring work-study students, timekeeping requirements, guidelines for clocking/signing in and out, performance appraisals, and related issues. Please RSVP to Debbie Hawley by March 31.

Personnel Resource Team
One of the first items of business for the new People Support Team was to change its name, which was too similar to PeopleSoft and its user-unfriendly connotations. They'll now be the Personnel Resource Team. Watch for an announcement soon of their first offering, an HTML workshop in May.
Alice Abbott-Moore
Carol Brinkman
Debbie Hawley
Melissa Laning
Rebecca Maddox

New Hire
Catherine Lavallee has accepted an offer as Assistant Professor (term) and Electronic Resources Reference Librarian in Kersey Library effective June 1, 2000. Catherine will be moving here from Montreal, where she most recently designed and implemented an Extranet for a provincial-wide Quebec housing association.

Resignation
John Daniels has resigned from his position as Library Technician in Stacks Maintenance effective March 25, 2000.

Reference
Mark Paul will be serving as a reviewer for Transforming Traditional Libraries - a new refereed e-journal.

Kersey Library
Spring Break
Some of our students decided to take advantage of Spring Break to get away for awhile most of whom were going home to visit. Thank you to My Lam, Mong Khaisaeng, Heimam Ng, Ravi Surapaneni, Tony Tran, and Wasin Robbanjerd, for staying through Spring Break and helping us out at Kersey Library.

Voyager Upgrade
Kersey, like the rest of the libraries, managed to get through the week of Spring Break without Voyager. When the time came, thanks to all our library systems personnel, we were ready for the upgrade. Problems were resolved and we seem to be doing OK. Thanks again to all our library systems personnel for a job well done!!!

John's Next Show
John Breitzman is directing a play titled All Men Are Whores: An Inquiry, written by David Mamet. It will be staged April 7 – 9 at UofL's Thrust Theatre at 8 p.m. each night. It is a free show performed by students, and will be staged with another student production of Sophocles' Ajax. For more information call Renegade Productions at 396-8662.

April Birthdays
Heiman Ng and Terry Trowell, two of our student assistants, are celebrating their birthdays this month. Kersey wishes the rest of the library personnel celebrating this month a very Happy Birthday.

Kornhauser Library
Friends Dinner
The annual dinner meeting of the Friends of the Kornhauser Library will be held on June 1, 2000. The guest speaker of the evening will be Michael Ackerman of the National Library of Medicine, Director of the Visible Human Project. This promises to be an interesting and entertaining presentation. All are invited. Contact Mary K Becker at 852-5775, if you would like to attend.

Staff News
In preparation for getting the history collections at Kornhauser cataloged, Kathie Johnson attended a workshop sponsored by the Society of American Archivists on cataloging archival material, in Austin, Texas, March 16 and 17. Although intense, the instructors kept the workshop interesting and fun and Kathie gained a whole new respect for catalogers! The sixteen workshop participants included colleagues from Austin and other parts of Texas and as far away as Seattle and upstate New York. One participant from Fort Worth was Karin Strohbeck, native Louisvillian, UofL alum and former Kersey Library employee. Karin asked about all the folks at Kersey, especially Carol Brinkman and Jan Kulkarni, as well as Bill Morison (who got her interested in archival work) and Tom Owen. It was fun to meet her and have someone to share the misery of watching the disastrous UofL-Gonzaga game at an Austin sports bar.

Karen Habeeb's talents extend beyond her vocal cords. Her writing skills produced a grant from the Kentucky Arts Council for the acapella group evenSong, of which she is a member.

Be forewarned, despite Katrina Rowe's urgent warning in last month's Owl web picks feature, a staff member, under the protection of anonymity, reports a hopeless addiction to www.jigzone.com.

Music Library
Pianist David Balena, our indispensable student assistant, will perform his junior recital Saturday, April 15, at 8:30 p.m. in Margaret Comstock Concert Hall at the School of Music. Works by Mozart, Schumann and Shostakovich are on the program, which — with the substitution of a Beethoven piece for the Shostakovich — will be repeated May 8 in Lima, Peru. David also will be accompanying violinists in recitals April 10 and 17.

University Archives
Kathie Johnson gave a talk on "American Nurses in World War I," at the Westport Branch Library on March 6, as part of the library's Women's History Month celebration.

Tom and Phyllis Owen recently spent a long weekend visiting a relative in Fort Worth, Texas. Tom was so determined to ride nearby Dallas' new light rail system that he engineered a true urban adventure. First, he rode a 6:30 a.m. commuter bus from Fort Worth to Dallas stepping off at the light rail hub at Union Station. Armed with a $2.00 day pass, he rode the red and blue routes to the end of the line in two south Dallas neighborhoods. He then retraced his route following the red line far to the north of town. After exploring downtown for an hour or so, he returned to Fort Worth aboard the 11:15 a.m. Greyhound. Dallas has big, short-term plans for extending their existing routes to Plano and Garland on the northeast and connecting Fort Worth, Dallas and DFW airport with a light rail/commuter rail combination.