The University Archives and Records Center
Established in 1973 by Acting President William F. Ekstrom and the Board of Trustees, the UofL Archives and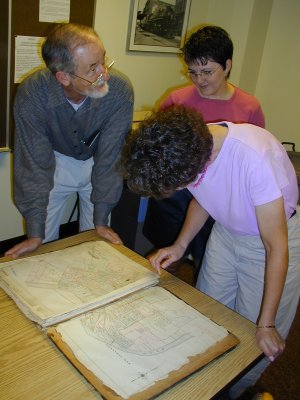 Records Center (UARC) has become a research repository of national significance. It is known for its urban history collections, nineteenth and twentieth century records of important Louisville-area businesses, cultural organizations, social service agencies, and churches, and personal papers of political figures, scholars, women, and members of the Jewish and African American communities. The Archives also administers the University's Oral History Center, preserving over 1,300 recollections of community leaders, members of ethnic communities, workers, business executives, and university students, faculty, and administrators. As "The Memory of the University," the University Archives preserves and makes available for research the official records of the University of Louisville, one of the oldest municipal universities in the United States, in accordance with state and federal law and university policy. The Archives also administers the university's records management program, managing two records center warehouses on the edge of the Belknap Campus. Finally, I oversee the university's compliance with federal and state records laws, such as those regarding access to university records and the privacy of student records. Read on for my colleagues' first-person accounts of our work.
--Bill Morison, Director
The Archives provides records management services for all university offices. UofL records go through a life cycle. In the course of our work, typically, we create them, use them actively for a time, set them aside for a period of less active use, then destroy them or transfer them to the archives. The university produces vast amounts of records, but only a small portion is permanent. My title is Associate Archivist for Records Management. I work with office managers throughout the university during the entire life cycle of all university records. Together we transfer permanent records to the Archives and non-permanent records to the Records Centers where they remain until they are ready for destruction, as well as with other records management concerns such as filing and records appraisal. Every year I accession about 150 linear feet of long-term or permanent records into the Archives; I help offices transfer another 350 linear feet of non-permanent records to the Records Centers each year. Examples of permanent records include selected office records from the President, Provost, all vice presidents, and deans, and the minutes of the Board of Trustees. Many publications, reports, and other minutes are also permanent. Examples of non-permanent records are certain fiscal records, unit personnel records, and patient records. Of course once university records come into the Archives, they also can go back out! We respond to many calls for university records from the units. Offices use their archived records for day-to-day administrative details, accreditation, checking on policies, historical research, and for planning their budgets and other endeavors. Offices request records by e-mail, our web site, fax, and even the telephone. Working with personnel from university offices is one of my favorite tasks. Many of them I know only by voice. When I do meet them face to face, it's like meeting an old friend. I also help records officers in using the Kentucky Model University Retention Schedule that lists the minimum retention periods for higher education records according to the university's administrative, legal and fiscal needs. I analyze records not yet on the schedule to begin the process of putting the records on the state's model schedule. This means completing a form on all aspects of an individual record from why it is used, the information contained in it, how often it is used after creation, and any state or federal laws regarding it. At the end of the life cycle of records, disposition occurs. I coordinate the destruction of records that have met their legal retention period. No more than about five percent of an organization's records are of permanent or long-term value. I identify which records are stored in the warehouse for eventual disposition according to university policy and state and federal laws. One of the most pressing concerns in records management is electronic records. With my colleagues I have developed "Electronic Records at UofL: Guidelines for Access, Retention, Destruction." These are on the UARC web site. Because technology changes so rapidly, these guidelines are a work in progress and I welcome comments and suggestions.
--Margaret Merrick, Associate Archivist for Records Management
Besides caring for the records of the university, here at the University Archives we acquire primary source materials, preserve them, and make them available to researchers. Included in these manuscript collections are historical records of nineteenth and twentieth century area businesses, such as the L&N Railroad, Hillerich and Bradsby, Falls City Brewing, Bourbon Stockyard, and Louisville Bridge & Iron. There are records of cultural organizations like the Louisville Orchestra and Stage One. The historical records of local churches and religious organizations, like Green Street Baptist Church, Fifth Street Baptist, and the Jewish Community Center, can help fill a void in resources in social history. So can the records of civic organizations like the Kentucky Civil Liberties Union, the Louisville Chamber of Commerce, the United Nations Association, and the Louisville Service Club (USO). The personal papers of important political figures, community leaders, and scholars make up an important component of our manuscript material. The papers of most twentieth century members of the U.S. House of Representatives from the Third District of Kentucky reside at UARC, along with papers of other prominent local political figures, including those of judges, mayors, members of the Board of Aldermen, Kentucky and U.S. Senators. Community activists and their work are well represented with records from groups like Clergy and Laity Concerned of Kentuckiana, the Kentucky Government Council, Progress in Education, and Save Our Parks. University of Louisville professors, along with other scholars, have donated their papers, which serve as a rich resource on many topics in the field of academia. The Archives is also home to the Women's History Collection, established in 1985, and currently numbering over sixty collections, which document the lives and careers of Louisville women and local women's organizations. Among the many important collections in this group are the papers of Gerta Bendl, Laura Miller Derry, Carol Dowell, Sara Landau, Mary K. Tachau, Louise Weiller, and Rebecca Westerfield. The activities of women's organizations are also well represented, with the records of the Louisville League of Women Voters, the Kentucky Federation of Business and Professional Women, Professional Secretaries International (Louisville chapter), and the YWCA of Louisville. The life of the local African American community is documented through the organizational records of churches, social service agencies (like Community Hospital and Presbyterian Community Center), businesses (The Louisville Defender), and organizations, along with the personal papers of individuals such as Grace James, Lois Morris, Frank Stanley, and Maury Walls. Manuscript collections often arrive here in total chaos. It is my job, as Archivist for Arrangement and Description, to oversee the processing (or preparing for use) of collections. This includes, but is not limited to: accessioning the collection, appraising what should be kept, developing an organizational plan, sorting the materials, and creating an inventory. This is a time-consuming, labor-intensive process that, as a very loose rule of thumb, takes about eight hours per foot of records. Large collections can take years to process. Even small ones take up hours of time.
--Kathie Johnson, Associate Archivist for Arrangement and Description
I'm a half-time Associate Archivist for Local History here at the University Archives, splitting my time with Community Relations where I offer local history programming to the community in a variety of formats. Here at the Archives, much of my time is spent either assisting researchers in the use of our holdings or answering inquiries about university or community history. I am also responsible for maintaining local history and university clipping and ephemera files. I read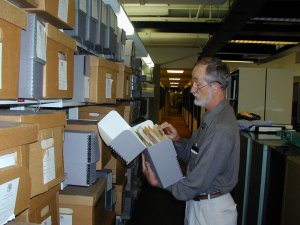 several local daily and weekly publications and oversee the clipping and filing of articles from them. We preserve information on UofL biography and reference topics (including buildings) and Louisville business, institutional, neighborhood and other historical topics. I also keep my eyes open for quality archival materials in the community that could be donated for our collection and work with donors in their transfer.
--Tom Owen, Associate Archivist for Local History
Providing access to collections and information about them has always been part of archival work, but today we provide that information worldwide. What began as a card catalog is now an online public access catalog with more than 3000 records describing over 30,000 linear feet of original material. The University Archives catalog is accessible through Minerva 2000 (go to minerva.louisville.edu, choose Local Databases, and select University Archives to search the catalog.) Recent additions to the catalog include records for UARC's microfilm research collection. Cataloging has begun for the extensive oral history collection. Inventories created by manuscript arrangement and description and transmittals created by records management are now being converted into searchable documents soon to be accessible via the World Wide Web, through the Kentucky Commonwealth Virtual Library project. KCVL is also assisting repositories throughout Kentucky with the digitization of original materials, also to be mounted on the Web. UARC also provides significant research material and guidance throughout its web site, which includes an online version of the Guide to Women's Archival Collections at the University of Louisville, funded by the NHPRC (National Historical Publications and Records Commission).
--Mary Margaret Bell, Associate Archivist for University Archives Automated Systems
and Co-director, Oral History Center
As UARC's office manager I have two primary priorities: the day to day operations of the Archives and my duties related to the Kentucky Open Records Act, the Family Educational Rights and Privacy Act (FERPA), and hospital patient records. My UARC responsibilities include greeting walk-in patrons and answering incoming phone calls. I provide reference assistance to patrons and/or route inquiries to the archivist on call. I oversee all fiscal operations and serve as primary business resource person for the Archives. I assist in grant proposal preparation and in the preparation of finding aids and other reference materials. I also train and supervise student assistants, work-study students, and temporary workers. My other main focus is assisting Bill Morison in responding to inquiries, problems, and complaints from university and community regarding open records requests and student records privacy matters. And I am the contact person for students who request to restrict directory information as provided by FERPA. I respond to requests from doctors, former patients, and genealogists, and to subpoenas from attorneys to access medical records from the former Louisville General Hospital. In all of this work I maintain highly confidential files of correspondence and actions.
--Sherri Pawson, Office Manager