Library, Department & Team News

---
General News
Freshman Summer Orientation Information Fair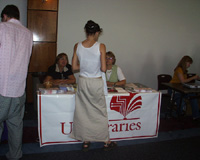 The University Libraries came together to promote the Libraries and inform students about our services during the 2000 Freshman Summer Orientation Information Fair sponsored by the Orientation Office. Approximately 25 faculty and staff members volunteered to staff the Libraries table at the fair, which took place during the months of July and August. (Click on image to see a larger view.)

Who Wants to be an Info Millionaire?
On August 24 from 11:30-12:30 the Information Literacy Team hosted a game show on the front steps of the Ekstrom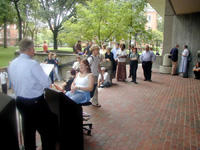 Library. The event was titled "Who Wants to be an Info Millionaire" and our "Regis Philbin" was the well-known professor of Political Science, Dr. Phil Laemmle. Eleven contestants (ten students and one English professor) competed for prizes like copy cards, Ritazza certificates, and UofL t-shirts. Contestants had the opportunity to answer six trivia questions and had two "lifelines" which included asking the audience and asking a "Reference Librarian" who, of course, knew the answer. The point of the trivia game show was to have fun and to demonstrate how helpful librarians and libraries can be. A big thank you to the following people who helped in many different ways: Lisa Arnold, Rae Helton, Rachel Hodge, David Horvath, Dr. Phil Laemmle, Catherine Lavallee-Welch, Dave Loeffler, Carol McNeely, Rebecca Maddox, Kathy Marsall, Erea Marshall, Glenda Neely, Diane Nichols, Mark Paul, CeCe Railey, Latisha Reynolds. Thank you also to the many library staff who came and watched and gave us moral support! We couldn't have done it without you! (Click on image to see a larger view.)
New University Writing Center
The new University Writing Center is located in Room 312 on the 3rd floor of Ekstrom Library in the newly renovated space by the atrium. Consultants in the center will work with students and staff who want extra help with writing for class assignments, for searching for jobs, for applying to professional schools, and in other facets of their lives. Although the Center unofficially opened on September 11, they are still waiting the arrival of their phones and furniture. On the first day of opening there was a steady stream of students looking for help. A Grand Opening will be held in mid-October 2000.
Dr. J. Carol Mattingly is the Director of the new center. Joining her in the Center is Ruth A. Miller, Learning Resource Coordinator in the English Department and a number of graduate teaching assistants. Assistance will be available on both appointment and drop-in basis.
Arts & Sciences and the University Provost's Office provided funding for the new University Writing Center and six new open study rooms on the 3rd floor.
---
Dare to Say Thank You!


"I've had to request several books through Interlibrary Loan for the impatient attorneys that I'm working for. It gets really hectic here and I often have trouble locating things. However, I've been absolutely blessed with help from Katrina Rowe. Katrina has been incredibly personable and polite. She was willing to take the time to help me find things even before she knew that I was fellow library employee. Even if I call late she'll hang around and help on the phone. I've never talked to anyone so willing and eager to help. Her congeniality is a model for patron service! Thanks, Katrina!"
--Jennifer Cecil

***************************************************

Have you said thank you lately to someone within the libraries for a job well done? We need to let people know that we are talking about the day-to-day, helpful things that people do, not just big projects. Help us help you recognize the person's wonderful work by letting us know. "Dare to say Thank You" sponsored by the Libraries' Prize Patrol will appear monthly in The Owl. We will include everything that there is space for and if there isn't space, we will feature such items in the next issue.

Anyone can nominate a colleague, supervisor, or anyone else who has been discovered doing something well.

Send your items to Alice Abbott-Moore (maabbo01@gwise.louisville.edu)
---
Art Library

To date, almost 2000 Dewey books have been linked and labeled. And reshelved, after much shifting. We are very pleased that Anna Stamp from Technical Services has recently started to help with this project. Otherwise, our progress would have slowed significantly now that the semester has begun. This is a great example of Content Access teamwork!

Our newest student assistant is Lisa Simon, an art major. We are very fortunate to have Lisa in the library. Her experience working in several areas in the Fine Arts department will be a big help.

Ekstrom Library

Circulation/ILL


The big news in our department this fall is the big push we've been implementing with Electronic Reserves. Thanks to John Breitzman and Shaun Daniel's and one of our new student assistants, As Sai Ram, we have been able to keep some grip on the usual fall avalanche of course reserves while taking on this new, time-munching project.

In Minerva, one of the four major search buttons is Course Reserves. From any computer in the library, patrons can access record information of items their professors have placed on reserve. Some of these records have links to the actual item itself – which has been scanned into the computer and posted on-line. Which items that have posted this way depends largely on copyright rules – so there is a method to the madness. Their professors should have given them password information (we have a backup in case the student forgets it).

Also, as I'm sure every department is during the fall crunch, Circ/ILL has been very busy with training a new contingent of students. The first week alone we had six new students to just replace hours that our regular students had cut back to accommodate their fall class loads. To help accomplish this tremendous task, Jeff Drake and Katrina Rowe have spent a lot of time on streamlining a consistent training procedure – complete with website, workbook and individualized record keeping. As a result, student assistant training is going very smoothly.

More big news in our department is that Bettie, our department head, married her high school sweetheart, Larry Lewis, on August 25. Her name is now Bettie Horton Lewis

.

Office of Libraries Technology


Microsoft Office 2000
Everyone in the University Libraries will be upgraded to the Microsoft Office 2000 software. This is made available due to the Libraries participating in the UofL Campus Agreement (see IT's web site at http://www.louisville.edu/it/con/prices/mcaprogram.html for more details). Upgrades will begin at the end of October and be completed before the new year.

The new version of the library online cataloging system, Voyager 2000, will be integrated with Access 2000 for reports. Access 2000 is not backward compatible with the older versions such as version 97.

Note: Internet Explorer 5.x is required for Office 2000 installation (latest version is 5.5).

If you need a copy for home use, you must purchase the two-CD set.

Who has permission to use MS Office 2000?
Current faculty or staff members of the University Libraries (Art, Ekstrom, Kersey, Kornhauser, Music and University Archives and Records Center).

To purchase the CDs:
First, contact Kristi Martin at IT to purchase the CDs ($14.00). Ms. Martin can be reached at 852-4307. Pay by check only. CDs can be mailed to the individual.

Office of the University Librarian


Social Security/Medicare Tax Waiver Forms for Student Assistants>
All student employees enrolled for at least six hours are eligible for exemption from paying social security and Medicare taxes on wages earned through the University. This is optional, but students must submit a new form every semester. New lavender forms for fall 2000 are now available in the Administrative Office. Please make your students aware of this option.

New Hire


Donald Gould has accepted an offer as Instructor (term) and Reference Librarian/Coordinator of Electronic Resources at Kornhauser Library effective August 14, 2000. He has been a reference librarian at Jefferson Community College for the past two years; prior to that he was the head librarian in an Australian outback community.

Retirement


Jean White has announced her intention to retire from her position as Library Assistant in Content Access. Her last day of work will be September 8, 2000.

Technologies at Work
Get one-on-one consultation about your technology problems with a member of the Office of Libraries Technology on Tuesdays, October 10, November 14 and December 12 during the No Meeting Zone, 3:30-4:30 in Ekstrom 254.

Reference


Anna Marie and husband Bret had a three week adventure out west in July. They visited four national parks: Mesa Verde (Colorado), Grand Canyon, Sequoia, and Crater Lake (Oregon). They camped and hiked and were fortunate not to run into any bears in Sequoia. They also spent four days with Anna Marie's aunt and uncle in San Francisco where they visited Jack London's Wolfhouse, Napa Valley, and of course Fisherman's Wharf, City Lights Bookstore, and all the rest of the tourist-y things in San Francisco. Highlights included the Magritte Exhibit at the San Francisco Museum of Modern Art, driving along the Pacific Ocean, drinking from Crater Lake (it's that clean!), and a six-mile hike down into the Grand Canyon.

Special Collections


From Rags to Riches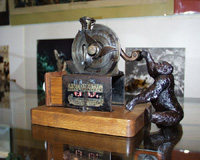 When Edgar Rice Burroughs sat down to write his first story in 1911, he was desperately poor. He had pawned his wife's wristwatch to buy groceries and was eating 3¢ worth of gingersnaps for lunch everyday. He began peddling lead pencil sharpeners from door-to-door, trying to earn a living. Brian Bohnett, a Burroughs Bibliophile from Holt, Michigan found one of these rare lead pencil sharpeners at an antique shop in Idaho and donated it to the Burroughs Memorial Collection in Louisville last week at the Chicago celebration of the author's 125th birthday (September 1, 2000). Burroughs Curator, George McWhorter, gave the keynote lecture at the 125th celebration held at the Oak Park Historical Society where Burroughs had lived before moving to California in 1819. After the talk, a plaque was installed in the front yard of his former house at 414 Augusta in Oak Park. The pencil sharpener was given to him at that time and he carried it back to Louisville on the plane. (Click on the thumbnail to see a larger image.) The donation remains a unique symbol of the author's rags-to-riches life story. Within three years after his pencil sharpener business failed, Burroughs was well on his way to becoming a millionaire from the publication of Tarzan of the Apes. The pencil sharpener was a constant reminder to him that his poverty had been caused by inefficiency, nothing more.

Kersey Library

School days, school days ....


It's hard to believe that summer is over and it's back to school again! Many of our student assistants from last semester have returned to be with us for the fall semester. We have worked hard over here at Kersey to be sure everything was ready when our students returned this fall. As everyone knows by now, Kersey has created a staff position for our new computer lab. Hopefully this will be filled soon. We are anxious and excited about the computer lab. It's coming along very well and will soon be open to meet the demands of our patrons.

Jan Kulkarni
Jan Kulkarni attended the Editorial Board meeting of the Journal of Engineering Valuation and Cost Analysis in Atlanta.

Kentucky State Fair
Thanks to Pat Waters and Steve Whiteside for representing our library at the Kentucky State Fair Booth for UofL Libraries.

September Birthdays
A very Happy Birthday to our very own Carol Brinkman and John Brietzman. To the rest of you celebrating birthdays...Kersey Library extends a very Happy Birthday!

Kornhauser Library

Just when you thought you had the IAIMS grant all figured out, here comes a new twist. The project built around the IAIMS grant has a new name: Archimedes: Louisville's Regional Initiative on Health Information Resources. This name better represents the goals of the project which are sharing information ideas and resources, as opposed to dealing with technology problems. Watch for more publicity on Archimedes from Judy Wulff.

Gary spent August 10 and 11 at the National Library of Medicine as part of the Review Committee for the Regional Medical Library Program.

Karen Habeeb participated in a UofL Hospital medical research study investigating the use of acupuncture in conjunction with standard anesthesia treatments to lessen the amount of drugs needed to anesthetize an individual patient. Many people can not undergo surgery because of the risks associated with anesthesia. It is hoped that combined acupuncture and drug anesthesia will allow high-risk patients to undergo surgery that they could otherwise not endure.

Southern belles Kathy Rogers and Mary K. Becker survived a raid, aided an soldier's widow, and saw the Corydon mayor robbed of his boots during the town's Civil War re-enactment in June.

New Staff Members
KHSL warmly welcomes Don Gould to the Information and Education Services Department. Don will be the new Reference Library/Coordinator of Electronic Services while Judy Wulff is working on the Archimedes Project (aka the IAIMS grant). Prior to arriving at KHSL, Don worked at Jefferson Community College's library and was the director of the Emerald Shire Public Library in Queensland, Australia.

Music Library

The Music Library welcomes new student assistants Maria Macheno, Julia Horne and Rachel Blanton. We are also pleased Emily Noble, Rod Tooson, David Ballena, Chris Hatfield and Katherine Lay will be helping us again this semester.

Welcome Back
We are happy to welcome Hazel Hale back to work. After retiring from the libraries, she decided to come back! To say the least, we were very pleased with her decision. She will be working with the binding as well as a few other special projects we have for her. This is a temporary part-time position. Her first day was August 14. Welcome back Hazel!!

Law Library

New Shirts for The Clothesline


The Clothesline Project's director, Andree Mondor, brought an entirely new display to the Law Library on Friday, September 8. This array of shirts, decorated by survivors of domestic abuse or by those who care about them, will remain until the second week of October, when Andree will install another new display. If you've never seen The Clothesline in any of its previous incarnations (or even if you have) please take a few minutes to walk over to the Law Library. Once you've seen it, you won't forget it.

For more information, please see the August issue of The Owl or The Owl on the Web, or call Robin Harris at 852-6083.

Public Radio Membership Drive
Robin will be spending some time volunteering for the Public Radio Partnership during its fall membership drive (September 8-16). Please remember that federal funding has been cut drastically since 1994 and that public radio depends heavily on listener support. UofL is now matching gifts to the stations, so it's a great time to support our three public radio stations!

Louisville Mandolin Orchestra News
The Louisville Mandolin Orchestra will perform outdoors at 1pm on Saturday, September 23 at the Ursuline Art Fair. The program will be eclectic and will feature old favorites and brand new tunes, several of which will be part of the LMO's new CD.

Ursuline is located on the Sacred Heart Academy campus on Lexington Road. For more information, call Robin at 852-6083.

UARC

Kathie Johnson and Sherri Pawson attended a SOLINET workshop, "Integrated Pest Management: Beating the Critter Jitters," (otherwise known as "Roaches and Rodents") in Lexington on August 17. There was a lot to learn about how to prevent pest infestations, how they get started, how to identify types of pests, and what to do if an institution has this problem. The real highlight of the day was being able to view each type of pest in a vial, or in the case of a field mouse, freeze-dried. Attending this workshop shows the great devotion Kathie and Sherri have to UARC and the lengths to which they will go for their library.

Kathie and Ron Johnson have had a summer of weddings (thankfully, not one of their daughters!) On July 22, they drove to Middletown, Ohio, for the wedding of the daughter of a friend from Air Force days in the 1970s. On July 29, it was northern Indiana, for the wedding of the daughter of Kathie's college roommate. August 5 was a local wedding, daughter Megan's best friend/roommate. On September 3, the son of other Air Force friends is getting married in Steamboat Springs, Colorado. Luckily, Kathie will already be in Denver for the Society of American Archivists 2000 meeting, so Ron will join her and they will make it to that wedding as well. Last year there were five (including a daughter) and for 2001, there are already four scheduled. It will apparently be like this for a few more years.

Mary Margaret Bell visited Chicago and central Illinois on a vacation in July. She compared notes on Lincoln historic sites with the guides, who all wanted to know about the Mary Todd Lincoln house in Lexington when Mary Margaret said she was from Kentucky.