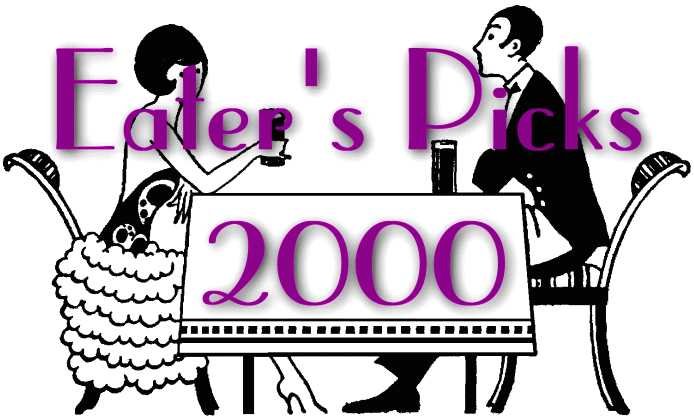 Compiled by Amy Purcell, Special Collections
The most recent restaurant I've visited does not serve your everyday fare. As a surprise to my mother on her last birthday, my sisters traveled from Ohio and Massachusetts for a "girls' weekend." One night we took her out to dinner at The English Grill in the Camberley Brown Hotel (Fourth Street and Broadway, 583-1234). We enjoyed a sumptuous dinner created by the celebrated Chef Joe Castro. The English Grill is a study in truly elegant dining. The dining room was comfortable and spacious and conducive to conversation. We began our meal with a complimentary appetizer of bread and cheese. We all ordered something different – halibut, salmon, duck and roast pork. All the dishes were garnished with a tasty combination of exotic vegetables. For dessert we were surprised by a Strip Tease. This strip tease was a plate with three separate chocolate treats and one was flaming. The chef wrote Happy Birthday in chocolate on the plate. This was definitely a dinner to remember.
As delicious as the food is at The English Grill, it is expensive and not the type of place I patronize on a regular basis. The following reviews are much more in line with my purse strings. Thanks to everyone for sharing your Eaters' Picks!
Jill Sherman, Content Access
One of my favorite places to eat is Genny's Diner at 2223 Frankfort Avenue. Genny's is known for the "Sweet Daddy Platter" (I believe it is a whopping 1.5 pound burger with gravy and fries-If you can eat it all, you get it free) and "Frickled Pickles". The burgers and Frickled Pickles are great, but the dinner entrees are very good, as well. The extra-large aquariums with mammoth sized tropical fish are really neat to look at as well. I must not forget to mention that the Saturday morning buffet is one of the best breakfast buffets I've come across. It may not be the swankiest restaurant in town, but it is fun.
Katrina Rowe, Ekstrom Circulation
Chef Oscars – [3302 Dixie Hwy (502) 449 – 4555]
Food: * * 3/4
Price: $
This is the best home-style cooking that I have sampled in a restaurant in ages. It's not open late or on Sundays but the menu and the friendly service won't disappoint you. Both times I've visited, I have been more than pleased by the slow-cooked ribs – which are thick, meaty and juicy with a sauce that defies description. The greens are fresh cooked – no cans here – with bits of ham hock and onion. The macaroni and cheese is home style and fresh and the au gratin potatoes are divine. To top it all off, the prices are more than reasonable. If you like southern cooking, you will LOVE Chef Oscars.
Two Hahn's Mongolian Grill – [9148 Taylorsville Road (502) 493-0234]
Food: * * * * (you do, after all, prepare it yourself)
Price: $ $ 1/2
This place is great. If you have a wide variety of appetites and tastes in your party, all of them will be satisfied with this dining choice. The hitch? All the food on the buffet is not cooked – yet. You get your dish, walk through the line adding this and that and then hit the spices and oils section where you add just the right amount of this and that. If you're confused, there is an easy guide over the spices for 1-2-3 recipes. Then you hand it to the guy at the grill and he cooks it for you – right before your eyes. One price is all you can eat – be it shrimp, pork, beef, chicken, turkey or assorted seafood which I don't touch but which my partner was ecstatic over. It is a lot of fun and a nice switch from the usual dining out experience.
Uptown Café [1624 Bardstown Road (502) 458-4212]
Food: * * *
Price: $ $ $
Right across the street from its cousin – the Café Metro – the Uptown Café serves food that is just as good and slightly less expensive – with more of a bistro ambiance. The atmosphere is calming and the food is a pleasant change from the standard Bardstown Road fare with new and interesting cuisine that turns heads and makes anyone's palate rejoice. If you are after refined flavor in a soothing atmosphere conducive to conversation and the enjoyment of good coffee and delicate desserts afterwards, then this restaurant can't be beat.
Betsy Baumeister, Kornhauser
I can't name one favorite restaurant, but I would like to mention that one of my favorite places for Chinese food is Egg Roll Machine at 1216 Bardstown Rd. I find their food fresher and less greasy, and the meat more plentiful and better quality, than in most other Chinese restaurants. Plus with Cafe Mimosa sharing the same location, you get the Vietnamese option as well.
Bill Morison, UARC
If you like Indian food and haven't tried Shalimar, head to that shopping center on Hurstbourne Parkway just south of I-64, the one containing a Liquor Outlet store. Their Chicken Tikka Masala is one of many terrific choices.
Elizabeth Smigielski, Kornhauser
Hall's Cafeteria
If you want to eat good, cheap, plain old cafeteria food, try Hall's Cafeteria on Story Avenue in Butchertown. It's a regular hangout for the police and the guys from Fischer's meat packing plant. Can't beat the atmosphere!
Kingpin Cafe
If you're looking for a lunch close to downtown, try Kingpin Cafe on Story between Brownsboro and Frankfort. It has just re-opened with new owners offering home-style food in a hip, neighborhood hangout setting. The mashed potatoes are real.
David Horvath, Ekstrom Media & Current Periodicals
Amble up to the window of Picnic Catering, the best new BBQ stop in town and you'll only have a few decisions to make: a huge pork chop, ribs, rib tips, chicken, or shredded beef. $4.00 per entrée. A buck for a side dish (green beans, greens, baked beans, candied yams, mac and cheese, roasted corn and cobbler). Located at the corner of Armory and Muhammad Ali (across from Louisville Gardens). You pay for the stuff at the window and get your side dishes then go around back to the cooker where Dave will pass out the main dishes, smoked to perfection. Bonus: great Motown sounds coming from Dave's van, open and parked at the corner. 584-RIBS
Glenda Neely, Ekstrom Reference
My favorite restaurant for all kinds of reasons (location, price, atmosphere, varied menu, comfort and service) is Baxter Station Bar & Grill. It's actually located between Baxter Avenue and Lexington Road at 1201 Payne Street (584-1635). It's a neighborhood restaurant and bar, which serves innovative appetizers, salads, entrees and desserts. Mondays they serve tapas. My favorites are the pasta dishes, fish sandwiches, crab cakes, Caesar salad and whatever the daily specials happen to be. There's a wide selection of standby dishes as well as trendy/new cuisine. An electric train is mounted around the walls near the ceiling, which is sometimes running and providing entertainment in addition to TVs. The dining area between the bar and back dining room has real train coach seats. Outside tables are protected from cold and rain with heaters and shelter. Baxter Station is also a good choice before or after UofL ball games.
Rachel Hodge, Music Library
Sunset Grill
318 W. Highway 131
Clarksville, Indiana
Entrees $9.99-$16.99
Sunset Grill (formerly Major McCulloch Steakhouse) is one of my favorite restaurants. They have many items to choose from including salads, sandwiches, pasta, chicken, steak and fish. My favorite dish is Penne pasta with marinara and meatballs...they have the best meatballs! Also if you are really hungry, try their deep fried mushrooms with horseradish sauce. One order of mushrooms is more than enough for 4 people. One of the best things about this restaurant is the atmosphere. It's in an Italianate-style farmhouse that was built in 1870 and it has several rooms on the upper floor that can be reserved for large parties. There are also rumors that the house is haunted. When it was Major McCulloch Steakhouse, some of the employees swore that strange things happened such as a plate, glass, cup or even silverware would fall to the floor when no one was near them. Some of the workers today still say that strange things happen, but none of them will talk about it - at least to an outsider. (Haunting info provided by Wanda Willis, Folklorist and Historian.)
Trish Blair, Ekstrom Media & Current Periodicals
Hi my name is Trish and I am an addict. I am addicted to food. I am a believer in the philosophy not of "you are what you eat" but "you are where you eat." I eat not only to nourish my body, but also to nourish my soul. Dining should be something that is a loving tribute to great memories, great tastes and good company. Luckily we live in a city where its dining is becoming nationally known. I could probably fill this Owl with extraordinary places to get this or that but I am limiting myself to a few select places that really stand apart. My first recommendation is to a relatively new eatery called the Jicama Grill. Located at 1538 Bardstown Road (right next to Ear x-tacy), the Jicama is a great blend of style and substance. The atmosphere is warm and inviting with subtle colors and sounds. It also has great outdoor dining for those of you who are so inclined. But it is the food will keep you coming back. The fare is South American and I am not sure how authentic but nevertheless quite enjoyable. Entrees include Mango-chile glazed pork tenderloin, Churrascos a caballo (which is medallions of beef tenderloin served with fried eggs and caramelized onions, and Puerto Rican Durado (golden Mahi-Mahi baked in a banana leaf with tomatoes, olives, capers, garlic and lime). Within a few months of opening the Jicama has become one of the hottest tables in town.
For a bit more upscale dining I love Azalea at 3612 Brownsboro Road. This is a great place for gourmet pizzas (my favorite being the grilled chicken and tomato with Gorgonzola). But if you are looking to have a complete meal this is one of the best. From appetizers (including a crabmeat in phyllo with a white wine cream sauce) and incredible entrée choices (pepper encrusted beef tenderloin served with caramelized onions and potato gratin) to unbelievable desserts (my favorite being the banana cream pie, the best I have ever had), Azalea is always a choice of mine. And a big plus is the staff is knowledgeable and extremely helpful.
But I have a hobby, and that is to seek out incredible bakeries. And when I find one I am complete. Alas I can not claim credit for the next selection, which is my favorite of all favorites. Eric Neagle deserves all of the credit for finding Chez Mann. Located at 1416 Bardstown Road, Chez Mann is my choice for the best bakery in the city. But this is not just any bakery; it is for the true aficionados. She imports flour from France and Chocolate from Belgium in addition to using locally produced products. When I am there I stare lovingly at the two cabinets filled with pastries and confections, and that is at least once a week. Certified Executive pastry chef Patricia Mann creates beautiful and exquisite treats that will make any mouth water. My current addiction is the Ham and Swiss croissants. Imagine a buttery sweet flaky croissant filled with tasty ham and just the right amount of Swiss cheese. I have at least one of these a week. She also makes danish, other filled croissants and what she calls cinnamon morning rolls that are similar to a croissant only rolled in cinnamon and sugar before baking. But her real specialty is desserts. She makes cookies (my favorite being the Palmier, a French sugar cookie), éclairs (using Godiva chocolate and real gold dust), beautiful custom cakes, delicious candies and the pastries. This is what keeps me coming back. There are layered chocolate mousse with baked chocolate meringue, individual cheesecakes, fresh fruit tarts, and the Wicked Derby. This is the best thing I have ever eaten. She only makes these around Derby time and they are worth the wait every year. I am not even sure what is in it but I think that it is thin layers of ground nuts and perhaps extremely thin layers of cake covered in dark chocolate and served with a Makers Mark chocolate sauce. I am grateful that she is still in business and I only hope that she continues to be so. I tell anyone who will listen about the marvels of this magical place.