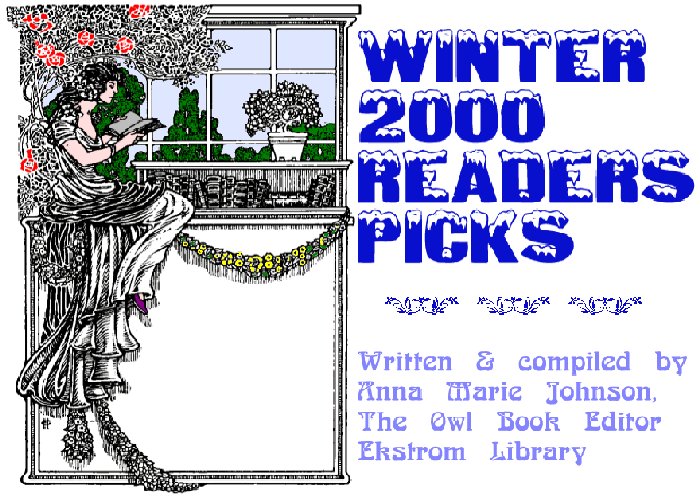 I know that we are approaching the winter season, but thinking about good books reminds me of this summer when I had time on my vacation to get in some good reading. My husband and I drove to California and back via a long and circuitous route that led us over 6000 miles of beautiful western territory. While I spent much time enjoying the view, there was also plenty of time for reading (I'm one of the lucky ones who doesn't get carsick!), especially during long stretches of Mojave Desert. Most of the time, I simply grabbed the next book out of my bag, but one book that fit with our surroundings was High Tide in Tucson by Barbara Kingsolver (Ekstrom Browsing PS 3561 .I496 H54) 1995. If you are like me and had not read Kingsolver's essays, you are missing some of her best work. These pieces are humorous and thoughtful and many of them about writing, the process of writing, and the effects of writing. She makes it sound simple! Lovely essay about her hermit crab Buster (My husband and I have a hermit crab with the same name--no relation) and one about her hometown in Kentucky. I would also recommend the novel The Bean Trees (Ekstrom Browsing PS3561 .I496 B44 1998) by the same author. I always thought this book had a stupid title, and I'm still not sure that it doesn't. The story, however, is absolutely wonderful. The main character leaves her home in a small town in rural Kentucky and heads west to what she hopes will be opportunity. She winds up with an adopted daughter and some wonderful new friends. Kingsolver has this way of making her characters feel like real people that you care about deeply, and her narrative is filled with Kentucky-isms and humor.
Continuing the Kentucky-related theme is Slow Dancing on Dinosaur Bones by Lana Witt (Ekstrom Browsing PS 3573 .I9157 S57 1996), a great novel about some very lively and real-seeming characters living in Pick, Kentucky. The cadences of speech and the description of place seemed authentic to me--probably because the author grew up in Eastern Kentucky. There are many funny and poignant moments as Gilman, the local mechanic/bootlegger fights the coal company trying to auger coal from beneath his land and as Tom, the philosopher transplanted by fate from California pursues Gemma, the feisty and bitter local woman who believes that no one will ever lover her again. Add murder, love triangles, and Zack, the skeleton in the closet (literally) and you have a novel full of memorable moments.
One of the stops on our summer adventure was San Francisco, which is the setting of the second of a pair of novels by William Gibson. Idoru and All Tomorrow's Parties (Ekstrom Browsing PS 3557 .I2264 I36 1996 and PS3557 .I2264 A79 1999). Idoru involves a famous rock star (Rez of the duo Lo/Rez) has decided that he will marry a cyber-construct. This construct is simply a virtual woman who lives in cyberspace but who can be "seen" via a small projector. The concept of artificial intelligence is explored, but the main character Laney is involved in reading the data "trails" so to speak that our lives leave. In the second book, Laney is now an invalid who does nothing but "plug in" to the 'Net and watch the shifting patterns of data. He feels a fundamental shift in the universe coming, but he isn't sure what it will be, just that it will happen in San Francisco, and it will be as significant as 1911. Add to the mix, a non-communicative boy who can scavenge the virtual contents of lockboxes through the Internet, a collector of watches, a rent-a-cop, and a mysterious, deadly, yet kindly hit-man and you have an intricate plot with a surprising ending. My advice--read Idoru first--it will help this novel make more sense.
Continuing the lighter reading recommendations, I'd suggest Bridget Jones: The Edge of Reason by Helen Fielding Ekstrom Browsing PR6056.I4588 B76 2000, another very funny adventure with the clueless but charming Bridget Jones. Forget believability though--once Bridget hits Thailand, you'll have to suspend your disbelief. It features much of the same humor that made the first book so amusing for people with my bizarre and quirky sense of humor. My other recent read that I found highly amusing was Me Talk Pretty One Day by David Sedaris (Ekstrom Browsing PS 3569 .E314 M4 2000) I first heard David Sedaris on NPR and found myself laughing out loud at 6:30am when normally there is nothing to laugh about at that hour! This little book of essays has some genius moments and the rest is just fun. Perhaps the funniest parts are when he describes living in France and learning the language, but there are many humorous stories about his growing up and about his family. Be aware that what you hear on NPR is a little on the "cleaner" side.
Finally, since I've spent a lot of time being sick with colds this fall, I have read a number of good books I just have to mention: A Blind Man Can See How Much I Love You by Amy Bloom (Ekstrom Browsing PS 3552 .L6378 B58 2000). I absolutely loved these short stories! I must admit though that I pulled the book from the shelf because of the title. It grabbed me. The characters were likeable and if their situations weren't quite familiar, their feelings certainly were. We Are Our Mother's Daughters by Cokie Roberts (Ekstrom Browsing HQ 1421 .R63 1998) was a quick read about all the different roles women can play. She includes some personal information about her own family, which is interesting, and she also includes some inspiring stories of women throughout American history. I thought she placed a bit too much emphasis on women as nurturers, after all men can do that too, but I did enjoy the stories of women, many of whom were unfamiliar to me. Rage Against the Veil by Parvin Darabi and Romin P. Thomson (Ekstrom Browsing HQ 1735.2 .Z73 D37 1999) is a very moving story about Homa Darabi, the author's sister who sets herself on fire in a public square in Iran to protest the tyrannical government there. The book explores the women's childhood in Iran, Homa's becoming one of the most prominent child psychiatrists in Iran and also in the U.S., and her eventual depression about the state of women and human rights in Iran.
James Adler, Kornhauser Library
I always like to read horror fiction this time of year, and this year I enjoyed a couple of old favorites. Bram Stoker virtually invented the modern vampire myth in his Dracula. (PZ 3 .S8743 D30). Over 100 years after its publication, it is still a great read. Everyone knows the basic story, so there is no reason to review it here, though I have yet to see a film Dracula who comes close to how Stoker envisioned his character.
I also read Uncle Silas (PZ 3 .L518 U6) by another Irish writer of the 19th Century, J. Sheridan le Fanu. An innocent and wealthy young girl is given over to the care of her mysterious uncle upon the death of her father. Mystery, suspense, horror and a whiff of the supernatural ensue. Despite the rather generic Gothic novel plot, the story is well told and absolutely dripping with atmosphere and vivid descriptions and characters. It is really a terrific novel of psychological suspense, and a fine way to while away a cold winter day. Interestingly, Bram Stoker got a great many of his ideas about vampirism from le Fanu's short story, "Carmilla," which deals with a female vampire.
Moving onward, there is H.P. Lovecraft's Dunwich Horror and Others, a short story collection dealing with sorceries, alien intelligences, lost races--cosmic horror of an high order. U of L does not have this particular volume, but does have the Best of H.P. Lovecraft, (PS 3523 .O833 A6) which contains virtually the same stories as the above volume. Particularly recommended are: "The Rats in the Walls," "The Colour out of Space," "Shadow over Innsmouth," "and the "Haunter of the Dark," though there are half a dozen others virtually as good as these.
Holiday reading plans include Moby Dick, (PS 2384 .M62 H47), A Conrad Argosy, "best of" collection (PR 6005 .O4 A15), and who knows what else, maybe some Charles Dickens. The first book is not for everyone, but if you can make it past the first 20 or 30 pages, you stand a good chance of becoming as obsessed as Captain Ahab. Joseph Conrad is the quintessential writer of the sea, in my opinion, and his short stories are almost universally excellent. Just looking at one of his books is enough to have me smelling sea spray. I have never read anything really bad by Charles Dickens, though I am kind of afraid of The Old Curiosity Shop, so I probably won't read that one. In fact, everything I have read by him is so stupendously good, that I know a drop off is inevitable. There's nothing like a great big stack of thick 19th century novels to get a person through the winter in comfort.
Lisa Arnold, Office of the University Librarian
Edwidge Danticat's book Breath, Eyes, Memory (Ekstrom Browsing PS 3554 .A5815 B74 1994) was one of Oprah's Book Club picks a couple of years ago. I highly recommend it. It explores the life of a Haitian girl who moves to New York City at the age of 11 to meet her mother for the first time, and chronicles her life struggles as she confronts her family's legacy of rape and violence. Through her command of the written language and understanding of the complexities of family life, Danticat weaves a web of relationships and exploration that is wonderful to read.
David Horvath, Media & Current Periodicals, Ekstrom Library
Coming into the Country by John A. McPhee (F910 .M29 1977)
As my friend and I drove into the Yukon on the fourth day of our journey to Alaska, we were just about finished reading this book to each other. We tried to find this book on tape with no luck, so we chose to read it out loud. This turned out to be a great idea because we ended up enjoying it more and having discussions as we went along. Driving the length of the Alaskan Canadian Highway, we obviously had a lot of time on our hands. The book was also the perfect introduction for us never-been-to-Alaska Kentucky boys.
McPhee is a fabulous writer. I include this short biography from http://www.biography.com to show just how broad his perspective is:
"Born in Princeton, N.J. He studied at Princeton (B.A. 1953) and at Cambridge University, England (1953--54). He worked as a television playwright for Robert Montgomery Presents (1955--57) and as an associate editor for Time magazine (1957--64). In 1964 he became a staff writer for The New Yorker; he also taught journalism at Princeton (1975). His nonfiction books, acclaimed for their cool precision, were usually based on articles written for The New Yorker; they cover a wide variety of subjects--everything from oranges to ecology, from canoemakers to Alaska; in later years he pursued an interest in geology through a series of books beginning with Basin and Range (1981)."
Anyway, this book is about Alaska. It is also about the little town of Eagle, near the Yukon River and home to the astounding diversity of people who would consider living in such a place at all. Their stories are amazing, terrifying, sad, hopeful and often hilarious. McPhee weaves his story of Eagle with tales of Klondike miners, native Alaskans, oil drillers, adventurers, hippies, religious fundamentalists, survivalists, hermits and even a librarian. This place makes the TV stories of Cicely, Alaska (Northern Exposure) seem almost normal. The book is at once history, anthropology, folklore, narrative (the people in Eagle are real), geology, psychology and philosophy.
But the most important thing McPhee communicates in this book is a deep and very real understanding of what Alaska means. This sounds pretty corny, but having driven to Alaska and spending time in just a tiny corner of it, I can see that it is surely one of those places you have to experience to believe or to understand. Coming into the Country does as good a job at describing the Alaska experience as words ever can.
Sarah Jent, Reference, Ekstrom Library
A Stranger's House by Bret Lott (PS 3562 .O784 S77 1988). Written from the point of view of Claire Templeton. She and her husband have been trying to have a child and searching for their dream house for years. They find the dream house and subsequently meet its caretakers, a teenager and a mentally handicapped older man. As these two help with the renovation of the house, they slowly reveal the surprising details of their lives to Claire and help her to heal emotionally.
What Looks Like Crazy on an Ordinary Day by Pearl Cleage (Ekstrom Browsing PS 3553 .L389 W48 1997). Ava Johnson finds that she has tested positive for HIV and leaves her successful career in Atlanta to journey home to a small town in Michigan for a temporary stay with her sister. Her plans to eventually move to San Francisco are derailed by a campaign to help the town's youth, a baby abandoned by a crack-addicted mother, and a kind man with a brutal past. It's a funny and hopeful novel.
Melissa Laning, Assessment Team, Ekstrom Library
Red Tent by Anita Diamant (Ekstrom Browsing PS 3554 .I227 R43 1997) is the story of Dinah, a daughter of Jacob. It provides a fascinating look at biblical times from a woman's perspective.
King Leopold's Ghost: a Story of Greed, Terror and Heroism in Colonial Africa by Adam Hochschild. (Ekstrom Browsing DT 655 .H63 1998) For all you Poisonwood Bible fans, this is a well-researched and well-written history of the Belgian colonization of the Congo. The subtitle is very descriptive.
Bettie Horton Lewis, Circulation, Ekstrom Library
Which Lie Did I Tell? by William Goldman (Ekstrom Browsing PS 3557 .O384 Z476 2000) A little bit of colorful language adds realism to this easy reading recollection of Mr. Goldman's experiences. Like being out for the evening and listening to idle conversation, a few stories will stand out in your memory, the rest will stay hidden somewhere and pop out at the oddest times and remind you of this book. If you'd like to know what REALLY goes on in the movie industry, read this. It is one of those books that is fun to read a few pages at a time in between the hustle and bustle of everyday life.
Glenda Neely, Reference, Ekstrom Library
Timeline by Michael Crichton (Ekstrom Browsing PS 3553 .R48 T56 1999) is a fast-paced adventure which could win an award for best special effects. An adventure mystery about a group of young scientists who are studying an archaeological site in southern France when the Yale professor in charge disappears. They uncover 600-year-old documents from the remains of a monastery and a note dated April, 1357, written in the professor's hand that says, "Help me." Plot thickens when an evil industrialist who has developed a risky method of time-travel (based on moment between parallel universes) provides the method they need to rescue the professor. Crichton explains the complex concept of quantum technology in simple terms. The rest of the story is a heart-pounding adventure in 14th-century France. The author's well-researched story has a bibliography listing history, science, sports and culture sources. I actually read through all the titles in the bibliography!!! (a first for me).
Judith Niles, Collection Management, Ekstrom Library
Lost in Translation by Nicole Mones. Hardcover edition: Delacorte Press; August 1998. Paperback edition, Dell Publishing; May 1999. (Not yet in our collection, but am hereby asking Bob to buy a copy for Browsing.) I enjoyed this book, especially because of the setting in China, with interesting descriptions of contemporary culture and geography. It also provides insights into the aftereffects of the Cultural Revolution on Chinese society.
Review from Publisher's Weekly18-May-1998:
"An attention-grabbing opening chapter in which the protagonist, translator/interpreter Alice Mannegan, rides off on her bicycle to a sexual tryst in Beijing, hints that this debut suspense novel will be a racy read. But Alice's sensuality is just one factor in Mones's complex portrait of a woman in search of herself, played out against the exotic background of some of China's remotest regions, a story that reveals as much about character and cultural difference as it does about a search for priceless, long-lost fossils. China is Alice's spiritual home, where she feels far removed from her loving but racist father, a U.S. congressman whose political opinions she deplores. But despite her desire to belong there, she is still considered an "outside woman." She signs on as interpreter for archeologist Adam Spencer, who believes that the remains of Peking Man were hidden in the Mongolian desert during WWII by Pierre Teilhard de Chardin. Joined by two Chinese scientists, they venture into remote regions where the urgency of the search is paralleled by Alice's increasing attraction to Dr. Lin Shiyang, whose wife vanished from a labor camp in that region 20 years ago, and by the unfolding story of the relationship of Teilhard and an American woman who loved him. The authenticity of Mones's background detail--from the rituals of ancestor worship to the workings of the PLA police and the food at a Mongolian banquet--brings fresh insight into the nuances of Chinese culture. Though the narrative tension is more intellectual than visceral, and some pivotal events of the plot seem too convenient, Mones succeeds in integrating archeological history, spiritual philosophy and cultural dislocation into a tale of identity on many levels."
Time to Be in Earnest: a Fragment of Autobiography by P.D.James. Hardcover, Knopf : Distributed by Random House, 2000. (Ekstrom Browsing PR 6060 .A467 Z468 2000) I've just started reading this book. So far I find it engrossing, and I like James' writing style. She remains at a distance from her cast of one, as she also does from the characters in her mystery novels (An Unsuitable Job for a Woman, Cover her Face, Black Tower, Death of an Expert Witness, Original Sin and others. Many have been filmed for television, appearing primarily in the Mystery series on PBS). The distance allows her to be objective and nonjudgmental about the protagonists in each story.
Review in BookList, 01-Mar-2000:
"When James turned 77 in 1997 (the age that Samuel Johnson considered "a time to be in earnest"), she decided to keep a diary for one year. She uses the format as a launching pad, moving from the events of the day (a dizzying parade of speeches, promotional tours, and charitable activities) to reminiscences about her life and reflections on her craft. Her fans will find both to be of great interest, whether she is describing the birth of her daughter during a V1 rocket attack on London or musing on the difficulties of adapting crime fiction to television. Her discussion of her first career as a bureaucrat in the British Health Service and Home Office is especially fascinating; James is one writer who speaks of her prewriting labors not with derision but with both humility and respect. Although she largely avoids revelations of a deeply personal nature, she does describe, in quiet but moving terms, the difficult process of nursing her late husband through years of mental illness. A charming, low-key look at the daily life of a fine writer and a remarkable woman. --Bill Ott
Mark Paul, Reference, Ekstrom Library
I'm currently reading a book of poetry by Mark Wunderlich called The Anchorage: poems. (Bingham Poetry Room PS 3573 .U46 A8 1999) I haven't finished reading it yet, but the random parts I have read I like so far.
This is Mark Wunderlich's first book of poetry and is very autobiographical, but not in a self-serving way but rather in a revealing way. The poems cover everything from the seedy side of the author's New York life all the way to poems addressed to a man who died of AIDS. Mark Wunderlich addresses his sexuality and sexual orientation in a direct manner with the more human emotions revealing themselves in the last section of the book. It is revealing in a way to which we can relate as human beings: physical desire, intellectual desire, and emotional desire, even though we may be from different social, economic or sexual environments. The poems can be strong in sexual description, so it may not be for everyone. However, to see the writer move from desire to the emotions of loss that appear later in the book is moving.
Amy Purcell, Special Collections, Ekstrom Library
Body & Soul by Frank Conroy (PS 3553 .O5196 B63 1993)
This is a story about an underprivileged boy growing up in New York City. He spends his days locked in his basement apartment while his mother goes out to drive her taxi. To pass the time he listens to the radio and slowly begins to try and play a small piano stuffed in his room among the piles of junk. The piano was left over from his mother's vaudeville days. This interest makes him venture to the local music store to ask the owner for some direction. It soon becomes evident that he has an extraordinary gift. The book follows his rise to the top. I was thoroughly entertained and at the same time, I learned a lot about music.
Prodigal Summer by Barbara Kingsolver (Ekstrom Browsing PS 3561 .I496 P76 2000)
I have always been a big fan of Barbara Kingsolver. I first read about this book in my Audubon Society magazine. Apparently Kingsolver's husband is a biologist and together they did research on her new book that is based in the Appalachian region. The book has three stories. One is about a wildlife biologist who is observing coyotes as a park ranger on the mountain above the town she grew up in. Another is about a city girl (from Lexington, Kentucky – which is a city but not as big as Louisville) who is looking into alternatives to farming tobacco. The last story is about an old man who is trying to create a new, stronger version of the Chestnut tree that was virtually extinct by the 1950s. I found it particularly interesting to read about the importance of predators and not disturbing the natural balance. I also yearn to see a Chestnut tree and am once again saddened by extinction. As always, Barbara Kingsolver has written an engaging and enjoyable book.
Judy Wulff, Kornhauser Library
I know Mildred Franks suggested Ahab's Wife by Sena Naslund (Ekstrom Browsing PS 3564 .A827 A76 1999) last winter. If you didn't spring for the hardback then, try it now in the paperback. I can't remember the last time when, as soon as I finished a book, I turned immediately back to the front and started again. So many haunting threads run through it, and it's beautiful to read.