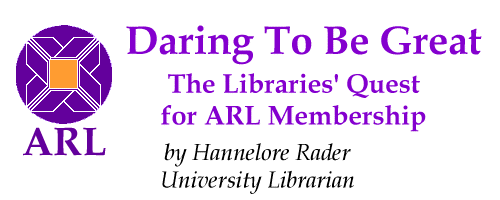 ---
2001 will be a most important year for the University Libraries. In late summer or early fall we will be reviewed for membership in the Association of Research Libraries (ARL).
ARL membership is vital to the University Libraries because:
It is the most prestigious scholarly group of academic libraries in North America and currently has 122 members. The University of Montreal and the University of Louisville will be reviewed for membership this year.
ARL helps member libraries share their unique and research information to support their institutions research agenda.
ARL represents research libraries on information issues nationally and globally.
ARL addresses scholarly communication issues in the electronic environment nationally and internationally.
ARL provides excellent continuing education, training and development for their member libraries.
Membership in ARL will help U of L recruit more excellent scholars and researchers by giving us national visibility for our services and collections.
Details of the evaluation site visit by ARL will not be available until shortly before the visit is scheduled. However, we do need to prepare for it. Listed below are some of the activities that are underway.
Our library statistics indicate that we are ready for the review in terms of collection size, but we must ensure continuing development. Over the next few years, we need to add approximately 80,000 volumes per year to the collection. To help us achieve this goal, President Shumaker has provided the Libraries with an additional $1 million a year in the materials budget. Everyone involved in the selection, acquisition and processing of new materials is working very hard on this project.
We are working on producing an attractive catalog with highlights of our many special collections. All the libraries are participating in this project under the leadership of Delinda Buie. We plan to print 1000 copies by March 1. The Libraries' special collections will be a major evaluation criterion for ARL membership.
ARL will be assessing our participation in national and international library and information issues. Thanks to the increasing productivity of our Libraries' faculty in regional and national organizations and through publications, I am confident about our achievements in this area. This increased level of productivity will also be used by the University to evaluate the Libraries. In addition, Sharon Edge, Michel Atlas and I have been speakers at international conferences.
We will highlight our accomplishments in building a state-of- the-art Information Literacy program. Thanks to Rae Helton, and now Anna Marie Johnson, and the Information Literacy Team, we have made major progress on building partnerships with faculty to teach students information skills within all levels of the curriculum. We have much more work to do in this area, but we can demonstrate to ARL that we are truly on our way in this very important aspect of library work.
We can demonstrate to ARL that we have made much progress with distance education support at U of L and within the Kentucky Virtual University and Virtual Library. We are working more closely with the Delphi Faculty Development Center to integrate library and information skills teaching support into distance education.
We have made major progress on building cooperative ventures for information sharing and services with libraries around the state through the Kentucky Virtual Library (KYVL), Metroversity and the Association of Southeast Research Libraries (ASERL). In the past few years, we have become members of several consortia that support scholarly communication such as the Scholarly Publishing & Academic Resources Coalition (SPARC), the Coalition of Networked Information (CNI), Journal Storage (JSTOR) and Scholarly Journal Collection (Project MUSE).
We are working on improving the physical library facilities somewhat for the ARL visit. During the last few years we have made improvements in the Music Library, Kornhauser Library, Kersey Library and Ekstrom Library. Currently we are working on making improvements in the Art Library and additional improvements in all the others. Unfortunately, we are limited by funding and these improvements will be somewhat slow.
We have also continued to work on improving the electronic environment in the Libraries to demonstrate that we are on the cutting edge in information technology on the campus. Weiling Liu, the Office of Libraries Technology, and the Technology Team have worked very hard to accomplish so many tasks with insufficient resources.
Completed tasks:
Finished Room 254 in Ekstrom Library for state-of-the-art electronic teaching, featuring the latest technology and wireless laptops.
Updated the Collaborative Learning Center for teaching.
Updated the Metropolitan Computer Lab, which continues to be very popular with students.
In progress:
Preparing for the next upgrade of Voyager (the Libraries' Information System) in May 2001.
Upgrading and updating staff and public workstations.
Upgrading the Libraries network.
Making Ekstrom a wireless facility. Circulation will soon lend laptops to students in a wireless environment.
Upgrading interlibrary loan with state-of-the-art software to ensure that users receive up-to-date services.
These are highlights of our preparation and planning for the ARL visit. We will be sharing more information with you and answering questions during our future information sessions with various groups.