Library, Department & Team News

---
Library Department & Team News

Assessment Team
The Assessment Team had a planning retreat and outlined many potential projects for the upcoming year. Team Leader Melissa Laning was also an attendee of the ALA Midwinter conference. She attended many sessions pertaining to the Library Administration and Management Association (LAMA). The sessions Melissa attended were: Planning Implementation Committee, LAMA Using Statistics for Planning, Evaluation Committee and the Ad Hoc LAMA Web site Review Committee. For more information see http://www.ala.org/lama/.

Ekstrom Library
Content Access
2001 has been a busy year for Content Access so far. Margo Smith attended the ALA Midwinter Meeting 2001, held in Washington, D.C., January 12-17, 2001. Content Access also has a new team member, Susan Salsburg, who started work at the beginning of January. Susan has joined our Online Records Cataloging crew. Lois Severt was elected Secretary/Treasurer of the Kentucky SOLINET Users Group for 2001/2002.

Rachel Augello ran her first marathon in Huntsville, Alabama! Since she crossed the finish line and lived to tell about it, Rachel is planning on running in another one this fall. Also, after not seeing her family in 2 1/2 years, Rachel had a nice visit with them in Valrico, Florida over the holidays.

Circulation & Interlibrary Loan
Lending has lost a valuable employee. Nicole DeVaughn has left her position in Lending in Interlibrary Loan to move on to bigger and better things. She has accepted a prestigious fellowship with the geography department to assist with information received from the U.S. Census. In her absence, there has been a definite gray cloud over the department and her subtle charm and sly wit will be greatly missed. We have already received interlibrary loan requests from her.

Over the Christmas break
Bettie Lewis and her new husband, Larry took a trip to California to visit family and friends - and palm trees. "I don't mind making people jealous telling about my soiree' in sunny CA." Bettie said when asked to describe her vacation. "I think its a little ironic that I shopped for months here in Louisville for a coat, and finally found a warm coat at Bloomingdale's in Newport Beach...on sale 70% off at the After-Christmas Sale. We got up at 6 AM and drove to the mall in a purple Miata convertible with the top down and no coat, just in case somebody wasn't envious enough already. Truthfully though it was a little chilly, only about 60 degrees, but warmed up to the high 70's almost every day. Starbuck's Latte under a palm tree is still the best way to start the day."

eReserves
Electronic Reserves are running much more smoothly this semester than their maiden voyage last semester. There are still a few odd gremlins running around in the machinery but, overall, the process has become less complicated and more efficient. If you have any questions about electronic reserves, feel free to contact John Breitzman at 8750 – as well as to leave a message on his voicemail if he is not at his desk.

Welcome New Student Assistants
Pema Dolka, Susan Baker, Carrie Turner, and LaChrista Warren are the new faces at the circulation desk. We had quite a few student assistants actually graduate and / or move into graduate teaching positions at the end of last semester. We have been trying to get new circulation students hired and trained in the last few weeks and it has been a challenge. Fortunately, we seem to have had the sheer luck to stumble across some very bright and quick new faces that makes the job a lot easier.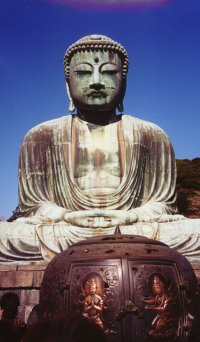 Media and Current Periodicals
Trish in Japan
Trish Blair, who previously had "never gone anywhere" picked Japan for her first real "away" trip. She visited a friend who is stationed on the aircraft carrier USS Kitty Hawk. She has safely returned, glad she went and glad to be back in the US where things are a bit more comfortably familiar. She won't be eating octopus anytime soon. She did enjoy the people, culture and the place and has great photographs and stories. We'll try hard to get her to write something up for a future issue of the Owl. In the meantime, just ask her about liquid sugar, whiskey in vending machines, interesting theme restaurants, statues of Buddha or spacious hotel rooms. That should get her started! (Right: A giant statue of Buddha photographed by Trish while in Japan. The object in the foreground is an urn used for offerings of incense.)

Wecome
As we welcome back our student assistant for another fun-filled semester, we also are pleased to welcome our newest students, Jennifer Vega and Suzanne Johnson.

Office of Collection Management
Judith Niles attended the ALA Midwinter Meeting 2001.

We would like to congratulate our student, Andrea Baxter-O'connor who graduated with a B.A. in English this December. She will be leaving us at the end of February and her hard work will be greatly missed. We wish her luck in her search for a regular job.

Office of Libraries Technology
Technology Briefings I - network and individual disk space & the Libraries' Network

All of the Libraries' PCs (excluding Law Library) will be gradually connected via Microsoft Network and managed by SMS (Systems Management Server). This means that major applications such as MS Office, Voyager clients can be distributed through the server; staff members can have individual disk space on the server and be backed up periodically, and can print to networked printers (pre-setup required).

FAQ:
Q: Is this happening now?
A: Yes.

Q: How do I know if I'm connecting to the network?
A: You can see a black window with something like "SMS ... " on the screen briefly when you login
Or
You can see a list of all the computers when you double click on Network Neighborhood or Entire Network (windows 95/98) or a list of users on Y: drive after you login

Q: Do I need NAL to login to the network?
A: No.

Q: How can I locate my disk space on the server?
A: To open your disk space folder, you do one of the followings (choose your operating system)

For Windows 95/98:

double click on "Entire Network"
double click on "midgard"
double click on "muninn"
double click on "users"
double click on the
folder with your login ID
For Windows NT or 2000:
Quick:

double click on "My Computer"
double click on "[your ID] on 'muninn\users' (Y:)"
Complete:
double click on "Entire Network" or "My Network Places"
double click on "Microsoft Windows Network"
double click on "midgard"
double click on "muninn"
double click on "users"
double click on the folder with your login ID
Q: Can other people see or access to what is saved in my disk space?
A: No (Let OLT know if you can see other's folder without permission or vice versa)
Q: What can I save in my folder?
A: Policies are being developed. During the interim, you can only store active data files (up to 100 MB) with a maximum size of 50 MB per file
Q: How do I know how much space I have used?
A: Use the same way to locate your disk space folder as instructed in the previous answer (complete way for NT or 2000), then do the following:

point to your disk space folder (folder with your ID, not the Y: drive) and right click the mouse
click on "properties"
Office of the University Librarian
Mandatory Direct Deposit

As a means of reducing costs for paycheck printing and distribution, effective January 2, 2001, ALL NEW UofL EMPLOYEES (including students) will be required to establish direct deposit (officially called "electronic fund transfers", EFT) for their pay as a condition of employment. Human Resources will be undertaking a campaign soon to encourage the 35% of current employees not currently participating in EFT to convert on a voluntary basis.

It's very important for student supervisors to be aware of this policy change. From now on when you send students to our office for payroll sign-ups, in addition to bringing proper identification, they must also bring us a blank voided check. Please inform them ahead of time so they can come prepared.

New Hires
Mary Barbosa-Jerez has been hired as a faculty Lecturer/Library Intern in Ekstrom Reference effective January 16, 2001. Mary will work full-time and concurrently pursue the MSLS degree at UK.

Susan Salsburg has been hired as Library Assistant, Grade 211, in Content Access effective January 2, 2001. She served as senior research publications editor in the Urban Studies Institute and has also worked at UMI Data Courier.

David Tyler has been hired as Library Assistant, Grade 211, in Kersey Library effective January 2, 2001. He will provide staff support for the Kersey Computer Lab.

Promotions
Jerry Beasley as been reclassified and promoted to Technology Specialist II, Grade 126, effective December 1, 2000.

Fannie Cox will be promoted to the rank of Assistant Professor (term) effective July 1, 2001.

Sabbatical Leaves
Neal Nixon will be on sabbatical leave from January 1 through June 30, 2001.

Nancy Utterback has been granted a sabbatical leave for the period July 1 through December 31, 2001.

Resignation
Nicole DeVaughn has resigned her position as Library Assistant in Ekstrom Circulation effective January 5, 2001.

Report Your Professional Development Activities
This is a reminder for most of us and especially an alert to our newer employees. Don't forget to give yourself credit for the time and effort you invest in training and professional development activities by routinely filling out the "Professional Development Activity Report" found on the Intranet: http://uofl.louisville.edu/library/docs/

Some folks fill out the form right after they attend something (such as IT or ExecuTrain computer training, teleconference, conference, seminar); others do it on a monthly basis. Unfortunately there may be other who never report their activities, and that's valuable data we may not be capturing. It's very important for us to be able to track and report how many hours our personnel spend in training and development activities, so whatever works best for you, try to get into the habit. Why not bookmark the site for easy future reference? Thank you for your participation in this ongoing effort.

Special Collections
White Christmas
Just before Christmas, Roy and Dela White arrived in Louisville with a truckload of gifts for the Burroughs Memorial Collection. It turned out to be a magnificent and totally unique collection of 1,344 items. The gift contains important letters to and by Edgar Rice Burroughs; the "Memory Books" of his daughter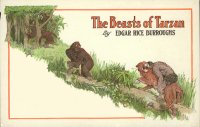 Joan with many rare photos of the family and selected friends (for example, an autographed photo of Enid Markey, the screen's first "Jane"), many clippings related to Burrough's life and affairs, a radio script of the first Tarzan broadcast of 1932 featuring Joan as "Jane" and her husband as "Tarzan," 389 pieces of sheet music, many of them signed for Joan by composer or donor, and a cache of original paintings including two by J. Allen St. John, two by Boris Vallejo and no less than 130 Mahlon Blaine originals and onion skin preliminary drawings. George McWhorter has begun to process and incorporate this gift into the Burroughs Memorial Collection. He estimates it will take at least a year to complete the project. (Left: Original poster with art by J. Allen St. John, part of the recent Roy and Dela White gift. Courtesy of the Burroughs Memorial Collection.)

Kersey Library
New Staff member
Please join us in welcoming our newest staff member here at Kersey Library. His name is David Tyler. He is the supervisor of our new computer lab. David is from Boston, Massachusetts. He and his wife belong to a very interesting organization called SCA. (Editors' note: The Society for Creative Anachronism (SCA), is an international organization dedicated to researching and recreating pre-17th-century European history. All persons interested in such study are invited to use these pages to obtain information about the SCA.) Visit their website at http://sca.org/.

Kornhauser Library
Gary Freiburger recently served on a review team for the National Library of Medicine's (NLM) National Network of Libraries of Medicine. NLM has divided the US into eight regions and every five years holds a competition for the multi-million dollar contract to be the Regional Library. (The University of Illinois - Chicago is our Regional Library.) After reviewing proposals for the New England Region at NLM in August Gary traveled with the site visit team to the University of Connecticut and the University of Massachusetts Medical Campuses on January 3rd and 4th. Results of the competition will be released later this year.

Please extend a warm welcome to Amy Whitmer. In her part time position with Technical Services, Amy will be linking journals and working on other projects. After receiving her M.S.L.S. from UK in 1995, she has worked for the American Printing House for the Blind and Spalding University.

Law Library
Up on Cripple Creek
Miriam Williams and her family headed west over the Holiday break. They stopped in Colorado to visit Miriam's sister and do some hiking and climbing in the Garden of the Gods and El Dorado. They tried their luck, good and bad, at the Blackjack tables in Cripple Creek. Heading further west they ended their trek in Los Angeles where they enjoyed sun bathing and swimming at Venus Beach and watched the Rose Bowl Parade in Pasadena.

New Legal Reference Librarian
The Law Library hired Kurt Metzmeier to be our new Legal Reference Librarian. Kurt comes to us from the University of Kentucky Law Library where he was the coordinator of computer services. Kurt is a three-time graduate of UofL (B.A., M.A., J.D.) so we are very happy to welcome Kurt back into the UofL family.

England in January
Robin Harris spent the third week of January in London, taking advantage of the cheap airfare and theatre ticket prices, as well as the sparse crowds at the museums and art galleries. London highlights included four theatre productions (i.e., Madame Melville, starring Macaulay Culkin, and The Graduate, starring Jerry Hall), seeing the Elgin Marbles at the British Museum, and visiting the British Library's rare documents room to see everything from the Magna Carta to early Beatles lyrics scribbled on scraps of paper. Train trips to Windsor Castle and to Canterbury were great fun as well. And as for the London weather, it was sunny and cool the entire week.

Public Radio Partnership Fund Drive
It's time again for the Spring Membership Drive. This year the drive runs from Friday, February 16 through Saturday, February 24. Please support Louisville's three public radio stations! If you want information about the PRP, go to www.wfpl.org or pick up a copy of the Trio Listeners' Guide, available at the Ekstrom Library foyer, and across from the Circulation/Reference Desk at the Law Library.

Louisville Mandolin Orchestra at the Kentucky Center for the Arts
On Tuesday, March 13, 2001, the Louisville Mandolin Orchestra will perform at the Bomhard Theatre of the Kentucky Center for the Arts, at 8pm. The LMO is proud to announce that special guests for the evening will be the Modern Mandolin Quartet, featuring Chris Thile, also of the hot bluegrass group, Nickel Creek. This will be an exciting evening of eclectic musical styles. Call Robin Harris at Law (x6083) for more information.

Music Library
Student Assistants
Technical Services welcomes back Gautam Ankam for his second semester of work here and continues to benefit from the services of David Ballena and Hazel Smith. Hallelujah!

Added Help
Hazel Hale will be staying on for an additional six months. She has been helping the Music Library primarily with binding and journals. She also searches the database toward acquiring new materials and has undertaken other special projects.

UARC
City Center Walk, volume II in Tom Owen's walking tour video series, was released in December. Tom walks backwards for fifty-seven minutes as he describes the public buildings, monuments, markers, and memorials within eyeshot of downtown's Sixth and Jefferson intersection. Local government has been centered there at the city's "recognizable heart" since 1784.

Tom declares that "every great city is known by how it remembers. When Louisville embraces its past--wrinkles and all, a sense of belonging--of special place--emerges. It's all there in stone, masonry and bronze: vanity, courage for community, boosterism, and the terrible dichotomy between principle and practice. Thank goodness we built for tomorrow."

is available at Hawley-Cooke, Barnes and Noble, and Carmichael bookstores. Historic West Main was last year's video walk. Tom expects his series to ultimately total forty volumes. At his current, one-a-year pace, he expects to finish when he's ninety-eight years old.

Kathie Johnson is busy looking for any archival positions that might be open in Key West after spending a week there in early December. She and Ron celebrated their 30th wedding anniversary in this wonderland which is a cross between the French Quarter of New Orleans and a Caribbean island. They rented bikes for the week and rode all over. They toured the Ernest Hemingway House, climbed up to the top of the Key West Lighthouse, visited the Cultural Center, took a sunset sail on a schooner, ate wonderful meals, and spent a lot of time just relaxing. Although food was expensive, everything else seemed very reasonable for a tourist area, and Kathie highly recommends the Florida Keys as a vacation destination.