Library, Department & Team News

---
Information Delivery
Congratulations Carol!
Carol McNeely received an award for Outstanding Service at the Disability Awareness Awards Luncheon this past Monday (May 9). The Disability Resource Center and Kappa Sigma Fraternity sponsored the annual event. This is the second year in a row that the libraries have been honored. David Horvath won the award last year.

Personnel Resources
Coping with Stress Workshop
May 23, 1:30 - 4:00 p.m. or May 24, 9:30 a.m. - 12 noon
All faculty and staff are encouraged to attend one of two sessions on coping with stress sponsored by the Personnel Resource Team. To be conducted by Dr. Joyce Edelen of the Mental Health Association, the sessions will focus not only on the physiological side of stress but also identifying your own stressors in and beyond the workplace, anger control, learning to say no, and specific stress reduction techniques. Both sessions will be held in MITC 201. RSVP by May 16 to Alice Abbott-Moore, x8719. Please address any questions concerning parking or special accommodations to any team member (Alice, Melissa Laning, Bettie Lewis, Carol Brinkman, Rebecca Maddox, Debbie Hawley).

Portfolio of Staff Professional Activities
Staff are encouraged to submit details of their professional activities for 1999-2001 to any team member by the end of May. Items will be included in a Portfolio of Staff Professional Activities being assembled in preparation for the ARL site visit to highlight the many impressive activities our Classified and P&A staff are involved in. Categories include:
publications in national and international journals
publications in state and regional journals
presentations at national conferences
presentations at state and regional conferences
professional organization memberships
offices held in professional organizations
academic awards for job-related recognition
teaching activities
library degrees earned or in progress
other graduate degrees earned or in progress
Art Library
The Liberty Connection
Liberty High School, a recently established Jefferson County public school, does not have a library and thus, no art books. To help out, the Art Library sends book jackets from newly received books to Sharon Loy, UofL alum and first year art teacher at Liberty, and she creates a timeline of art to use as a teaching tool. Book jackets that are not appropriate for the timeline are used for student collage projects.
Office of the University Librarian
New Hire
Claudene Sproles has accepted an offer as Government Information & Reference Librarian in Ekstrom Library at the rank of term Instructor effective June 11, 2001. She currently works as a Government Documents/Map Librarian at the St. Louis Public Library.
Resignations
Cindy Page has announced her resignation from the University effective May 31, 2001.
Margaret Merrick has announced her resignation from the University effective June 29, 2001. She has accepted a position as Records Manager at the Presbyterian Historical Society.
Eric Neagle has announced his resignation from the University effective May 31, 2001. Heíll be starting library school at the University of Michigan in the fall.
Susan Salsburg has announced her resignation from the University effective May 11, 2001. She has accepted a position as copy editor for the Presbyterian Church USA.
Reassignment
Mark Paul has accepted a reassignment to the position of Assistant Director of the Office of Libraries Technology and transfer to that department effective June 1, 2001, retaining his current rank as term Assistant Professor.
Temporary Appointment
Neal Nixon has accepted an additional, temporary appointment as Interim Director of the Kornhauser Health Sciences Library effective May 1, 2001. He will serve in this role until a permanent replacement has been hired.
Important Reminder to Student Supervisors
In order to determine wage increases, evaluations of student assistants are due to Debbie Hawley no later than Friday, May 4. By that date we also need to know which current students plan to continue working after July 1 and which do not.
French Intern
The Libraries will again sponsor a French intern as part of the Montpellier Work-Exchange Program. Several individual areas of the Libraries benefited tremendously from the student assigned to us last year, Martin Charbaut. If your area would like a couple of hours per day or one day per week of this studentís time during the month of July, please contact Debbie Hawley. At this time we have no specific information about who our intern will be. At the least, itís an interesting way to bring a little more cultural diversity to our daily work lives!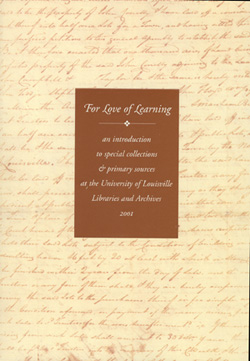 Special Collections
Hot Off the Presses
For Love of Learning: an introduction to special collections & primary sources at the University of Louisville Libraries and Archives has been published. Delinda Buie directed this project and coordinated with all the Libraries to submit information about their special collections. Working closely with Delinda on this project were Ruth Spangler (hired to help with the editing, she also worked on the Louisville Encyclopedia), Amy Purcell, Kathie Johnson and Susi Knoer . . . and a host of others.
The print catalog has descriptions of 300 of the Librariesí collections. University Librarian Hannelore Rader plans for each staff member to have a copy. An even more comprehensive searchable version for the worldwide web is under development and will be available in June, 2001.
Kornhauser Library
Next time you see Michel Atlas, dangle a preposition and see if she bites, for she is now a member of the Editorial Board of the Bulletin of the Medical Library Association, and will be for the next three years. Likewise, next time you see Elizabeth Smigielski, ask her about cowpox, bubonic plague or the good old fever and ague, because she is now on the Medical Library Association Gottleib Award jury, which awards prizes for essays on the history of medicine.
Although they were way up in the peanut gallery and couldnít quite pick out groveling beggar Karen Habeeb in the chorus, Leah Gadzikowski and Paula Mattingly thoroughly enjoyed a night at the Kentucky Operaís performance of Turandot.
Law Library
The Louisville Mandolin Orchestra will perform its final concert of the season on Sunday, May 20, 2001, at St. Francis of Assisi Catholic Church (corner of Bardstown Road and Alfresco Place, in the Highlands). The concert begins at 7:30p.m. and will feature early 20th century tunes. The groupís new CD, Mandoscapes, will be available for sale. Admission to the concert is free!
Music Library
Itís recital time at the School of Music and we are very proud of our student workers! Rachel Blanton, violinist, played Biber, J.S. Bach, Paganini, Norgard and Dvorak on April 4 in Comstock Recital Hall. Carlos Cuenca gave a piano recital April 11, performing works by Mozart, Bach, Liszt and Beethoven.
Also at Comstock Recital Hall, David Ballena will play selections from Bach, Beethoven and Hindemith at 8:00pm, May 7.
UARC
The Kentucky Tennis Association, which issues annual rankings of players based on their competition in United States Tennis Association approved tournaments, has ranked Bill Morison number two in the state in his age division (55-59) for 2000. Heís sure itís the highest ranking heís ever received in menís singles, but his memory has faded with age, along with his playing ability.
Kathie Johnson spent a great four days in Charleston, South Carolina, attending the annual meetings of the Archivists and Librarians for the History of the Health Sciences and the American Association for the History of Medicine. Both were entertaining as well as informative. It was amazing to hear the variety of subjects that are being covered in current research and it was great to make contact with other archivists and librarians in this specialized area.
Included in the ALHHS meeting was a tour of the Waring Medical Library at the Medical University of South Carolina and a trip to a leech museum (yes, you read that correctly.) Kathie was happy that the leech museum contained mostly medical instruments and equipment, with only one preserved leech on display. Leeches are now successfully being used to improve blood circulation to reattached body parts.
While there, Kathie tried out some new restaurants, ate at some old favorites, and managed to visit one of the many plantations in the area. All in all it was a great trip, although there were snow flurries in every state on the drive down (Tuesday, April 17) including in the western tip of South Carolina. This was a quite an unusual occurrence for South Carolina in April!