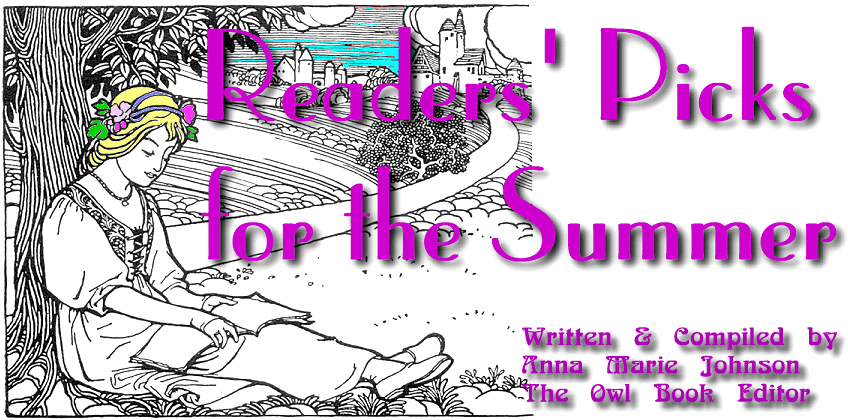 How do you pick out the books you read? I was standing in the Browsing Collection the other day mulling over this question. I noticed that I simply couldn't just pull a book off the shelf and take it unless I was specifically looking for it. If I am browsing, then the title has to speak to me enough to pull it off the shelf. Then, the blurb has to draw me in and even then, I have to weigh it against the amount of time I have and what else I'm currently reading. It is a wonder that I ever read anything! This compulsive book-choosing method has evolved for me over the years due to a combination of two factors. First, I am compelled to finish every book I start. Yes, yes, I know that many of you have overcome this and that there is great freedom in it, but I just can't do it—yet. The other problem is that as I get older, my time becomes more and more precious. I refuse to squander it (ask my husband about the difficulty we have in choosing movies to see!) and so, I must choose each book with utter care. Am I crazy? Probably. Am I alone in this weirdness? I doubt it. My summer picks reflect both recommendations made to me and titles that jumped out at me from the shelf.

If you would like an opportunity not only to read cool books but to talk about them as well, we have a small, very informal book discussion group meeting in the Ekstrom Reference Department conference room on an irregular basis. Our last book, Breath, Eyes, Memory by Edwidge Danticat, was discussed on June 11 at noon. If you'd like to participate, please contact Carol McNeely who will tell you about our next meeting. Like Water for Chocolate: A Novel in Monthly Installments, with Recipes, Romances, and Home Remedies by Laura Esquivel (Ekstrom PQ7298.15 .S638 C6613 1992) was the subject of the April book discussion, and provoked intense love and also intense dislike. It features some magic realism (where fantasy enters the reality of the plot without much warning) but is much lighter to read than One Hundred Years of Solitude by Gabriel García Márquez. Each chapter contains a recipe so, for me, the book combined the aspects of romance and food—a wonderful combination!

Reading in a different ethnic tradition is always fascinating and I second Carol McNeely's recommendation of Interpreter of Maladies by Jhumpa Lahiri (Ekstrom Browsing PS 3562 .A316 I58 1999). It contains stories that have a nice flavor, much like the Indian food that plays a part in almost all of them. The first and last of the collection were my favorites, but there was interesting character development in all of them. Some ended a little flatly, but the description is really beautiful, whether set in India or in the USA. Is it becoming clear that I enjoy reading about food?

If you just can't get enough Bridget Jones right now, try Getting Over It by Anna Maxted (Ekstrom Browsing PR 6063 .A8665 G48 2000) which is in the same style of Bridget Jones, but with depth. Lots of funny British-isms, but the 26-year-old main character of this novel, Helen, starts off dealing with her father's untimely death and her mother's ponderous grief. The book chronicles the next year of her life as she works through issues with her dead father and tries to find the love of her life.

Finding the love of one's life is also a theme of Wives of the Fishermen by Angela Huth (Ekstrom Browsing PR 6058 .U85 W58 1998). I wouldn't give this book high marks in terms of character description or development. The one character is just too good and the other one just too not so good. I really got tired of the "good" character being described as "big" or having "big hands." Lots of neat description of a Scottish fishing village and Scottish fishing life and a good depiction of a well-developed marriage are this book's strengths.

For my sci-fi installment, I recommend Harvest of Stars by Poul Anderson (not owned by Ekstrom, though we do have dozens of his other books). I'm a newcomer to Anderson, and a friend recommended this one to me. It is an exploration of artificial and human intelligence and the concept of the "mind." It begins with pilot Kyra Davis of Fireball Enterprises who is assigned to find Anson Gutherie, the leader of Fireball who is no longer a living "being" per se but rather a "download" of himself. Nevertheless he is still the leader of Fireball and the Avantist government is out to get him. This one is for true sf lovers. It is more about ideas and a bit short on character. There are major leaps in the plot where ten stories could fit.

I am quickly becoming a Neil Postman devotee. Technopoly: The Surrender of Culture to Technology (Ekstrom T14.5 .P667 1993) is his take on American culture's conversion to a technopoly, which he defines as a culture that uses technology for reasons no one can remember. He believes that we rarely examine critically the unintended consequences of technology, whether it be computers, medical technology, or even media.

I rarely ever say this as I try never to be pushy about what others read, but The Price of Motherhood by Anne Crittenden (Ekstrom Browsing HQ759 .C924 2001) is a MUST READ. Crittenden uses the term "mother" to mean primary caregiver of children or the elderly because the overwhelming majority of this group is women. She takes a close look at the economics involved in caregiving—for example the amount of money that "mothers" lose when they take a hiatus from work to do care giving. Crittenden also examines European systems of rewarding care giving in contrast to America's complete lack of support—monetary or otherwise. Crittenden contends that America honors mothers with sappy esteem and Hallmark cards, but few put their money where their mouths are.

Here's what some of your colleagues have been reading lately:

Andy Anderson, Photographic Archives
Wide as the Waters : The Story of the English Bible and the Revolution It Inspired by Benson Bobrick. (Ekstrom Library Browsing BS 455 .B62 2001) From its earliest translation into English in the 1380's through the King James Version of 1611, the Bible provided a reason to be literate and so hastened progress toward a universally literate society. Once Bible text was no longer exclusively the property of a priestly or royal class, ordinary Englishmen were able to think for themselves about its interpretation and meaning. This, in turn, encouraged independent thinking about all matters, inspiring English religious and social reformers who, in turn, provided inspiration to reformers around the world, including the American revolutionists.

Benson Bobrick weaves the intellectual history of the English with fascinating biographies of translators, churchmen, Kings, martyrs, smugglers and others who forged that history. He has also managed to make it a very good read.

The dust jacket blurb for The Years With Laura Diaz (Ekstrom Browsing PQ 7297 .F793 A7613 2000) describes the central character as a remarkable Mexican woman who was "born in 1898, grows into a devoted wife and mother, becomes the lover of great men, and, before her death in 1972, is celebrated as a politically committed." If this were all, the novel would worth reading as a well-written soap opera—good summertime escapist fare. Novelist Carlos Fuentes has however, as he did in his earlier The Death of Artemio Cruz (Ekstrom Stacks PZ4 .F952 De), created a masterful fiction which chronicles the entire sweep of 20th century Mexican politics and culture. The "great men" with whom Laura Diaz shares her life include leaders of the Mexican Revolution, muralist Diego Rivera (he incorporates her portrait in his Detroit Institute of Arts mural), exiled Latin-and North-American veterans of the Spanish Civil War and the Cuernavacan community of American writers and artists who fled McCarthy-era persecution.

This one is a must for fans of Latin-American fiction and an excellent introduction for those new to the genre. The novel left me with a question for George McWhorter: Was Frida Kahlo, Diego Rivera's lover, really a huge fan of Tarzan movies?

For great lying-on-the-beach, no-redeeming-social-value reading, it's hard to beat the crime novels of Janet Evanovich (One for the Money (Ekstrom Browsing PS3555 .V2126 O5 1994), Two for the Dough, Three to Get Deadly, Four to Score (Ekstrom Browsing PS3555 .V2126 F6 1998), High Five (Ekstrom Browsing PS3555 .V2126 H5 1999), Hot Six (Ekstrom Browsing PS3555 .V2126 H6 2000), Seven Up (Ekstrom Browsing PS3555 .V2126 S47 2001). Her central character, Stephanie Plum works as a bounty hunter and loves pizza, donuts, hot cars and hot guys. She and assortment of friends — criminal, computer-programmer midgets, 7-foot transvestites, a Cuban-American gunrunning ninja, a grandmother who always carries a long-barrel .45 revolver - chase an equally varied assortment of bail-jumping bad guys. All the novels (I'm up to High Five) are lots of fun (Grandmother: "Do you think my photograph makes him look dead?" Stephanie: "Grandma, he's in a casket.") Great brain candy.

Michel Atlas, Kornhauser Library
The Red Tent (Ekstrom Browsing and Stacks PS 3554 .I227 R43 1997) and Ahab's Wife (Ekstrom Browsing PS 3564 .A827 A76 1999)—both great—strong female characters, strong characterization of their historic periods.

Mary Barbosa-Jerez, Reference
The Death of Vishnu by Mani Suri (Ekstrom Browsing PS 3569 .U725 D43 2001).If you liked Arundathi Roy's The God of Small Things, you'll love Suri's beautiful exploration of death (and the life that surrounds it). Suri's character, Vishnu (who is named for the Hindu god who brings life and death to the universe), dies on the landing of a Bombay flat while around him swirl religious exploration and intolerance, bigotry and compassion, romance, jealously and passion. Suri's prose is beautiful and sensual, and his narrative is spellbinding, moving from the present lives of the characters, to the imaginary lives of Indian film stars' roles, to flashbacks of memory and dream sequences. I have not enjoyed a book so much in months. It's on my desert island list now — something I'd enjoy reading again and again.

I'm rereading Tales of a Shaman's Apprentice by Harvard ethnobotanist Mark Plotkin. It's an exciting and really wonderful account of his time researching medicinal plants with the indigenous people of the Amazon basin.

The Hours by Michael Cunningham (Ekstrom Browsing PS3553 .U484 H68 1998). Brilliant. A must read for all well-read admirers of Virginia Woolf's work.

Mary Margaret Bell, University Archives
I've recently read a couple of interesting biographies, published in the last few years: Victoria's Daughters by Jerrold Packard (Ekstrom Browsing DA554 .P33 1998) is the story of the five daughters of Queen Victoria. Like the Sarah Ferguson commercial for Charles Schwab, this book shows being a princess isn't all it's cracked up to be!

On Sunset Boulevard : The Life and Times of Billy Wilder by Ed Sikov. I found, as I expected, behind-the-scenes stories and Hollywood gossip about this renowned director, but I didn't know his moving personal story as a refugee from the Nazis. In response in recent years to those who claimed the Holocaust never happened, he asked, "Then what happened to my mother?"

Bill Carner, Photographic Archives
Seabiscuit: An American Legend by Laura Hillenbrand (Ekstrom Browsing and Stacks SF 355 .S4 H55 2001). This is the book I want to read on my vacation. I haven't read it yet and all three of the library's copies are checked out for the foreseeable future, but the reviews have been great. It's been at the top of the New York Times bestseller list for a while now and David Cronin's interview with author Laura Hillenbrand on WFPL's "Off the Cuff" has me tempted to head out the bookstore now. This unlikely alliance of an ugly, cantankerous horse, a down and out trainer, an unorthodox owner and two hard luck jockeys dominated racing in the late 1930's. Add in an against all odds comeback attempt from serious injuries for the horse and the jockey and you've got the stuff best sellers are made of.

Mark Dickson, Music Library
These are on my reading list for this summer: Collected Fictions by Jorge Borges (Ekstrom Browsing PQ7797 .B635 A24 1998) Though I haven't read this yet, I've read most of the stories in other collections. I'm looking forward to this one.

Collected Poems by Kunitz, Stanley (Ekstrom Stacks PS3521 .U7 A17 2000). I read this between the novels I am reading.

Books of Blood I-III by Clive Barker (Ekstrom Browsing PR6052 .A6475 B6 1998). I just finished this. It wasn't as consistently riveting or hair-raising as I expected, but Rawhead Rex still continues to linger in memory.

The Hobbit by J.R.R. Tolkien (Ekstrom Browsing PR6039 .O32 H6 1997). I've read this before (of course), but I'm preparing for the Lord of the Rings film series that comes out this Christmas. [I re-read the whole Lord of the Rings series at the beginning of the year, and all I have to say is if you haven't, you really should. The movie apparently was filmed as a nine-hour film cut into three parts, the first of which is coming out in December of 2001. I have heard that a segment of it impressed even the jaded filmgoers at Cannes. —amj]

Robin Harris, Law Library
Life on the Color Line: The True Story of a White Boy Who Discovered He Was Black by Gregory Howard Williams (Ekstrom Browsing KF373.W474.A31995). In his award-winning book, Williams (recently named president of the City University of New York) tells the heartbreaking story of what happened in his life after he discovered that his dark-skinned father (whom he thought was Italian) was actually half black.

This fascinating story begins in the 1950s in segregated Virginia, but most of the action occurs after Williams' parents' divorce and he moves to Muncie, Indiana. There Williams and his brother Mike live with his father's black relatives and face the challenges of a cruelly racist community. This book's perspective is unusual, in that Williams and his brother fit in neither the black nor the white world. The fact that Williams not only graduated from college, but also earned a law degree and a PhD., is amazing, considering the obstacles he faced. A truly inspiring book.

Greg Williams will visit UofL on October 1 and will deliver the Brandeis School of Law's Harlan Lecture.

David Horvath, Ekstrom Media & Current Periodicals
Eva Luna (Ekstrom Stacks PQ 8098.1 .L54 E813 1988) and The Stories of Eva Luna (Ekstrom Stacks PQ 8098.1 .L54 C8413 1991) by Isabel Allende. Continuing my leisure reading with a focus on Latin America, I've lately been enamored with the works of Isabel Allende. This Chilean writer has given us some of the finest narrative short stories and fiction of the century. The books are a pair: Eva Luna tells the epoch life story of Eva Luna (which means "life") and The Stories of Eva Luna, a collection of Scheherazade-like tales. Eva Luna, the main character, is a strong, sensual, passionate and independent woman. She becomes a accomplished storyteller within her own narrative biography, starting life as a poor orphan telling stories to escape the hardships of her life, calm intense situations and heal herself and her listeners. Before the novel's end, she is a commercially successful storyteller, writing for Bolero, a fanciful and autobiographical television serial. In The Stories of Eva Luna, Allende tells stories of magical but real characters, including some of the characters from the first novel. Throughout the books, Allende covers "social warfare between the rich and the poor, sexual battles between men and women, the dissolution of corrupt politicians and macho military leaders, all set within the landscape of contemporary South America." You can read these two works separately or together, depending on whether you're in the mood for a novel or short stories. Summer reading at its best.

Kathie Johnson, University Archives
My book club just recently read The Wall Between, Anne Braden's autobiographical account of the events of 1954, which culminated in the arrest of Anne and her husband Carl Braden.(Ekstrom African American Collection F459 .L89 N43 1999). We all agreed that it should be mandatory reading for students in Louisville schools. For those of us who grew up in Louisville, or anywhere in the south, it heightens the realization of the segregation that surrounded yet often went unnoticed by us. For those of us from the north and west, it helped us understand the racial climate in Louisville and elsewhere in the south. And, since all of us in this group are white, it gave us a stronger basis for comprehending the actions of the Black community in Louisville with regard to continued discrimination.

If you have to ask who the Bradens are, you most definitely need to read this book. If you thought you knew all about the Bradens, you should still read this book. With the epilogue added to this 1999 edition, even those who read the original version should re-read the book, or at least read the epilogue. As you can tell, I think this is a must read for all of us!

Catherine Lavallée-Welsh, Kersey Library
Northern Frights 5 edited by Don Hutchinson. (Mosaic Press, 1999). Latest in a series of horror anthologies featuring Canadian authors particularly. Goes from fantasy to science fiction. Some of those short stories are really compelling. I have conversed with Don Hutchinson a few times (he is a pulp fan like me) and he is an extremely nice and knowledgeable man.

Carol McNeely, Special Services
Two books that stuck with me this year, besides the WONDERFUL Poisonwood Bible adventure are: Interpreter of Maladies: stories by Jhumpra Lahiri. (Ekstrom Browsing PS 3562 .A316 I58 1999) and the book I just finished: Back When We Were Grownups by Anne Tyler. (Ekstrom Browsing PS 3570 .Y45 B33 2001).

Margaret Merrick, University Archives
The Map of Love by Ahdaf Soueif. (Anchor Books, 2000). This is fiction under author's last name. This book was short-listed for England's Booker Prize last year and is a good vacation/beach or airplane read. It is a dual love story and the setting is Egypt in the era of Victoria and in the late 20th century. The novel moves between the stories of two western women who fall in love with Egyptian nationals. It provides interesting perspectives on the Middle East, both in the Colonial Era and with the present day conflicts.

Dave Meyer, Collection Management
Take the Cannoli: Stories from the New World by Sarah Vowell (Ekstrom Browsing AC8 .V76 2000), a regular contributor to "This American Life" on NPR. Terrific stories on life in America, past and present. Any Godfather saga aficionado will recognize the title as a quote from Clemenza, who now sleeps with the fishes; but no knowledge of The Godfather is necessary to enjoy this author's love-hate relationship with America, its history and its mores.

Glenda Neely, Ekstrom Reference
Delirium of the Brave, by William Harris (Ekstrom Browsing and Stacks, PS 3558 .A662 .D45 1999) is a compelling story of politics, corruption, murder and buried secrets involving some of Savannah's most prominent families. Written by a Savannah native, it's not Midnight in the Garden of Good and Evil, but some of the stories in the novel are true. Instead of the gossipy "Midnight," this novel captures the romance and intrigue of the Savannah of 40 years ago. It opens in the Civil War era, but quickly moves forward to follow the fortunes and misfortunes of several generations of the powerful families of Savannah.

Martha Parry, Ekstrom Stacks Maintenance
I haven't been able just to sit down and read for so long! But when I do I want to know I'll be entertained. Nothing deep for this gal. For me it's anything by Sue Grafton and Garrison Keillor. With Sue, even though I know whodunit, even the re-read is entertaining. Also, as with Garrison, I know I'll be meeting old friends since the main characters travel throughout the books. Garrison's writing is gentle and poetic and, once you have heard him speak, reading his work is like listening to him talk. [Editor's Note: Ekstrom owns multiple copies of all the Grafton mysteries and about seven books by Keillor. Check Minerva for call numbers and locations.]

Amy Purcell, Special Collections
From a random pick in the Browsing Collection, I happened upon Lynn Hightower. I chose the author by scanning the shelves, looking for an author by whom we had many titles. I then picked the oldest one and read them all. Hightower lives in Lexington, Kentucky and writes about a female detective who lives and works in Cincinnati. They're all good stories, and it is interesting that they take place in our own backyard.

High Fidelity by Nick Hornby (Ekstrom Stacks PR 6058 .O689 H54 1996). Have you seen the movie? If you did and you thought it was clever and hilarious, you'll like the book, too. It's about a wacky guy who owns a record shop in London and his friends, co-workers and girlfriends (past and present). It was a New York Times notable book (which I always find a good recommendation) and to quote the Times, "It is rare that a book so hilarious is also so sharp about sex and manliness, memory and music."

My favorite author of the month is Maeve Binchy. She writes books about regular people living in and around Dublin. I have read Evening Class, Scarlet Feather, and Tara Road, and I loved them all.

Body and Soul by Frank Conroy (Ekstrom Stacks PS 3553 .O5196 B63 1993) is the story about a child prodigy pianist with humble beginnings. The story starts out in New York City in the 1940s, where Claude Rawlings lives with his cab driver mother in a basement apartment. He finds an old piano left over from his mother's vaudeville days and picks out notes of songs he's heard on the radio. He then finds a teacher and takes off. Through Conroy, you can almost feel what it is like to have the music soaring through your body and exploding out your fingertips.

Bob Roehm, Collection Management
I've just finished Warmly Inscribed: The New England Forger and Other Book Tales by Lawrence and Nancy Goldstone, their third book about the world of book collecting and the sometimes eccentric people who populate it. (Their first two books, Used & Rare (Browsing Z 987.5 .U6 G65 1997) and Slightly Chipped are also highly recommended, the former itself now selling for $100 on the rare book market!) This one starts with a tour of the Library of Congress, the Folger Library, and other Washington, D.C. book spots, then moves on to subjects as varied as Yale's Beinecke Library, Max Beerbohm, literary forgeries, and the de rigueur chapter on how the internet has changed bookselling. As always, their book is chatty, informative, and filled with personal anecdotes.

Along these same lines, I'd also recommend Double Fold: Libraries and the Assault on Paper by Nicholas Baker (Browsing Z 695.655 .B35 2001), in which he not-so-gently chastised libraries for moving too far into microfilming and digitization of materials. He has been criticized by the scholarly press, but methinks they doth protest too much.