Louisville From the Air
by Andy Anderson
Special Collections
---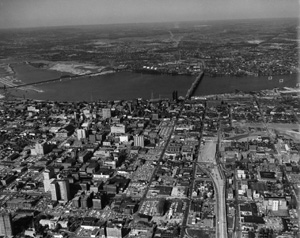 The holdings of the Photographic Archives in the Ekstrom Library have recently been enriched by the receipt of 40,000 aerial photographs of Louisville. Donated by photographer Billy Davis III, the collection includes work from 1970 to the present by Mr. Davis and photographs from 1939-1970 by his father, Billy Davis, Jr. (Photo to left: Aerial view of downtown Louisville in 1962. Pictured is the incomplete I-65 ending at Brook Street. Piers for the I-65 bridge are in the upper right corner. Photo by Billy Davis, Jr.)
Billy Davis III is a graduate of the University of Louisville (B.A. Sociology, 1973) and has been an aerial photographer since graduation. His graduate thesis, Louisville Metropolitan Area From the Air (available in the Photographic Archives stacks), documented from the air the urban growth of Louisville in the 1960s and '70s. His later photographs record most major land developments in Louisville and Jefferson County, including the conversion of the Plainview area from farm land to subdivisions and the expanding population of Oldham and eastern Jefferson Counties.
The collection also includes both aerial and other news photographs by Billy Davis, Jr., the father of Billy Davis III. Billy Davis, Jr. first photographed Louisville during the 1937 flood while working for The Chattanooga News where he was chief photographer. He moved to Louisville in 1939 and was appointed head of the photography department at The Courier-Journal and The Louisville Times in 1941, a position he held for three decades.
The elder Davis's aerial photography was famous not only for the precision of its documentation but also for its beauty. His work was collected in the book Over Kentucky: 40 Years of Aerial Photography (F 452 .D37 Photo Archives), published in 1981. His photograph, "Flood in the Mountains," made in March, 1963 shows the swollen Kentucky River snaking through the mountains of Perry County, Kentucky. It was circulated worldwide and became one of the most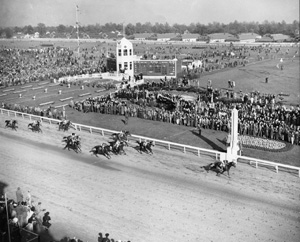 published photographs ever to appear in The Courier-Journal. Davis shared in a Pulitzer Prize awarded to The Courier in 1964 for coverage of strip mining, and a second Pulitzer given to The Courier's photography staff in 1967 for coverage of the desegregation of Jefferson County schools. (Photo to right: The finish line at the 1944 Kentucky Derby. Photo by Billy Davis, Jr.)
Although unprocessed at present, Photographic Archives staff has already responded to reference requests for these photographs The most recent request came from Alderwoman Tina Ward-Pugh who was seeking background information for a hearing on zoning changes proposed for her neighborhood. The Archives hopes to begin work this semester on a database of subjects and locations included in the collection. Researchers have only limited access at present and very little of the collection is available for browsing. Completion of a database is, therefore, a critical step in providing access to this valuable collection.