Library, Department & Team News

---
Assessment Team
The focus of the Assessment team is changing temporarily because of the upcoming ARL evaluation. Our team is undergoing a bit of reorganization due to priority ARL projects. The members of the ARL planning group are busy fine-tuning the ARL website, which should be up in due time. Once the bulk of the ARL goals are met, our team will go back to normal duties and projects.

Ekstrom Library
Circulation and Interlibrary Loan
Jeff Drake, our Circulation Supervisor, has taken a leave of absence for personal health concerns and will not be back until at least September 24. Our prayers and good wishes are with him during this difficult time.

Katrina Rowe in Circulation and Interlibrary Loan recently received a job upgrade to Library Assistant, and we would like to congratulate her on her promotion.

Chris Mabelitini has officially left his position in Circulation to enter graduate school at George Mason University. He will be attending its prestigious Creative Writing Program.

As we do every fall semester, we are hip deep in training new student assistants and arranging the schedules of those student assistants we have retained to fit their new schedules. If you see new faces at the Circulation desk, stop and say "Hi!" and help us make them feel welcome and appreciated.

Media and Current Periodicals
Welcome
We are pleased to welcome Rebecca Rumbley to our staff. She most recently worked in Ekstrom Interlibrary Loan Lending. Before coming to the UofL she worked for the Nashville Ballet, and lived and worked in both Paris and Hong Kong. Her familiarity with the libraries, her experience, boundless energy, and her delightful personality combine to make her a great addition to an already great staff. We look forward to working with her.

We have also added two new student assistants this semester. Ethan Manning and Jennifer Dingman are both new students at UofL. Ethan is a transfer student from Centre College.

New Space
Everyone will be happy to hear that all the banging, crashing and drilling noise coming from the second floor is over. Our renovated space is complete and workstations have been set up in the new, expanded workroom (251). This combined workroom will house all the staff as well as student assistants working on binding. David's old office has become a small conference room (which can be reserved for Library meetings). Our storage rooms have been converted into a badly needed video viewing room that holds 20 people. This room can be reserved and is already being used by classes and small groups who want to meet to view a video (VHS or DVD).

The other noises emanating from the area this summer have been grunts and groans. These originated with the students who helped with the monumental task of moving all the microfilm cabinets to their new locations. A big thanks to Wes Johnson, Kris Abplanap, Josh Brannen, Joey Yates and Ethan Manning who pushed, pulled and shoved these behemoth cabinets (some over 400 pounds) into place. The organization of the film has been much improved thanks to a plan worked out by Trish, Eric and David. There is much more space between cabinets and there are seating areas available as well.

Office of the University Librarian
Promotion
Katrina Rowe has been promoted from Library Technician to Library Assistant, Grade 211, in Ekstrom Circulation, effective July 27, 2001.

Resignations
Linda Wilson has announced her resignation as Library Information Specialist at the GE Library, effective August 31, 2001. She has accepted a position in Human Resources as Position Management Analyst.

Reference
Glenda Neely represented the University Libraries by participating in three Graduate School orientation programs for new students and one orientation for freshmen in the College of Business & Public Administration.

Special Collections
Quiet Vision Editions of Edgar Rice Burroughs
Quiet Vision Publications will issue a new series of books by Edgar Rice Burroughs designed for school and library programs in remedial reading, reading enrichment and English as a second language. The publishers asked Burroughs Curator George McWhorter to write a generic preface, which will appear in all editions. Says McWhorter, "It's a good way to help celebrate my 30th year as a rare book librarian at the University of Louisville."

Whirlwind Trip to Europe
Amy Purcell went on a three-week tour of Europe this summer to help chaperone a group of about 40 15- to 17-year-olds.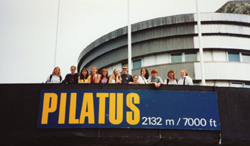 Included in the group were her son Sam and her niece and nephew. The rest of the group was from schools in Snohomish, Washington and Santa Barbara and San Diego, California. They toured through Germany and Italy with brief stops in Austria and Switzerland, were in Paris for the last laps of the Tour de France, and spent their last days in London.
For Love of Learning Now Online
Thanks to the programming of Mike Purcell, For Love of Learning: An Introduction to Special Collections & Primary Sources at the University of Louisville, is now available online as a searchable database at special.library.louisville.edu.
Welcome Students
Special Collections has two new student assistants this fall. Gina Bush has an MLS and is working on a master's degree in Art History and Lisa Ortega returns to the libraries after working as a math tutor at the Reach Center. We are grateful that Gina and Lisa are bringing such extensive library experience to us!
Kersey Library
Fond Farewell
Some of our students are leaving us at the end of the summer semester. Songsook (Mong) Khaisaeng will be in co-op for the fall and then graduating. Selvi Sivagurunathan will be finishing up her thesis and heading home to India for a while. We will miss them. They are wonderful students and wonderful friends.
New Student
We have a new student who is joining us for the fall semester. His name is James Kress and goes by the name "Andy." He is an ME (Mechanical Engineering) major with many talents. Andy is a native Louisvillian and has been at UofL since 1996. We at Kersey welcome him to our library and look forward to working with him.
Law Library
Home Owners
Janissa Moore and her husband Christopher are first time homeowners. They are enjoying the extra space that their 3-bedroom ranch with a basement provides. Their 11-month-old daughter Alyssa has adapted well to her new surroundings.
From September 17, 2001 through February, 2002, the Law Library Reading Room will be the site of two exhibits, one saluting the Louisville Municipal College and the other highlighting the legal education of African Americans in Kentucky from 1870 to the present.
Louisville Municipal College: 1931 - 1951 will feature more than twenty photographs of LMC students, faculty, and facilities, mostly from the 1930s and 1940s. [During the period between 1931 and 1951, before UofL desegregated, the university operated LMC, a separate school for African Americans.] This display uses several items from the 1993 LMC display created by Linda L. Wilson, from UofL Community Relations.
Odyssey to Equity: Legal Education of African Americans in Kentucky, 1870 - Present is an entirely new exhibit that features Kentucky's first African American lawyers.
Both exhibits are the Law Library's way of contributing to the law school's celebration this fall of the 50-year anniversary of the enrollment of Willie Fleming and Aldred Calloway in UofL's law school. They are the first two African American students to enroll at the law school, pass the Kentucky bar exam, and enter the practice of law. They are featured in the exhibit.
Linda Wilson, along with Robin Harris and law student Samekh Masden from the Law Library, and Amy Purcell from Special Collections, have worked together during this past summer to make these two displays a reality.
After September 17, the displays will be open to the public during Law Library hours. The library is open 8:00 am – 11:00 pm Monday through Thursday, 8:00 am – 6:00 pm Friday, 9:00 am – 6:00 pm Saturday, and 1:00 pm – 11:00 pm Sunday.
UARC
After three grant applications to the National Endowment for the Humanities, the University Archives is happy to report that "The Quilt Index"(http://www.quiltindex.org), a project based at Michigan State University, in which UARC is participating, has been funded for $200,000. As the repository for the records of the Kentucky Quilt Project, UARC was asked to be part of a pilot project that will gather information about quilts and quilt scholarship into a comprehensive online research tool and reference work. When complete, "The Quilt Index" will be a central resource with access to contextual documentation and images of quilts from a wide variety of sources. It is an open-ended, consortial project that is designed to ultimately incorporate information from any and all institutions that collect and/or document quilts and quilting.
Kathie Johnson is the project coordinator at UofL and will serve on the Index Development Steering Committee. The grant will provide funding for the Archives to hire a project assistant for scanning and data entry of the documentation files and bibliographic information in the Kentucky Quilt Project records.